August 18, 2013 – Twin Lakes
Ride Independance Pass
Not many pictures from today. Between my camera battery being dead and us just riding quickly up to the pass there wasn't a lot of opportunities. The weather was great compared to last time we visited. In 2008, the climb up was beautiful, but we descended into Aspen, and by the time we finished out soup the skies turned black and we had to try to race back up 20 steep miles to get over the pass. Needless to say I have memories of freezing and putting on warmer clothes with lightning and hail raining down all over. Here's a link to that days pictures and Journal.
Bill decided to ride Vail Pass today and enjoyed it much more than the first day we were here. It's amazing how much more fun can be had when you are acclimated to the altitude!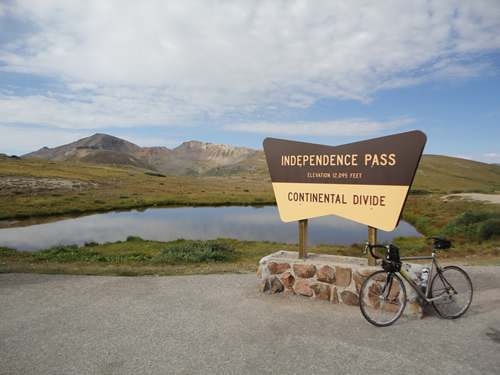 It really did turn out to be a great day to ride up to the pass today!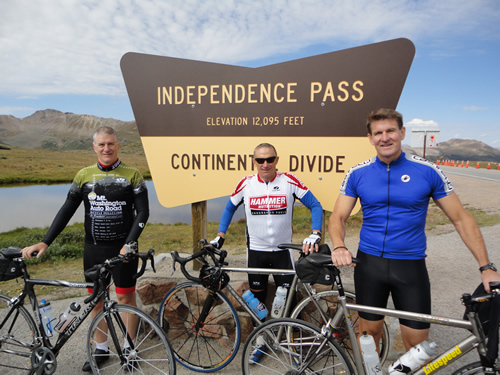 We all made it to the top with out any real difficulties nor without seeing the infamous black clouds. Tom and I spent quite a bit of time talking to a nice guy who just loved bike racing. Seems that people really freak out when they find out we are basically from sea level but are able to ride these high altitude climbs.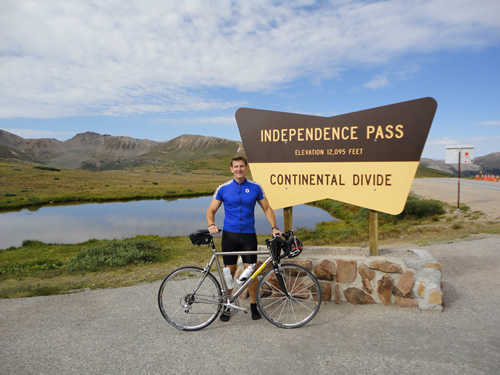 The alpine scenery at this pass is one of my favorites. It's truly spectacular even without snow this year!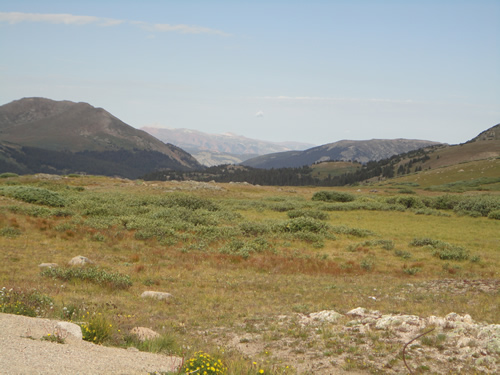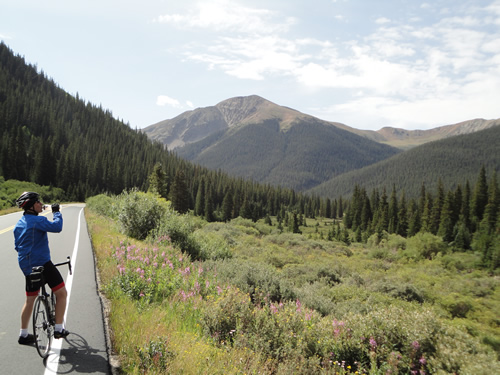 We stopped once on the descent today and Tom captured this scenery shot with some guy drinking from a water bottle on the side of the road.
One thing we did notice is that the city slickers on the pass on the weekends aren't quite so courteous to cyclists. No real problems, but they drive very fast and don't always leave enough room to be comfortable. Moral is, if you ride this pass on the weekend, do it early like we did.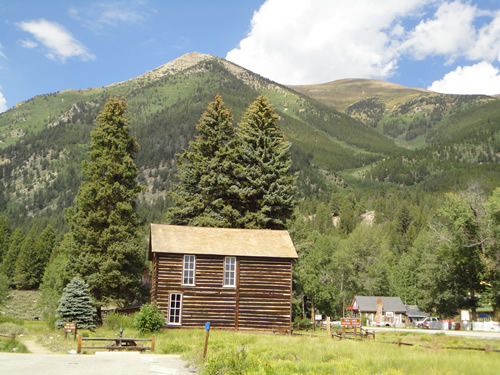 The view from the lot we parked in at Twin Lakes was still the same as it was in 2008. Very pretty.
Another interesting thing we saw on the drive down was the finish line for the Leadvile Trail 100 run. There were some hurting guys wandering around there after running 100 miles at elevation including up and down mountains.