Home ..... Back (August 3 2008) ..... Next (August 5 2008)
August 4, 2008 – Leadville Colorado
Ride Independance Pass
Today was an EPIC Day!
We knew that the weather comes in early afternoon, and that we were riding a long ride, so we all got up early for breakfast and coffee, got ready and headed off. The sunrise was great against the background of the Rocky Mountains.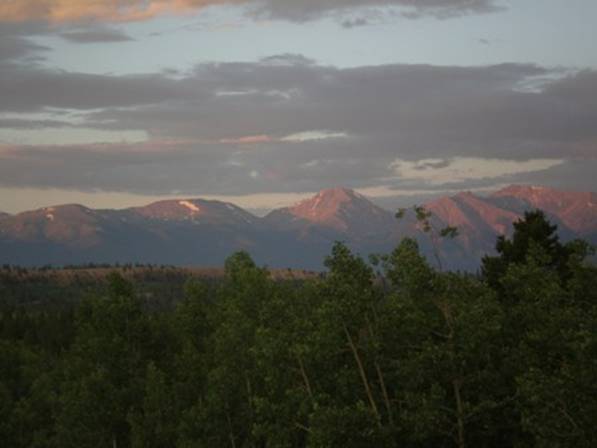 Tom walked around and took some pictures of things around the house. Here is a little grove of Aspen trees that are by the driveway.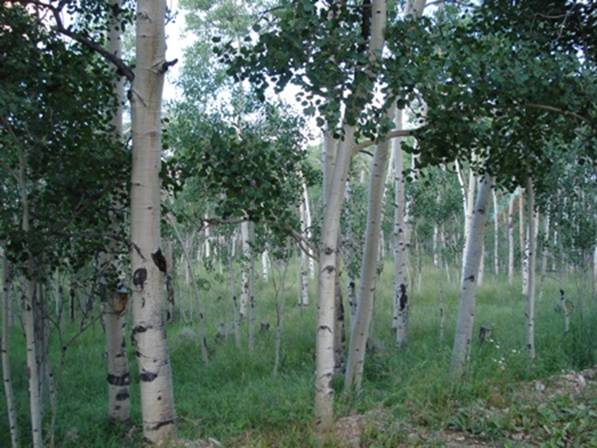 The owners also have several bird feeders around including a humming bird feeder. Here's a great shot of one of the birds getting ready to eat.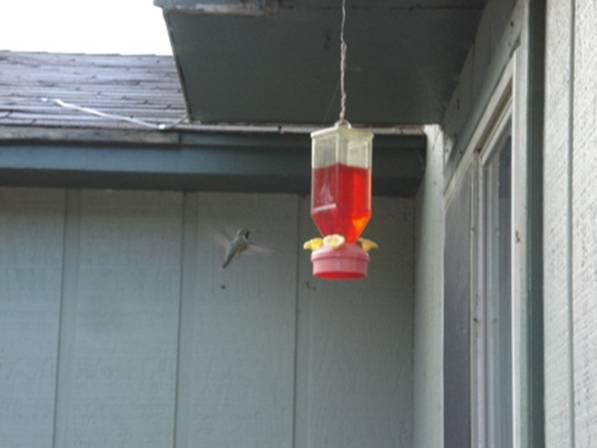 We found a place to park at the Twin Lakes Visitor center, and unpacked the bikes.
There were storms forecasted, but not until later in the day. We've called it the 1:30 rule as to when we wanted to be off the mountains.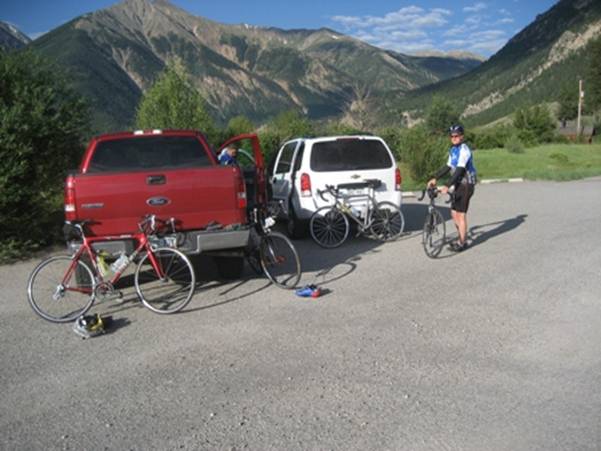 Here is a view from the center looking up the pass.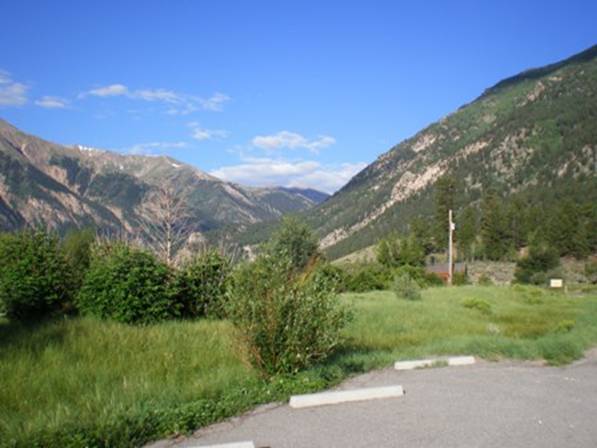 The initial slopes were gradual and the scenery was great.
The first 10 miles or so were straight forward and Tom and I both commented that the rivers running through the valleys looked a lot like Alaska.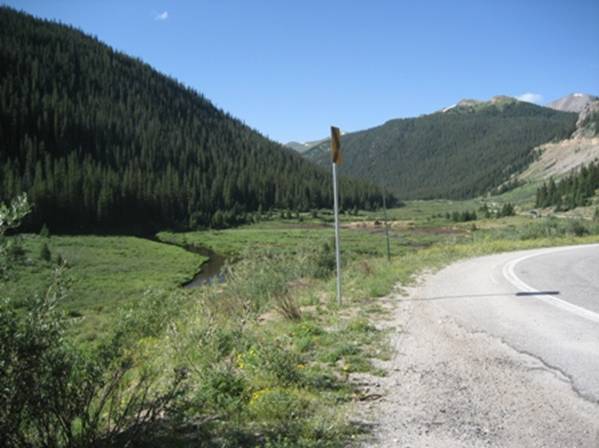 After about 10 miles, the road tipped upward and we began climbing out of 10,000 feet to 11,000 feet.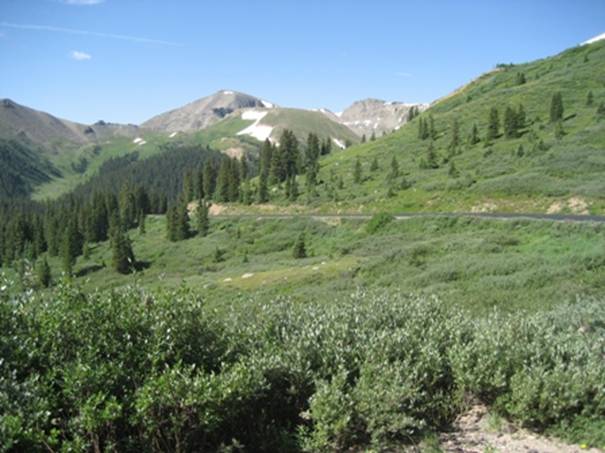 There was still lot's of patches of snow and the weather was spectacular. Tom was first to the top with me about 8 minutes behind him.
This was the first time any of us had climbed beyond 12,000 feet.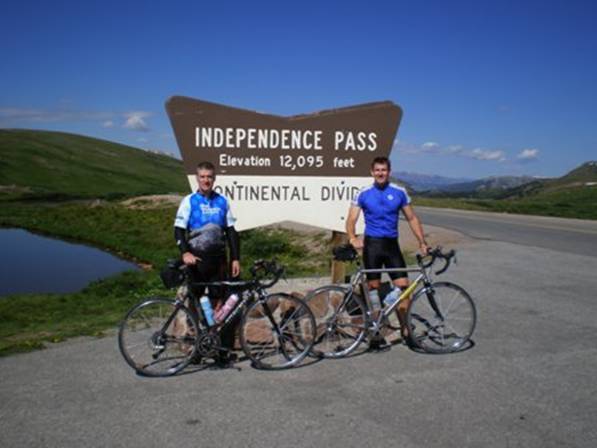 The views were unbelievable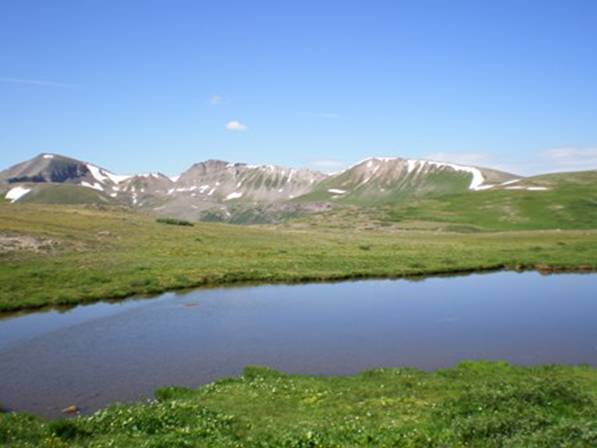 Soon Paul and Bill made their way to the top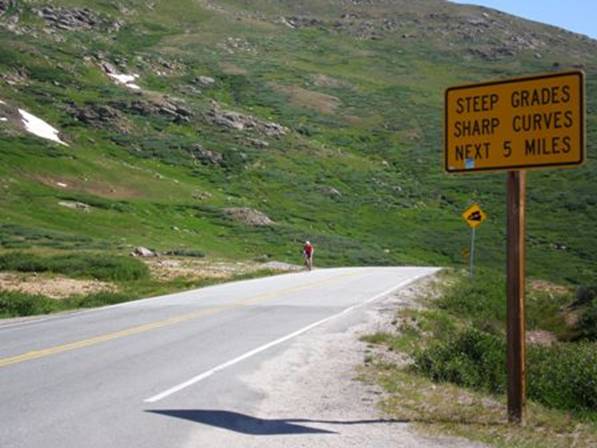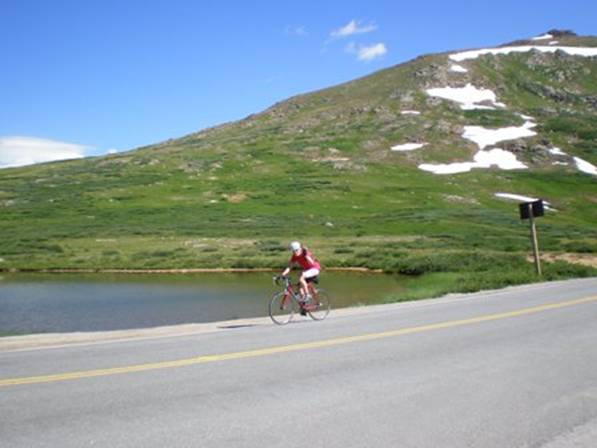 We all celebrated with a customary shot in front of the sign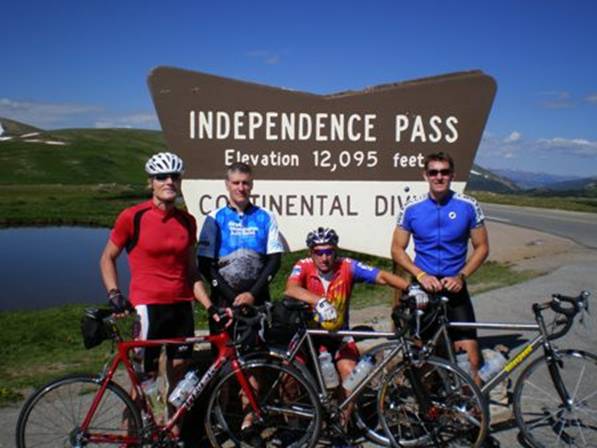 We decided to descend into Aspen and have some lunch. We met a couple of guys at the top who recommended that we try the Chicken and Barley soup at the Butcher Block in Aspen. Since it looked like the weather was going to hold, we decided to take their advice. The descent into Aspen was great, with spectacular valley views and vast fields of Aspen trees that were straight as arrows with no braches for up to 100 feet. The view looked like white sticks all sticking straight into the sky. It was really unbelievably beautiful. Even though we only saw about a two block area, Aspen is clearly a town for the rich. Lance was here training, but we didn't see him. Here is Tom at the Butcher Block eating his Chicken and Barley soup.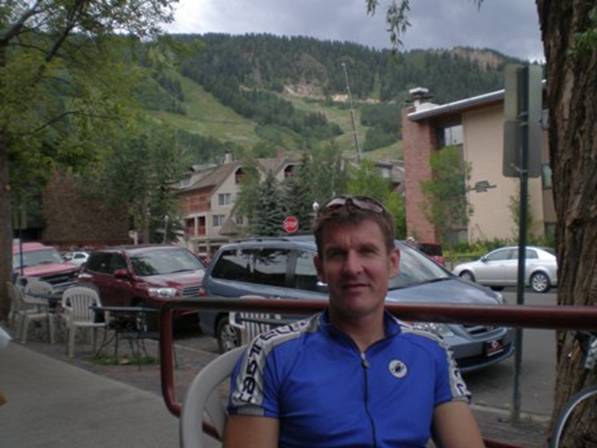 Soon we began to become concerned as the infamous black clouds started to show their faces. We packed up and got ready for the 19.5 mile 4,000+ foot climb back up Independence Pass. Soon after leaving Aspen, it started to rain. Luckily it didn't last long. Since the climb was steeper, we all started riding our own tempo with Tom bolting first, followed by Paul and I riding together and Bill following. The ride was not overly difficult, but after already riding over 40 miles, I was feeling it in my legs.
About half way up, Paul got a boost of energy and made his move to follow Tom over the top to get second points in the King of the Mountain. We are all wondering what is in those altitude pills he got from his doctor to prevent altitude sickness. I was not able to follow his wheel so I settled back into my tempo and tried to get to the summit. At about 5 miles to go, the rain started threatening and I heard the rumbles of thunder. Going against all anyone has ever told me about being above the tree line in a thunder storm I continued on as did the others as we had no choice but to get back to the car on the other side.

Tom got over the summit first, followed by Paul and far behind me. By the time I reached the summit, the thunder had turned into lightning, pouring rain, hail and wind. As it turns out we all had similar experiences. I stopped to put on warmer clothes and then raced as hard as I could I could in the pouring rain to get as low on the mountain as fast as I could. It was terrifying in my mind since I was going much faster than I was comfortable and my feet were numb soon after leaving the summit. A few miles down, the rain stopped and soon the sun came out but seeing I was soaking wet, it didn't make a difference. When I reached the car, I found the Paul and Tom had been through similar experiences.

Now, I hadn't talked about Bill! We had no idea where Bill was. Since he was behind us, we had no idea if he had taken cover, got a ride or if he was still riding on his way down. A while later, here came Bill, tired, wet, cold but satisfied that he had made it. As it turns out, the rain had gotten to him on the climb and the descent.
We all decided this ride of over 70 miles over Independence Pass twice in one day with a total of over 6,300 feet of climbing was amazing. Clearly we were all whooped by the ride, altitude, and the weather.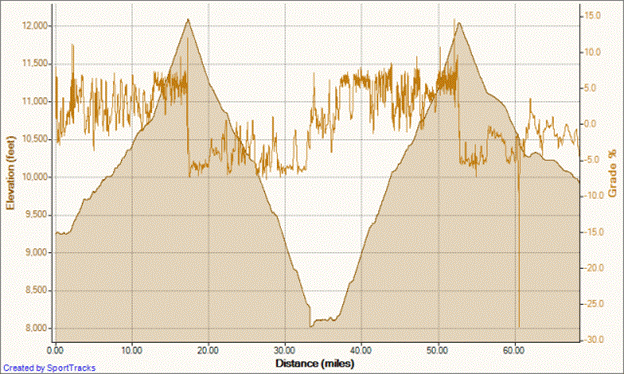 When we got back, we got cleaned up and decided to go out for dinner. We went to Rosies Brewery in Leadville. The wait was very long, but when we got our food, it was worth it.
I'd like to think we all would sleep well after this, but I think the altitude might be affecting us. It is very hard to drink enough water to stay hydrated and we are not sleeping as much as you would think. More to come tomorrow.
Return ..........Back (August 3 2008) ..... Next (August 5 2008)