August 12, 2012 - Park City, UT
Big Cottonwood Canyon/Guardsman Pass
Well, today was certainly an interesting day. We had to ride 35 miles back over Guardsman Pass to Park City in order to retriecve our rental van which we left there yesterday to do ut 100 mile ride. That in itself isn't do bad, but after yesterday, and with a big headwind down the canyon and a very loose gravel descent off Guardsman Pass, it was a very interesting day. Once again we rode over a large portion of the ending of todays' Tour of Utah stage. In tow days we have climbed over 13,000 feet!
Here is Tom's video documenting the start of our big climb up Big Cottonwood Canyon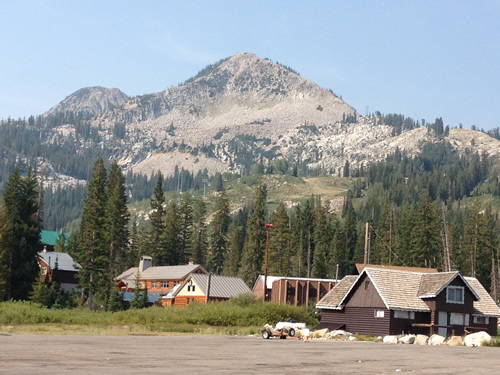 After riding up Big Cottonwood Canyon, we had to continue further up to Guardsman Pass. That climb was pretty tough and personally, I was wiped from yesterday's ride. After getting to the top, we had to descend 2 miles of treacherous road of sand, ground asphalt and crushed gravel. On mountain bikes, that wouldn't have been bad, but on skinny road bike tires it was interesting to say the least! CHeck out the vid!
At the top of Big Cottonwood Canyon is the Solitude Ski Resort ... this is a view of that area ... name kind fits doesn't it?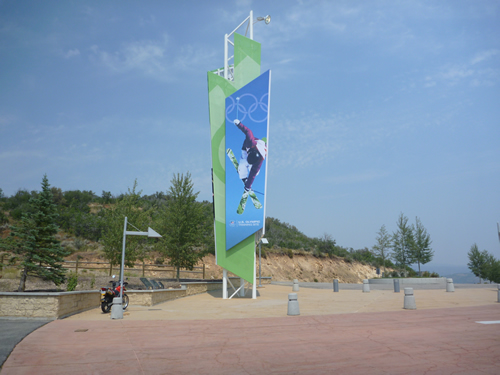 After riding the great descent into Park City and much of the Tour route, we found the van and then had lunch. Since we were so close to the Olympic Site here in Park City, we decided to head over to check things out. It turns out it was pretty cool. We checked out the Bobsled Track, the Ski Jumps and the Freestyle Ski area. There are a couple pics of the Ski Jumps and Freestyle training complex below.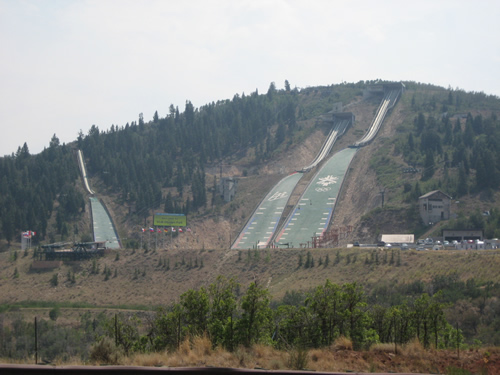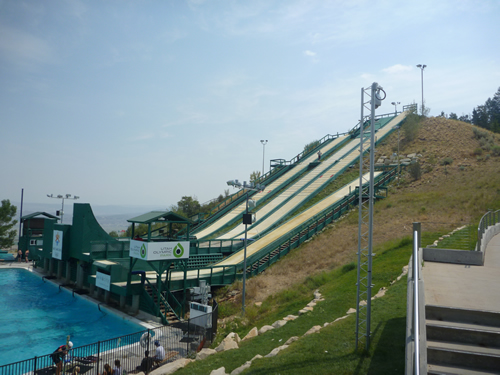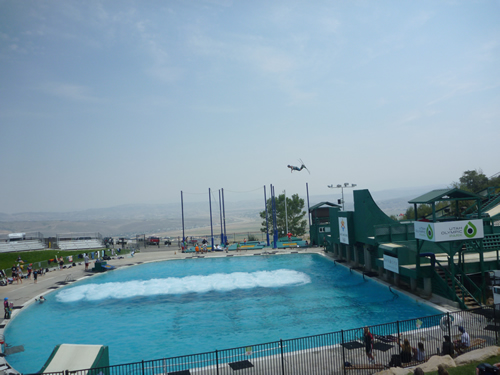 It was very cool to watch them jump and do acrobatics. There was a coach watching and providing guidance to the future olympians. Some were quite good. There was a wide age range from small kids, to teenagers. Pretty impressive. The coach would enable bubble in the pool to ease the impact of landing in the pool vs snow. Here are a couple shots of some of the jumps.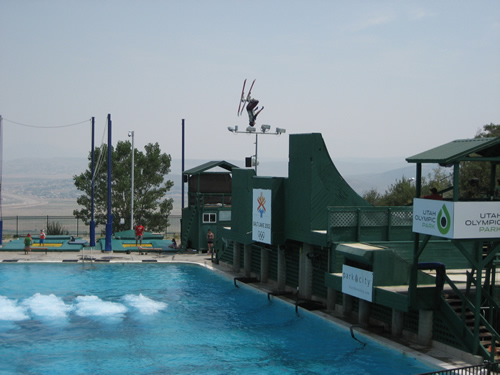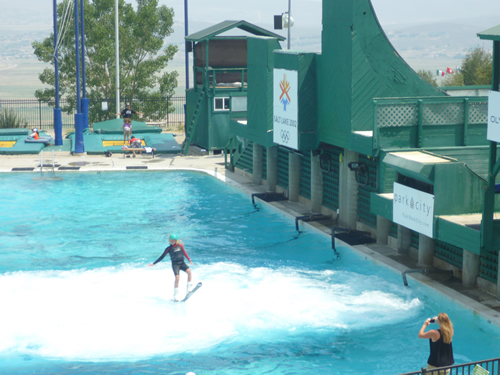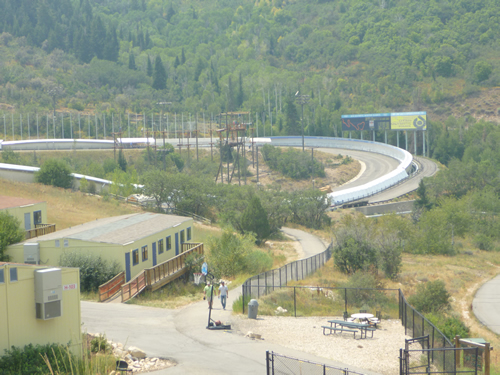 After watching the Freestyle practice, we walked over and checked out the Bobsled track. That was very cool and we even got to see someone heading down the track. We all took turns sitting in a bobsled at the finish house and I can't believe how tight and cramped they are and I don't know how they can get in so fast!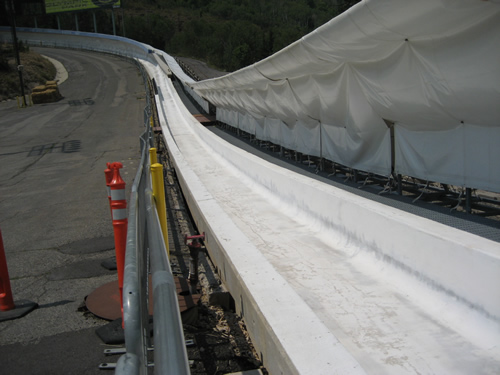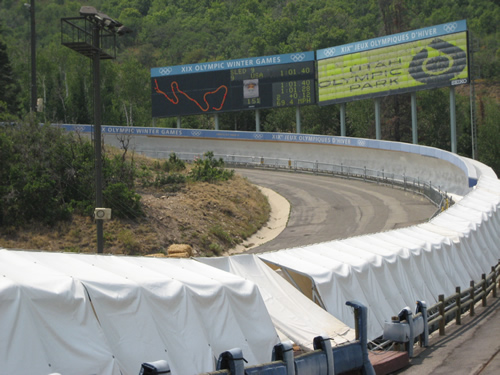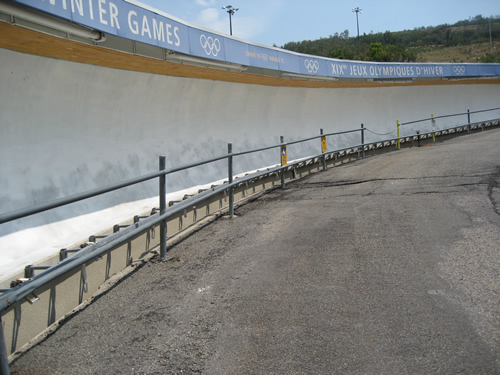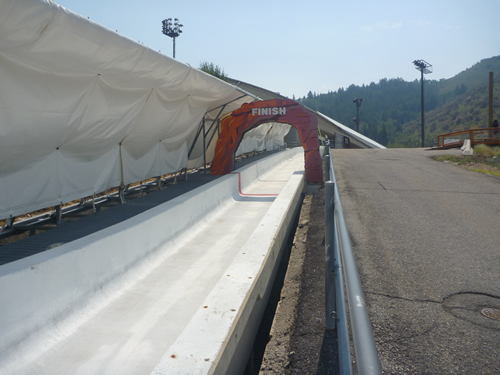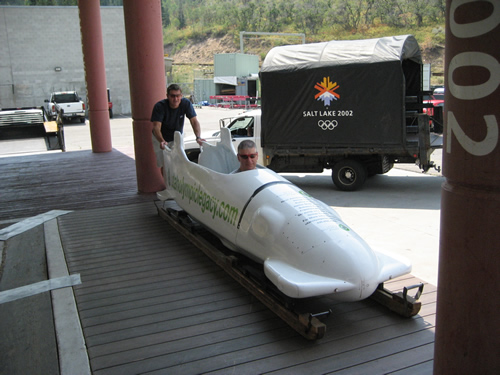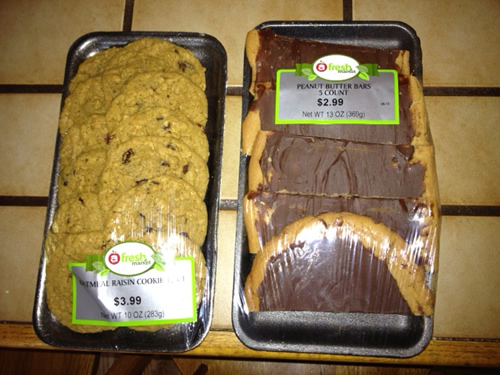 Just to wrap up today we realized we really missed Bill traveling with us. Amongst other things he was always good for making sure we bought something good like cookies or other sweets during our daily grocery store trip. Today we bought cookies to make sure we carried on the tradition!
We all even had the chance to sit in a Bob Sled!