August 11, 2012 - Park City/Sandy Utah
Rode Tour of Utah Ultimate Challenge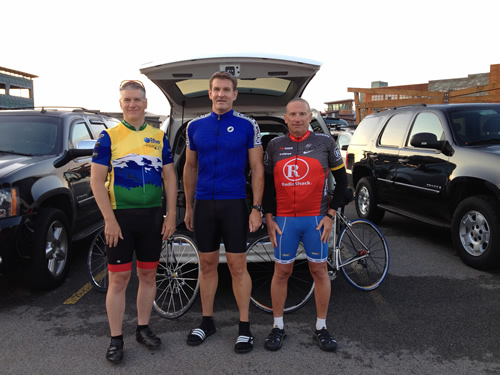 Today we don't have many pictures because we rode the Tour of Utah Ultimate challenge while is a 100 mile ride that climbs 10,000 ft. Here we are at the start this morning at Kimball Junction near Park City Utah. We all had fun, but man this was a tough ride.
We started at about 7:15 and the pros started close to 11:00. It was a race to see if we could finish before the pros caught us.
This was a fun day where we got to ride the course that the pros did. As a result, we all got to experience how tough their stages can be. We also had a lot of fun riding like we were in the peloton.
The day started with us lining up at the start line and riding though the neutral zone to where we could see the 0Km sign. The early riding was fast and sometimes a bit sketchy. About 10 miles in, I had to avoid a crash. One guy turned around to look backwards and slid into another guy. Luckily there were no cars coming because I had to swerve wildly to avoid the two as the were crashing with bikes and legs flailing.
The riding was fun, with fast descents and lot's a small peloton like group riding. At one point I swear that I hit 57 mph, but my GPS only showed only 54.1 mph as my max. The scenery was also great which made the ride easier to deal with.
The Alpine loop goes past Sundance where they hold the bog movie festival each year. That wasn't too tough a climb, except for there were 60 miles in the legs before we finished. it. The descent was very winding and fun, although you had to be careful with all the switchbacks. I saw a guy getting his head bandaged up after he crashed and spilt it open. Was also fun to ride thorough the sprint zones as the crowds cheered just like you were in the race.
The Suncrest climb, or as I am calling it the hell climb really caused me trouble. It was wide open, no trees and very hot. It also was pretty steep. I personally suffered quite a bit. The descent was fun though and it was here were I hit 54.1 mph according to the GPS. By the time I got to the area where we are renting our condo, I was beat and decided that I didn't need to climb the last 6 miles to Snowbird or I'd be in trouble for the rest of the vacation! I finished with 96+ miles.
Tom had a good ride and he made it to the 100 mile marker before he decided to descend to our condo and the air conditioning. He learned that it is possible to have a nature stop while traveling 30 mph.
Paul had a couple mechanical issues with riding, but nothing the ruined his ride. He rode the same amount I did, but felt pretty good because he was smarter and ride more within himself than Tom or I did.
Since the race went right past the condo, we were able to get out to see the pros when they rode by. Here are some pics as they went past.