August 9, 2012 - Salt Lake City
Ride Big Mountain and watch
Stage 3 Tour of Utah
Woke up this morning with bad expectations for the day. I put my back out yesterday and had a bad might sleeping. Seriously considered not riding today, but after a handful of Advil, we were off. The weather was perfect for riding this morning, cloudy and mid 70's. Much better that the predicted 100 degrees we were expecting. We parked at the zoo and proceeded to climb up Emigration Canyon up to Little Mountain. There was a Tour of Utah group being escorted up the climb who had some pretty bad riders.
The climb was actually pretty easy and when we got to the top we found the whole Tour group waiting for their remaining riders. We headed over the top and proceeded towards Big Mountain which was the final KOM for today's Tour of Utah stage. The climb up this side of Big Mountain wasn't bad and I was happy that my back was holding up pretty well. During the last 2 miles, I started to feel it acting up so I really slowed down to the point where an older woman on a pink bike passed me .... time to cash in my man card. Tom had taken off riding with a Mormon who was 25 years younger than him .. and as usual, he hurt the guy! Paul, came up a few minutes later, having explored the woods for more bears.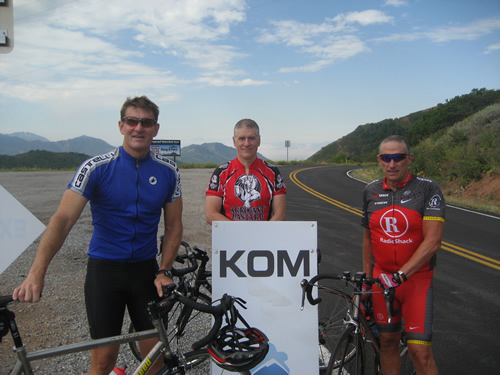 While we were up there, a guy named Paul that we passed on the initial climb joined us. We had a good conversation and he took some pictures of us at the Big Mountain KOM. Was very cool to watch the pros race though here knowing that we rode here earlier in the day.
Tom made one of his usual videos to document our visit.
Tom went over the climb for a couple KMs and Paul and I headed back towards the start. The descent down Big Mountain was very fast, I swear I saw a spped over 40 mph, my Strava data says a max of 37 mph. Tom also was in the upper 30's for speed. Paul being the smarter of the group was hitting the brakes at 20 mph. Below are a couple vids of the descents off Big Mountain, the climb up Emiration Canyon and the final descent off Emigration canyon. (Psst: I know that a couple vids are messed up... need to to edit them before posting but I'm too tired! )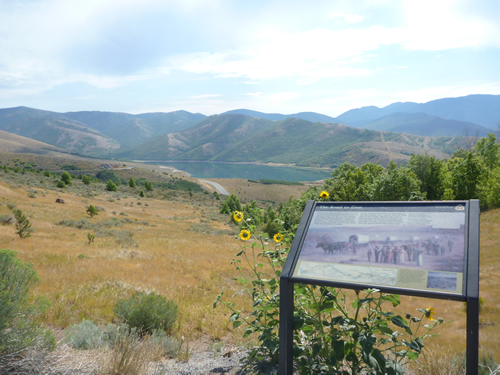 While waiting at the top of Little Mountain, I snapped this photo of the views. The board says this was the Road to Zion.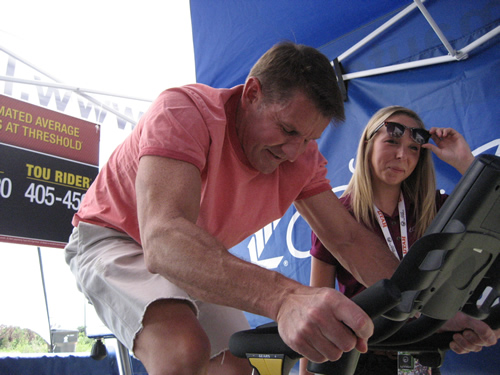 After going back to the condo to clean up and getting some football burritos at Chipotle we headed over to the Stage 3 finish area. It was really hot, but still fun to visit. While we were killing time at the Expo, Tom tried his had at the famous Tour de France trainer bike that is getting so much advertisement time in the cycling coverage on TV. He did a great job but because it was set up for spinners, he was only able to put out 603 watts, They needed to let him set max tension to really see what he can do.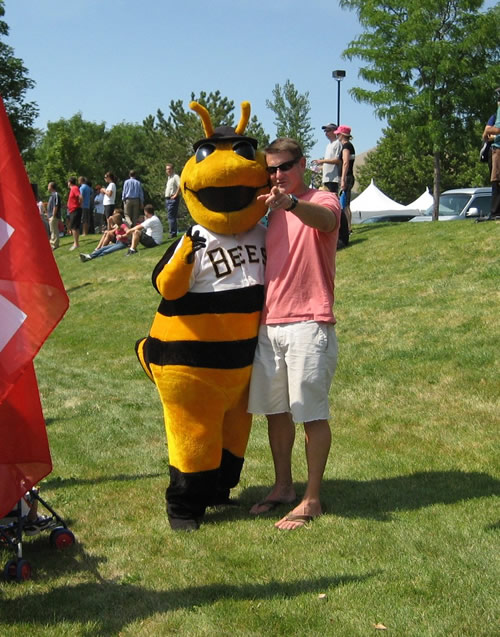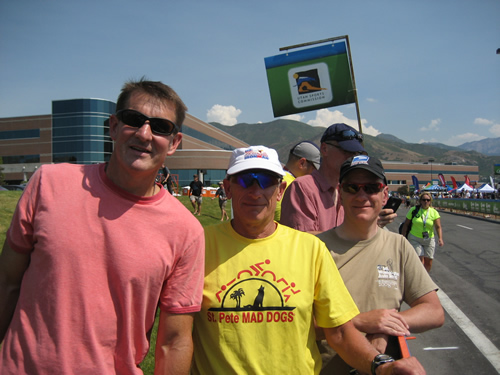 Here we are waiting at the 75 m point.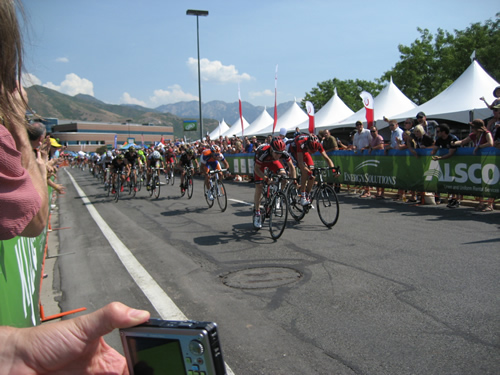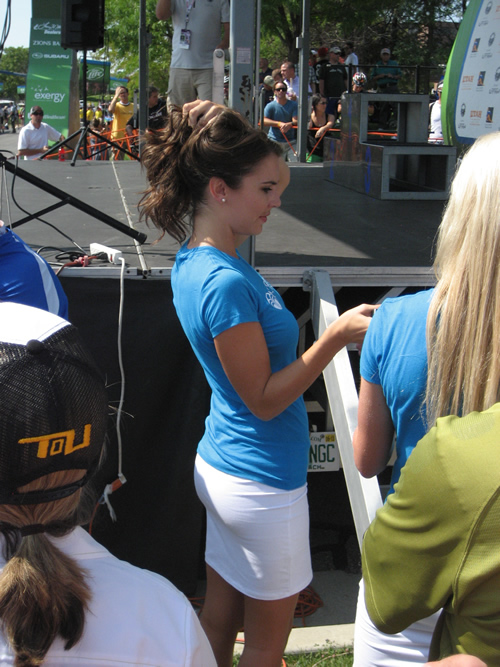 Tom was trying to take some pics of the podium ceremony but he kept getting distracted by the podium girls.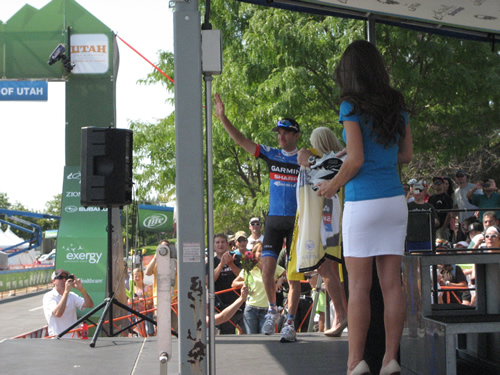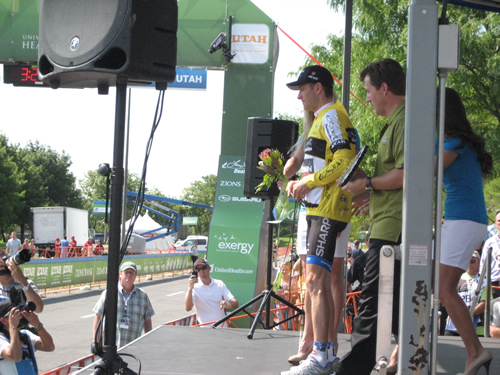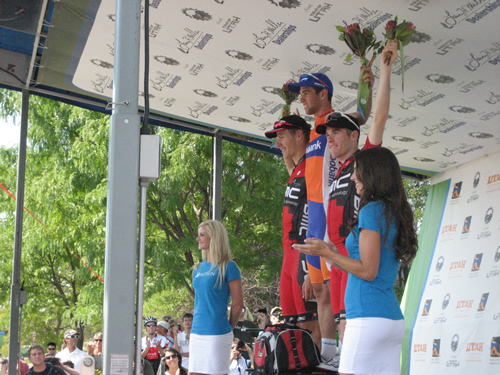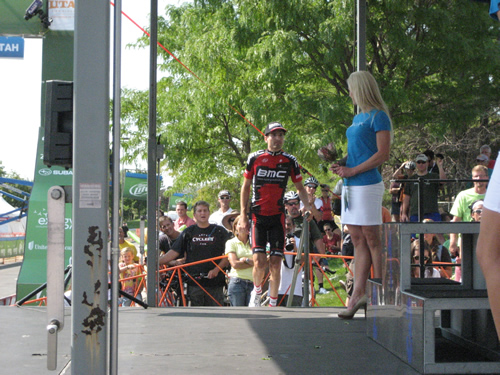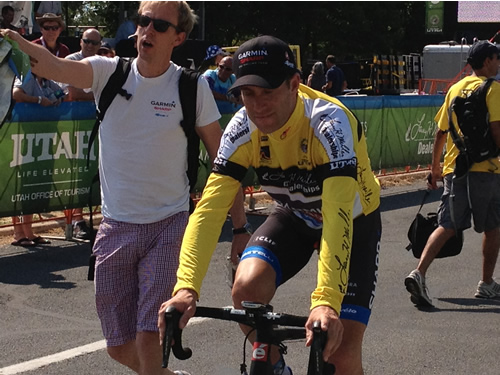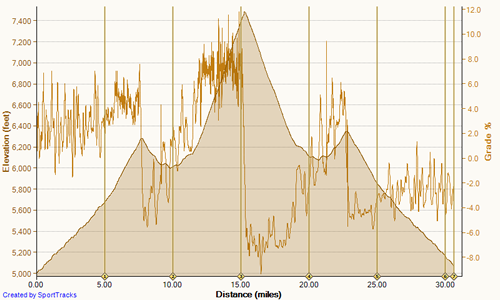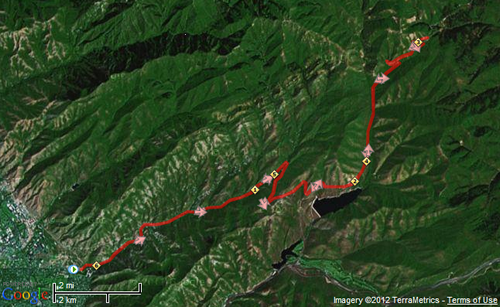 Finally things got serious and the sprint was on. A nice vid clip is below, although it got a bit unstable as I wsa trying to capture everything.
I have to admit, this was the first full on bunch sprint I was at a finish for and it was amazing how much speed these guys have. Not to mention the gust of wind that we felt as they went past.
Tom also found a new friend while we were waiting. The Bee is the mascot for the AAA Baseball team that supports the LA Angels.
Also, while were were watching the race in the extra HD video screen, we ran into our transient friend Paul who we met on the KOM earlier today. He has 35,000 miles on his bike and I think we know why, he was everywhere.