Home ..... Back (August 4 2008) ..... Next (August 6 2008)
August 5, 2008 – Leadville Colorado
Ride Cottonwood Pass
We all woke up this morning wondering what the weather would be like since the forecast was for thunder showers. As it turns out, it was pretty nice so we ate breakfast and headed out. The drive south to Buena Vista was interesting. Soon after passing the road to Independence Pass, the scenery changed to more of a southwest theme where we saw a few Mesas.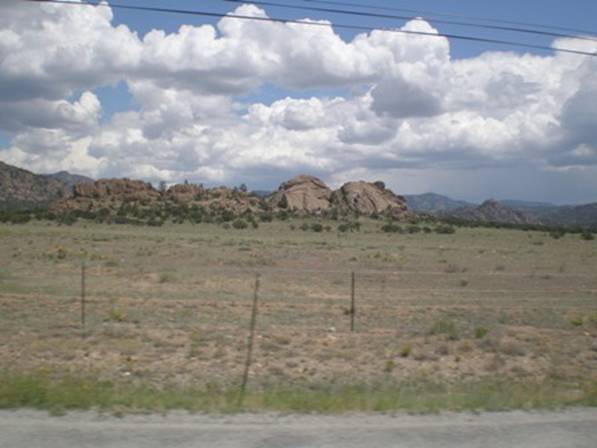 Buena Vista seemed like a thriving town compared to Leadville. As we drove out towards the Cottonwood Pass looking for a place to park, we drove through an area that reminded me of watching a Western on TV.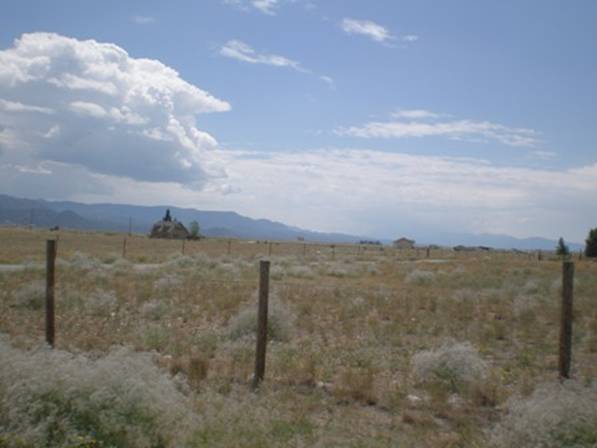 It seemed very dry in this area. Soon we found a place to park and we starting getting ready.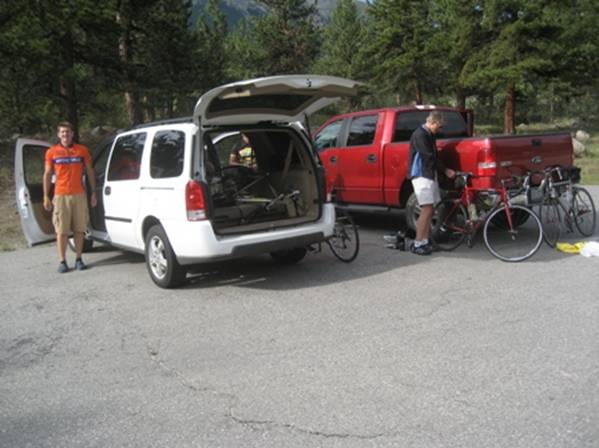 The ride started rough for me as I felt tired from yesterday's endeavor. After a few miles, Paul and Tom rode away from Bill and I. As I shifted to move into an easier gear, I dropped my chain and had to stop and fix it. I got irritated and with my boost of adrenalin, rode off and started to close in on Paul and Tom who were riding a steady tempo. I caught them after a mile or two and proceeded to yoyo off the back trying to keep up with them as they climbed. I stayed with them most of the climb, eventually dropping off in the last few miles.
This one of the prettier rides we've taken as the road cut through the valley up to the pass.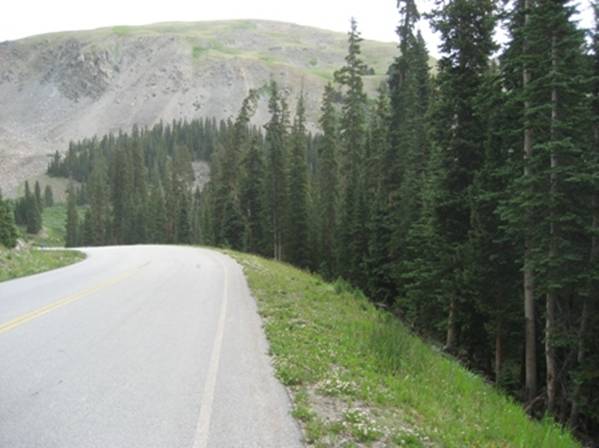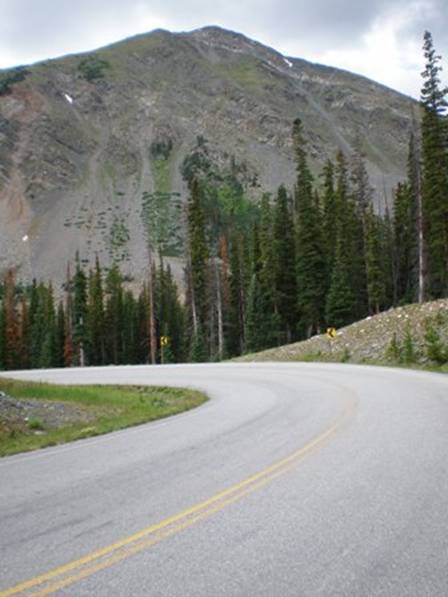 The views from the top were great. The road had some monster switchbacks in the last mile. They looked bad but they really were not too difficult.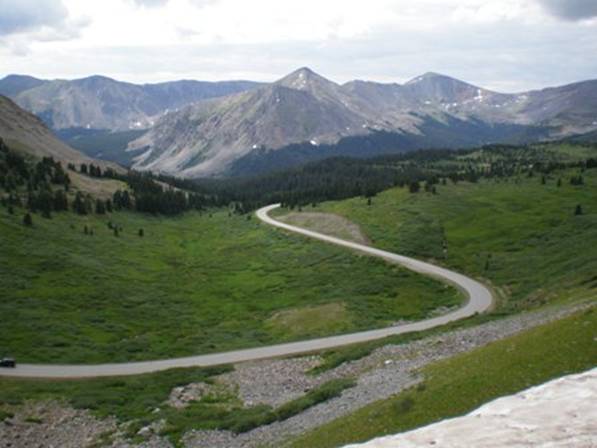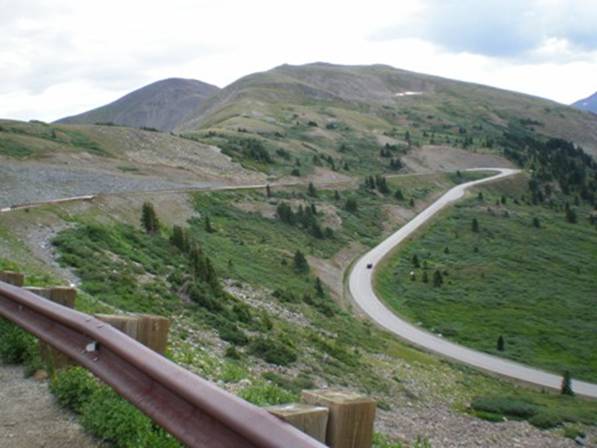 When I got to the top, Paul and Tom were already there. The road on the other side goes to Gunnison CO and is all dirt.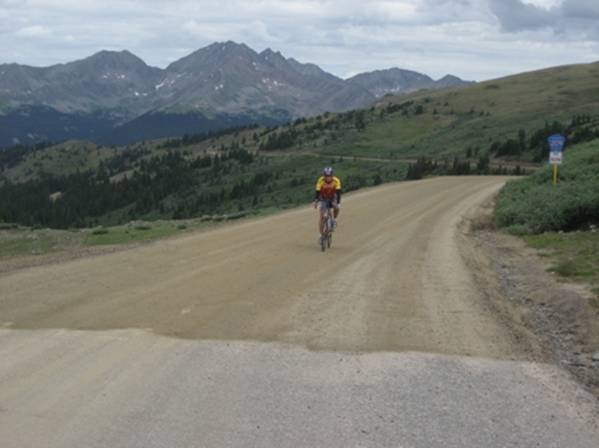 The valley below was really spectacular. I keep using that word, but it really is appropriate.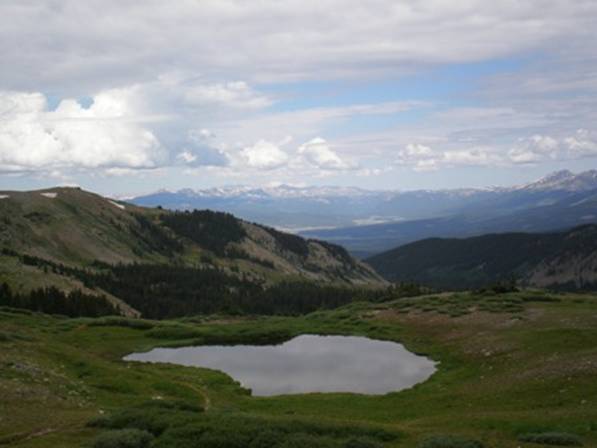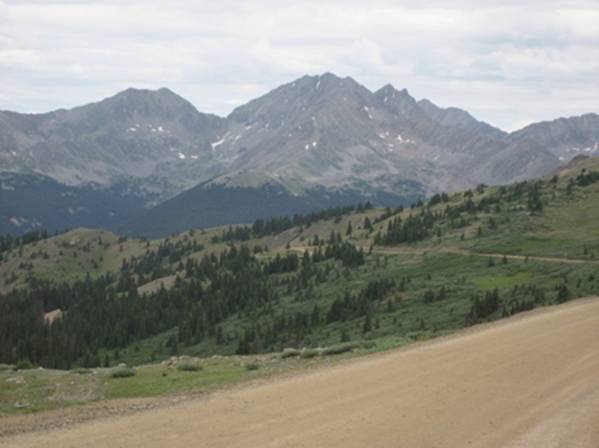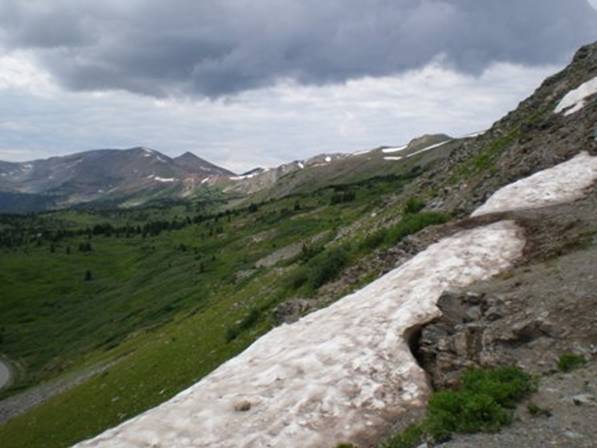 We were not sure if Bill was coming all the way to the top so after we took some pictures and waited a bit, we decided to take our sign picture and then began to descend.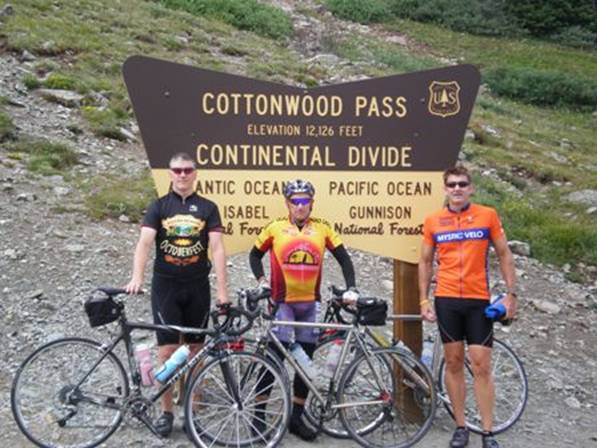 On our descent, we stopped to take pictures several times. Just after the first stop we ran into Bill and sent him on his way to get to the top while we continued down.
Here is Paul on the descent.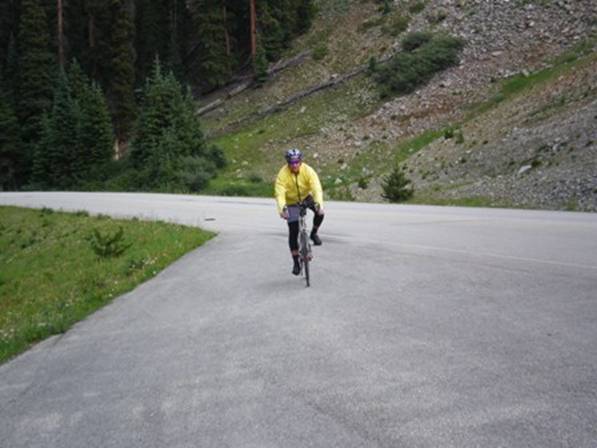 Here Paul captured Tom and I on the descent.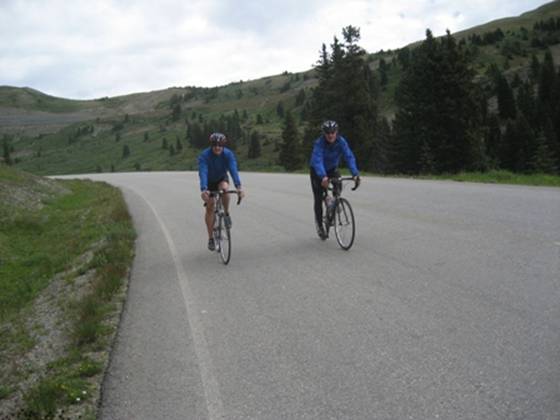 Soon after this picture was taken, it looked like rain and we felt a few drops. Here is what the standard black cloud looks like just before you get wet.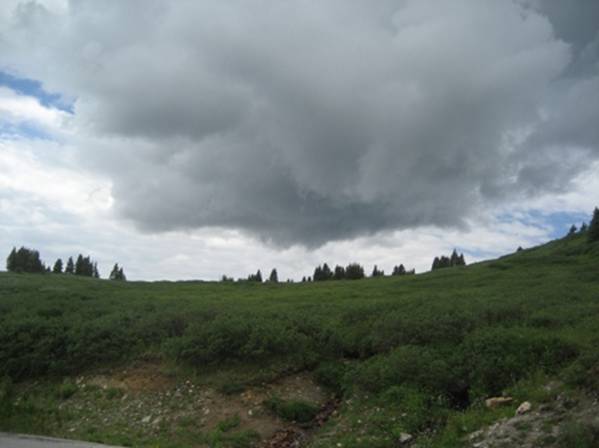 At this point, Tom and I decided to race to the bottom to try and avoid the rain. We did, averaging about 35-40 mph the whole way down.
Paul soon joined us and not long afterwards, Bill joined us too. We all made it and it was a successful day.
We got home and made a big dinner. Paul obviously didn't cook or didn't eat as we have no photographic evidence … actually he was taking the pictures to document us stuffing our face.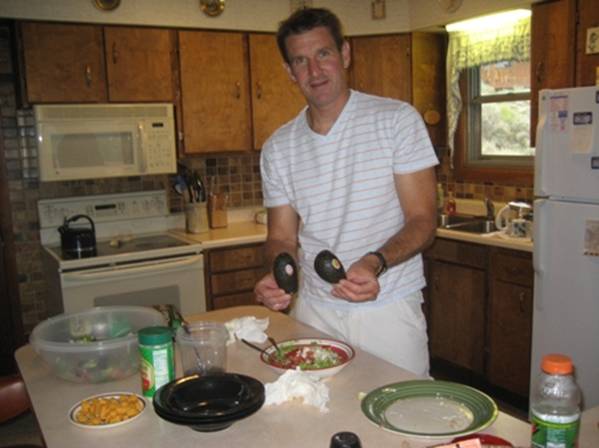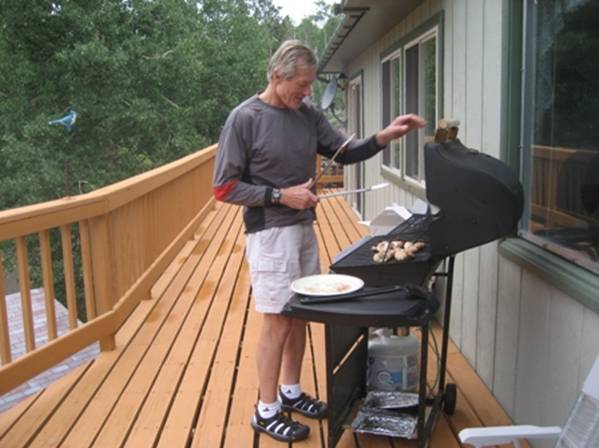 We are changing the schedule tomorrow and plan on trying to ride Mt Evans. Big Day tomorrow.
Return ..........Back (August 4 2008) ..... Next (August 6 2008)