Home ..... Back (August 5 2008) ..... Next (August 7 2008)
August 6, 2008 – Idaho Springs Colorado
Ride Mt Evans!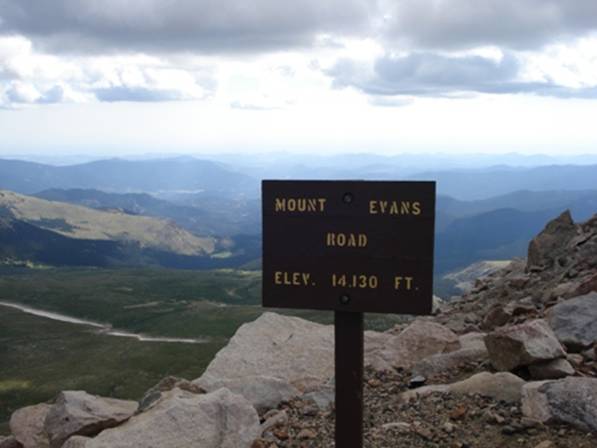 Well today we decided to ride Mt Evans since it looked like the weather would be best over the next few days. Since thunder storms were predicted, we woke up early and were on the road at 5:45 for the hour and 30 minute drive to Idaho Springs where the base of the climbs starts. We started the ride from the spot where the Bob Evans Hillclimb starts. We were on the road by 07:30 and I dressed in all my winter clothes as it was chilly at the base and it promised to be colder at the top.
The majority of the climb really wasn't too bad, as the slopes were not severe. The elevation at the start of the climb was 7,555 feet so that wasn't a problem either. The first thirteen miles of the ride passed through a pine forest and it was quite pleasant.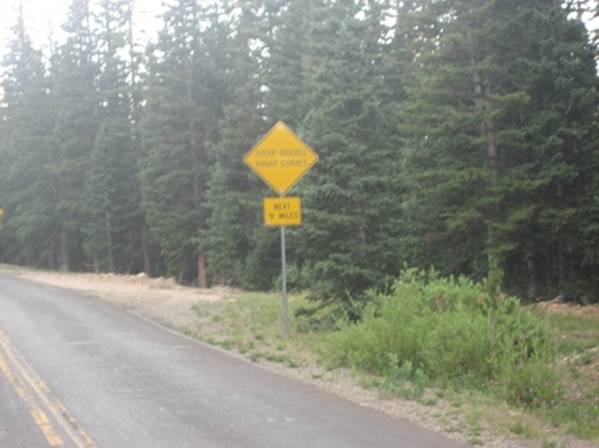 After 13 miles there was a flatter section that passed by Echo Lake which was at 10,597 feet and right after that we had to stop at a Ranger Station to pay our 3 dollars to go to the top. There must be something about Bill as he wasn't charged while the rest of us were. After this point, the road kicked up a slight bit more and I found miles 14 to 15 to be challenging. After that, it got easier again for several miles.
Not too far after this point, there was a viewing area and house for a look out for Goliath Peak. This is where Bill decided that he had had enough. (He may have been the smartest of our group).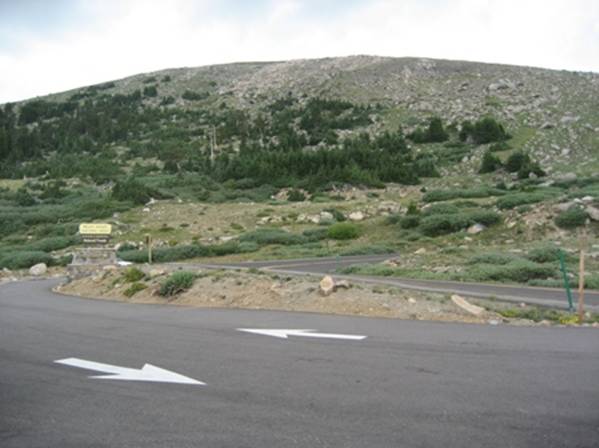 As the road continued on, there was an area of road construction to repair damage from a storm that went through last night. The wind started being difficult after this point and then there was a nice downhill to Summit Lake. Unfortunately, the descent was marred by horrible frost heaves and pot holes so you really had to take your time.
Summit Lake is at 12,830 feet and it's quite beautiful. At this point, the skies were starting to turn that nasty black color that means the storms are coming. It is also at this point where the climb starts biting back as you gain 2,000 feet over the last 4+ miles. About .5 miles up the initial slopes after Summit Lake, Tom passed me on his descent after he had visited the top. I felt alright at this point, but was starting to feel cold.
Here is a shot of Tom at the summit. He finished in 2:35:10.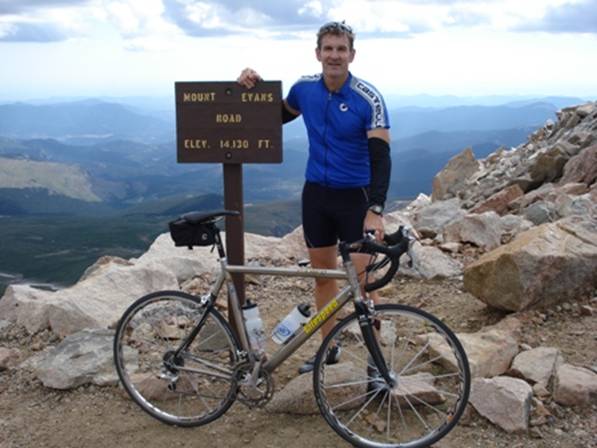 The climb goes through quite a few switch backs from here to the summit which is at 14,130 feet. I found them to be increasingly difficult as you are in a rocky barren environment with nothing to stop the wind. When you were into the wind it was cold. It wasn't so bad when you had the wind at your back. I made it all the way to about .2 miles from the parking lot at the top when I started seeing double vision from the altitude and my core body temperature all of a sudden seemed to drop. I stopped to get my bearings and put on some more clothes, but my legs were so cold and tired I could barely stand. When I saw the skies were darkening, I decided to just descend rather than continue on as I was concerned about making it back down. I turned around at about 3:45 minutes. It was really a little less as I had stopped for a few minutes at the ranger station to pay and also at the construction.

Soon after turning around I saw Paul and he made his way to the top. Paul estimtates his riding time was 3:20.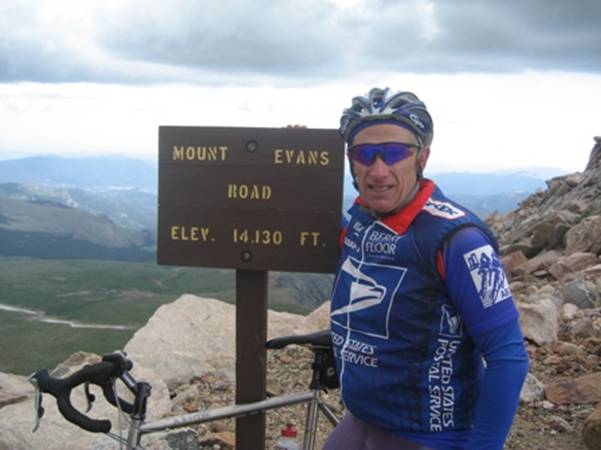 I made a quick descent (at least as fast as you can descend 27 miles) in order to get out of the cold and found Bill and Tom at the cars. Soon after, Paul joined us and we had all avoided getting wet and made it down safely.

While we were cleaning up in the parking lot, we had a friend who like eating powerbars and fig Newtons!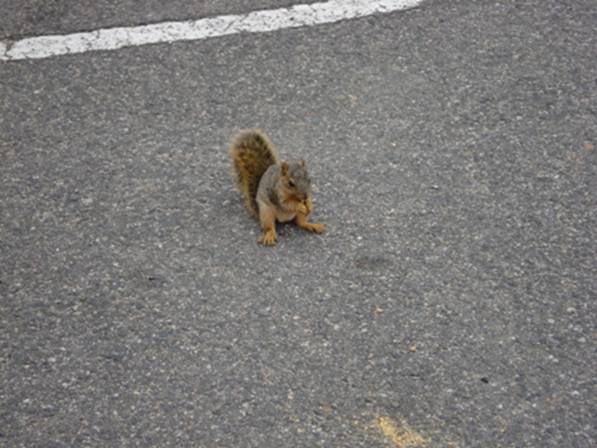 The summit area of Mt Evans is a pretty desolate place. As you can see in these pictures, not much is there.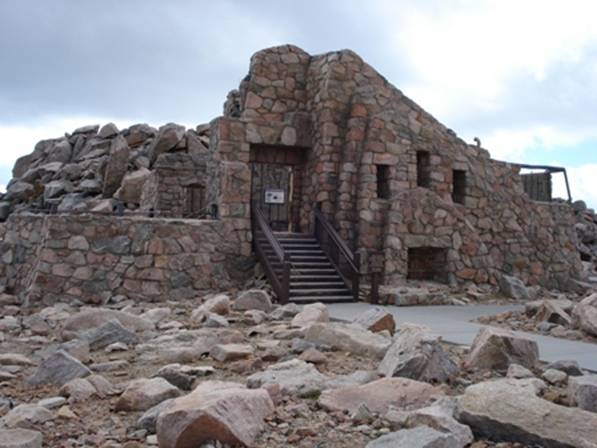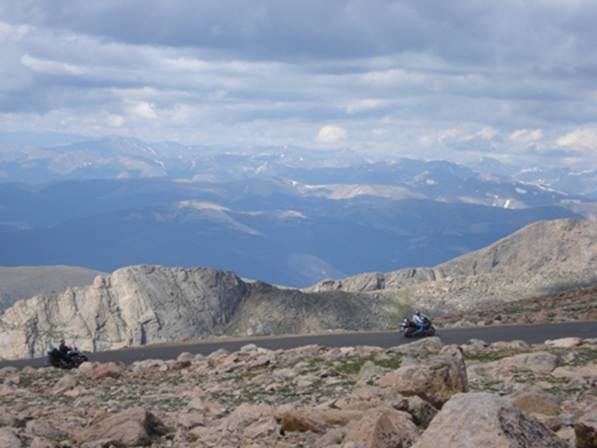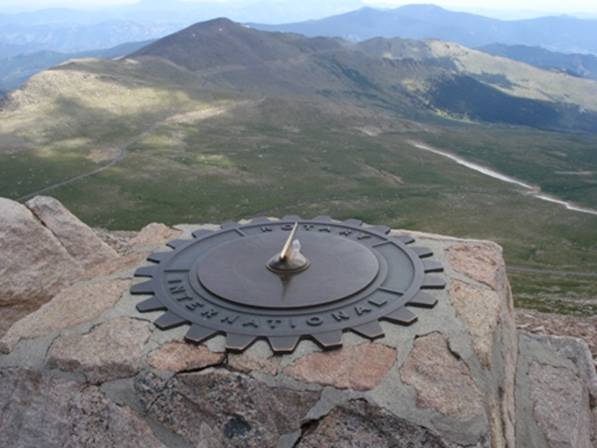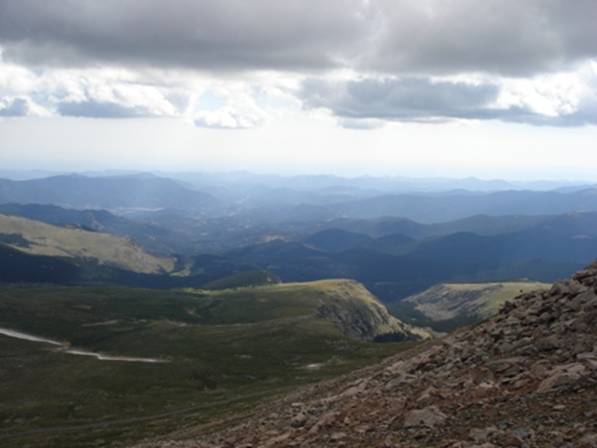 Tom and I were talking after the climb and we decided that this climb was more difficult than Mt Washington because of the length and altitude. We were talking to a local in the parking lot and he said that the climb between 12,000 and 14,000 kills him every time. Paul thought the climb was excellent! I'll agree that it was EPIC.
Return ..........Back (August 5 2008) ..... Next (August 7 2008)