Well, here we are in Briancon and we still have internet. This was a pretty simple day in the life of our 2007 Italy-France cycling trip.
We got up this am and bought our breakfast at the patisserie and went to the café store to get our double espressos and to watch the owner feed the pigeons on last time. As mentioned previously, this has been our routine since Tuesday AM. It's so bad, they even knew our orders.
We didn't see many American's at this year's Tour de France. We really saw more American's in Cortina than in France, not at all what we had expected. It often felt that we were the only Americans in town.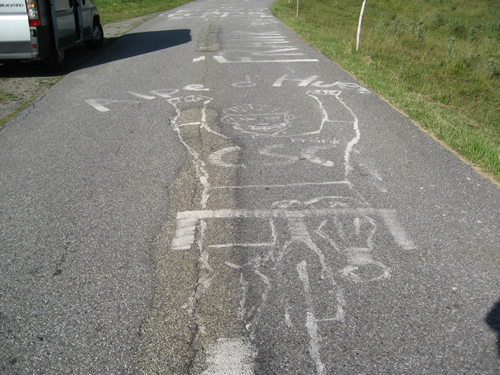 After breakfast, we drove over the Col du Glandon and down into Bourg D'Oisains to where we rode the famous climb at Alpe D'Huez. Along the way over the Glandon, we stopped to take pictures of some road artwork from last years tour supporting Frank Schleck for one of Paul's friends in St. Pete who is from Luxembourg. Frank won the stage at Alpe D'Huez last year.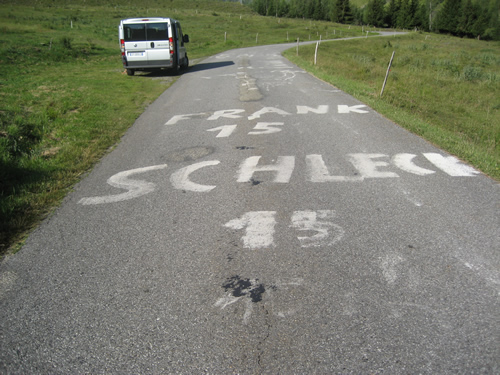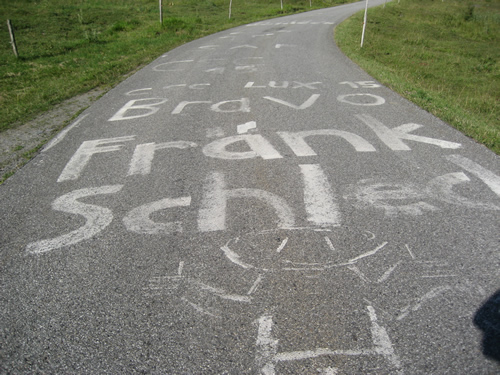 The ride from the Glandon to Bourg D'Oisains was beautiful, particularly in the open meadows just below the peak. Tom pulled over the van into a parking area and we stopped to take some pictures.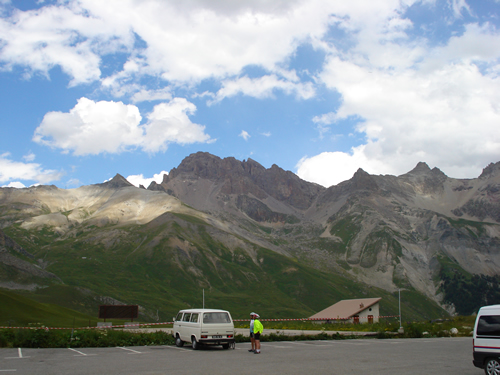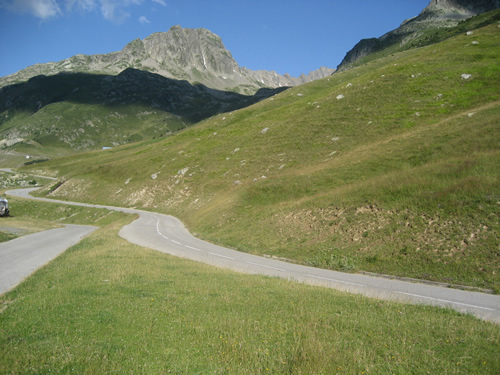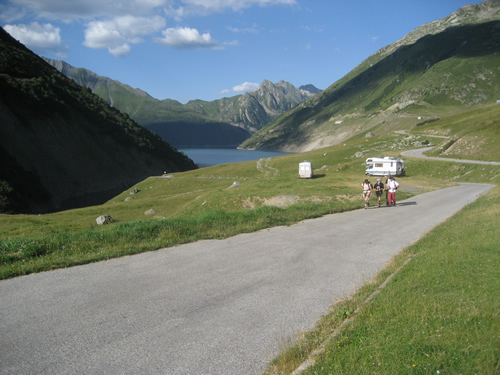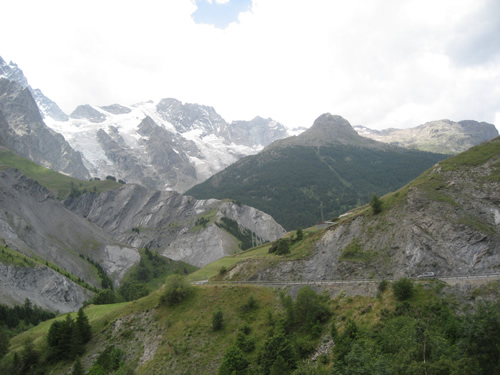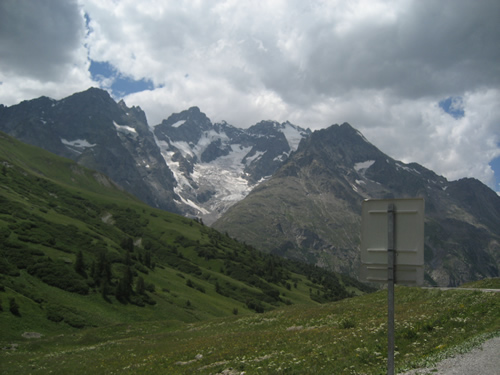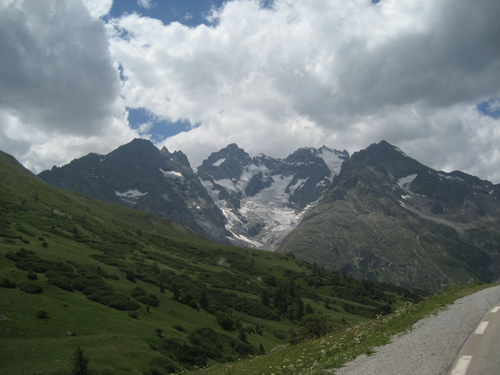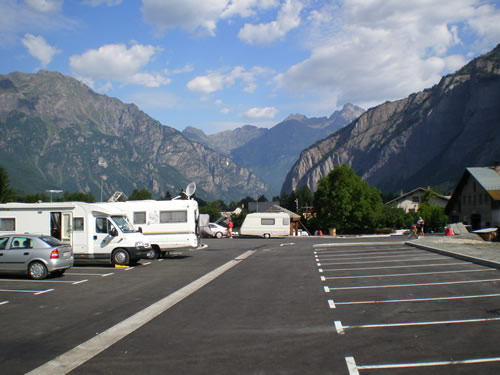 The dirt parking lot we used two years ago has been completely redone, including the addition of a new roundabout on the main road. France is undergoing a major construction boom. There are complete new towns that have been created since we were last here.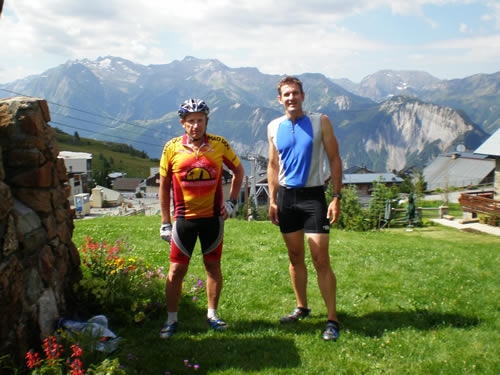 There was quite a bit of construction going on around the finishing line that is always used for this classic Tour stage. The construction made it difficult to figure our where the course finished. There was also a lot of confusion related to getting through town. The main road really doesn't seems to get used as both times we've been to Alp D'Huez there has been a market there. I went straight through the market. As it turns out, there was an easier path that passed one set of streets below the main road that leads to the same turn where we needed to be. Oh well, maybe next time I'll get it right!
Along the way down, I stooped to take a couple of pictures. Here are a couple from up near the village. I tried to stop a couple of times to take others, but I missed them all on the descent!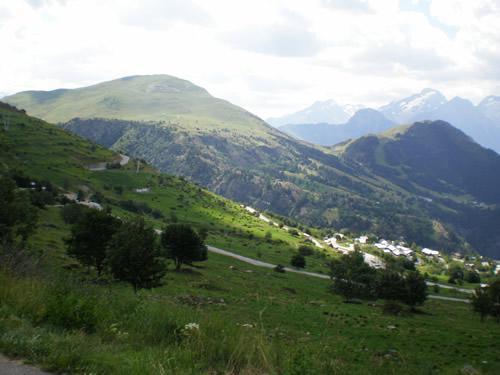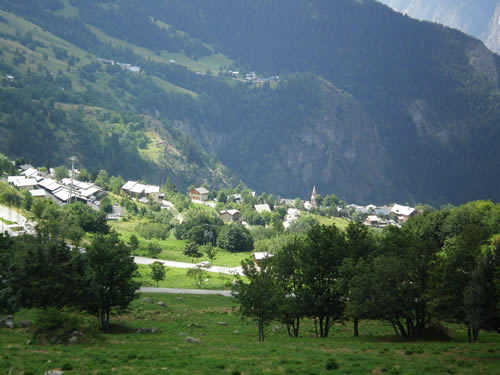 We tried to stop in town at a neat cycling shop where we like to buy jerseys, but they were closed for afternoon break. Most all businesses here close between 12-2 or even as late at 3:30 for an afternoon break.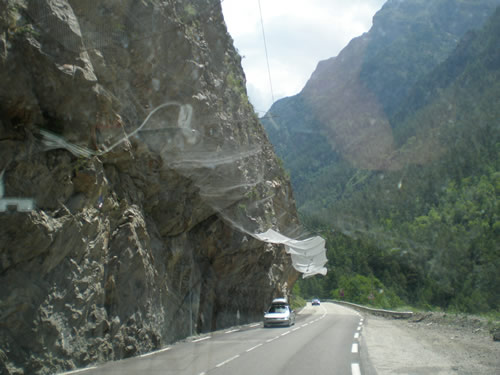 Since we couldn't spend money, we headed off towards Briancon, our destination for the night. Along the way we noticed a lot of new avalanche/rock slide protection since our last trip.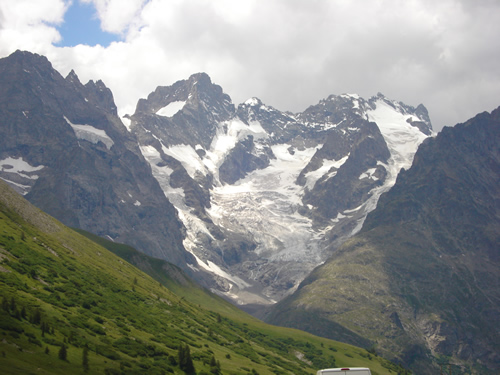 We also passed a lot of the mountains and glaciers that we had seen on our last trip.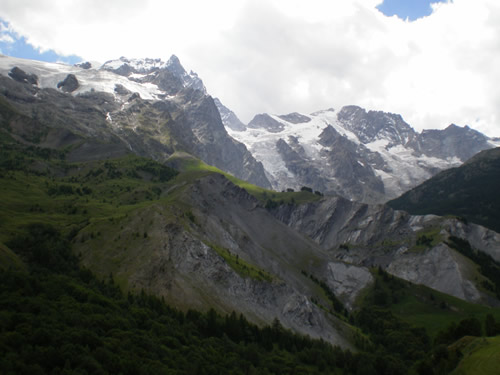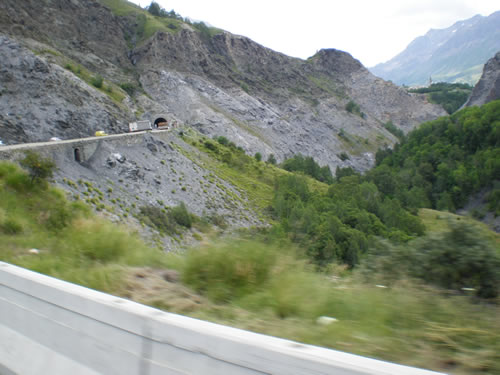 Along the way, we passed the Hotel Les Agneaux which is where we stayed in 2005 when we visited this area.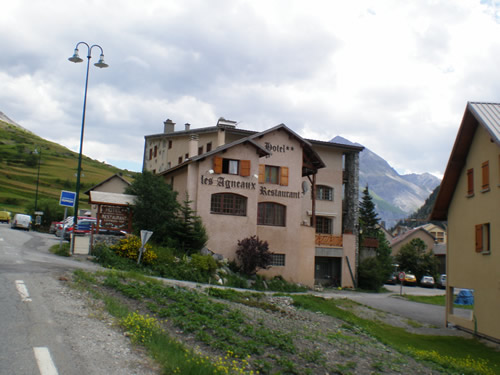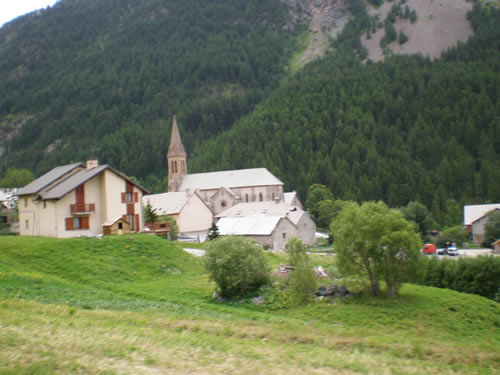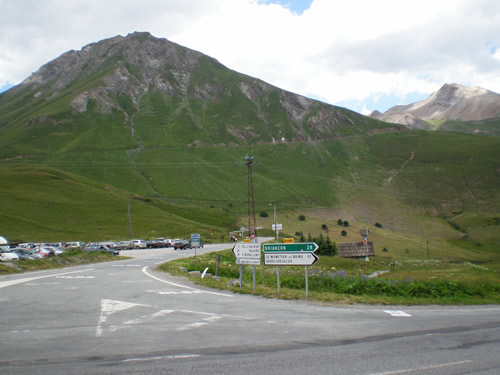 Since it can be slow heading through these valleys, we stopped at the Col de Lautaret to take a bathroom break and get our drive an espresso. Straight ahead in this shot you can see the road heading up the Col de Galibier on the south side. You can also see the pass to the right of center. This is the easy side!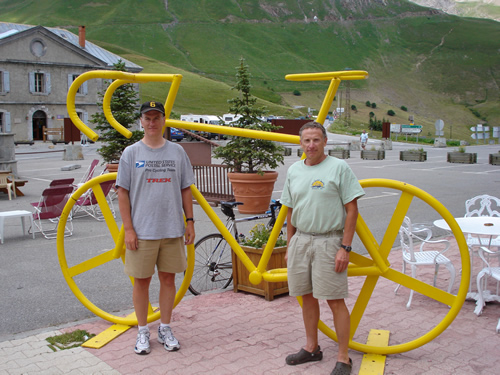 The restaurant at the Lautaret has these cool bikes out in from. We saw these periodically while we were in this area. They were in St Jean de Maurienne, Valloire, here and then again in Briancon. The bikes are painted for the jerseys in the Tour.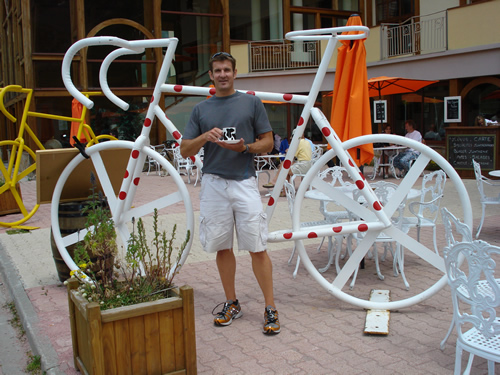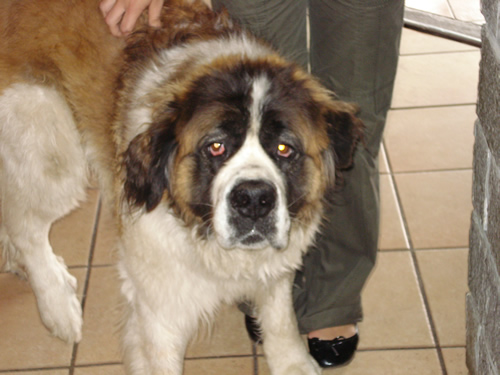 The restaurant had this cool dog walking around outside/inside everywhere. The French are definitely not paranoid about mixing animals and food serving! We followed this dog around inside trying to get his picture. Not sure if he just didn't want anything to do with us or was just wandering!
Finally, we reached Briancon. It is a neat place, with lots to do. We walked around a bit and then stopped for a drink and listened to a community band playing Big Band music.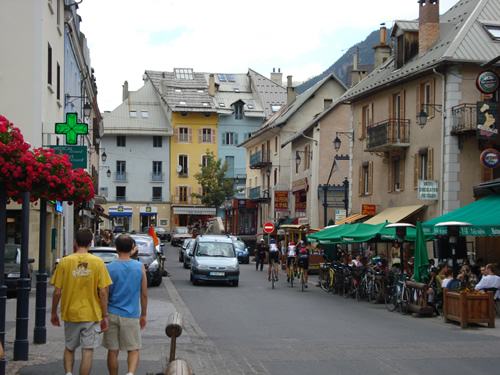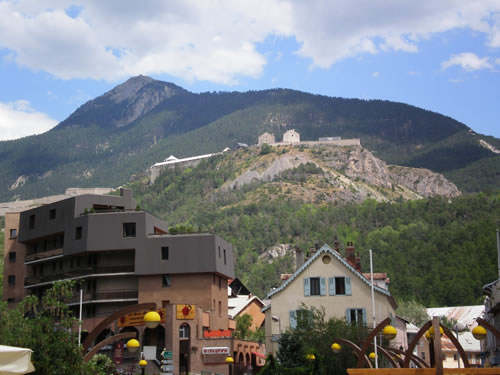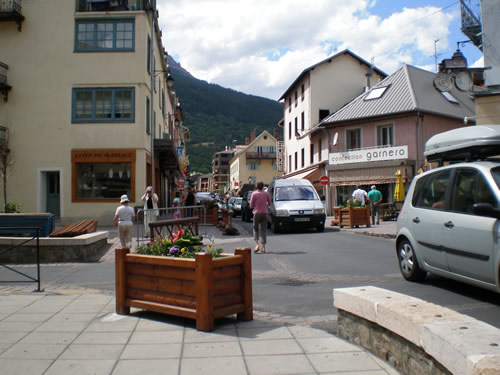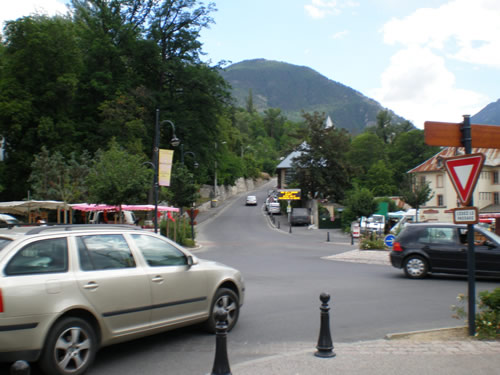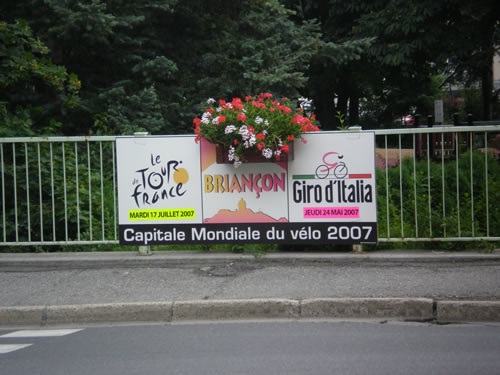 Briancon had the unique honor to host both the Tour de France and Giro d'Italia this year.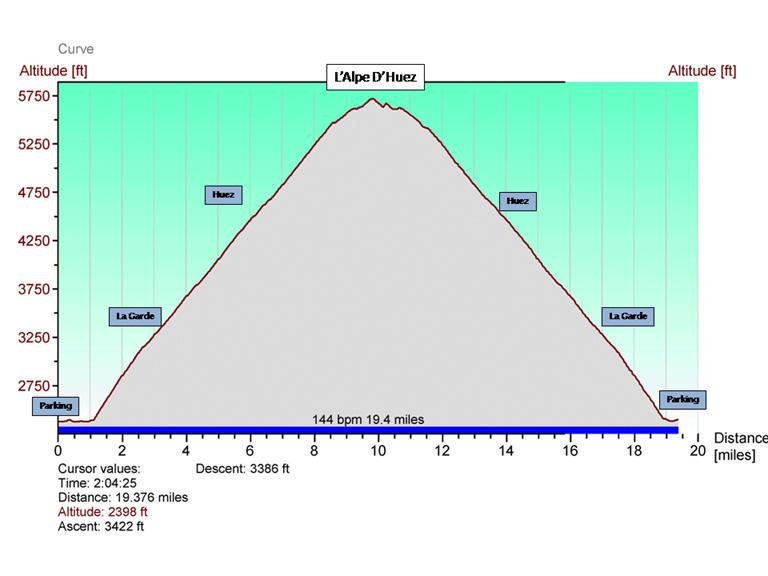 Here is our hotel, Le Parc Hotel
We took Tom in front of the Mountain Climbers jersey sicne he clearly is the best climber in our group.
Eventually, we reached the famous Alpe and did our climb. We all did well, as this was a mountain we raced up to compare times on the course. Here is a picture of Tom and Paul near the top of the mountain.