We got up this morning, had our usual pastry and "double cafe" at the bar with the PMU label and then got ready to go riding. This café was very interesting and I'm sure we stood out like sore thumbs as being American when we first visited. By the end of our stay, we seemed to have a simple dialog with the women who ran the bar. Every morning, she had an interesting ritual feeding the pigeons that lived in the parking lot, on the building and in the bar itself at times. I couldn't find any pictures of the bar and pigeons .. too bad, it was an interesting place. If you are interested, this café is just down the road from the Hotel St Georges and Le San Marino restaurant in Rue de la Republic in St Jean de Maurienne France.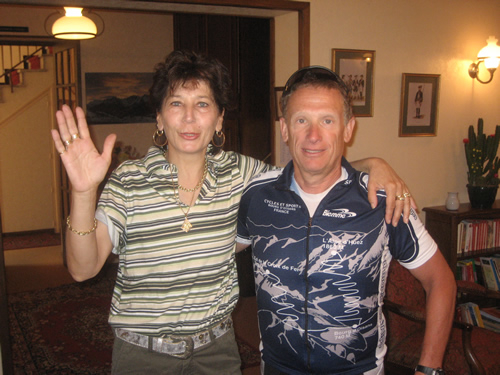 Before we left, Paul took a picture with the hotel owner Martine since he knew her from a previous trip. Everyone has been very friendly here.
If you every visit St Jean de Mauriene, you should stay here at the Hotel St Georges Hotel and eat at Le San Mario restaurant with Adge. Last year the Director of the Tour de France stayed here and previously in 2002, Lance Armstrong and the US Postal team stayed here during training.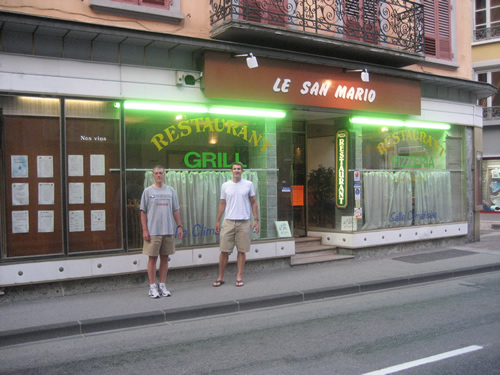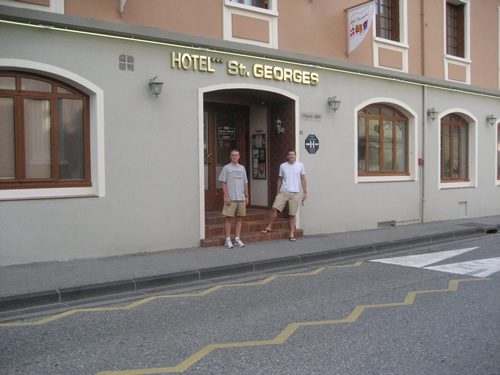 Here are some pictures of us with Adge and Le San Mario staff. I wish I could remember the girl's name!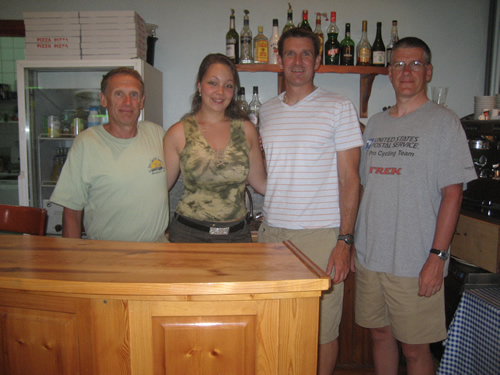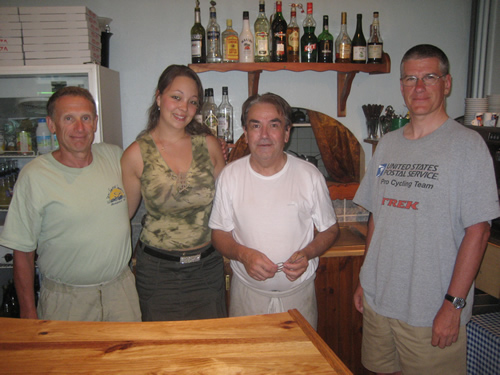 We had an easy ride over to the Col de la Madeleine today. We decided to ride that rather than out planned ride over the Col D'Iseran since we could ride from the hotel and we are doing the ride of Alpe D'Huez tomorrow. We want to be fresh for that ride.
There are multiple routes up the Madeleine. We chose to ride up the western valley up route D76 which turned out to not be the main route.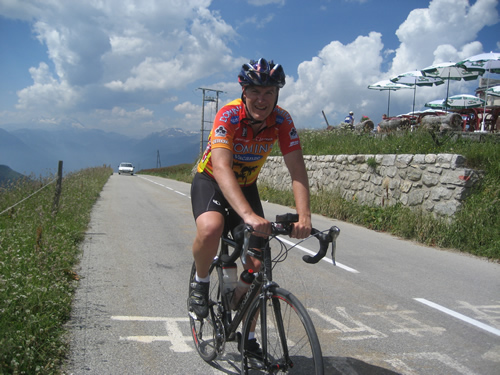 Soon after starting the climb, Tom took off and we didn't see him for a long time. More on that later. Paul and I rode on and I suffered pretty badly today, even though it wasn't a very difficult ride. While riding, we saw lots of lizards and grasshoppers. We finally made it to the top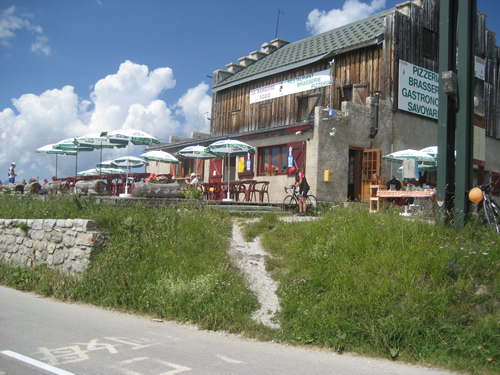 Here are some shots of Paul and I sitting in the warm sun.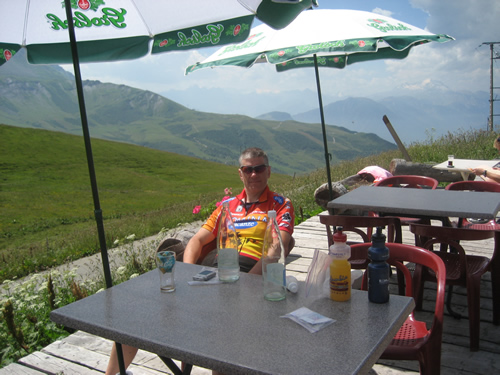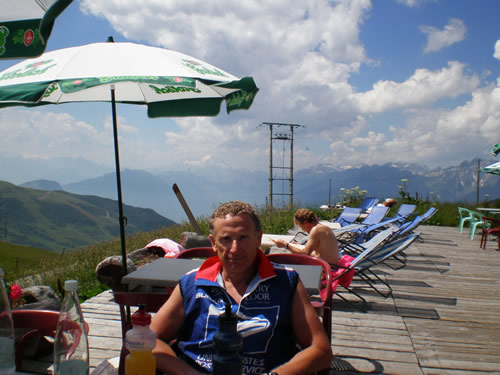 And some more shots of the top and the scenery.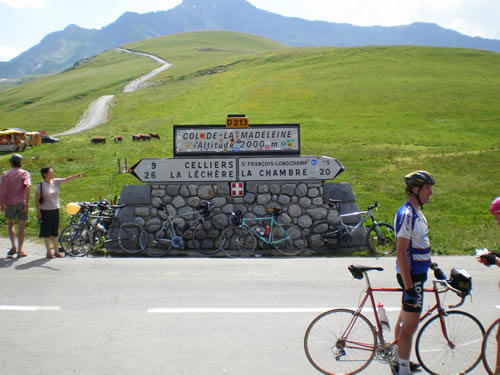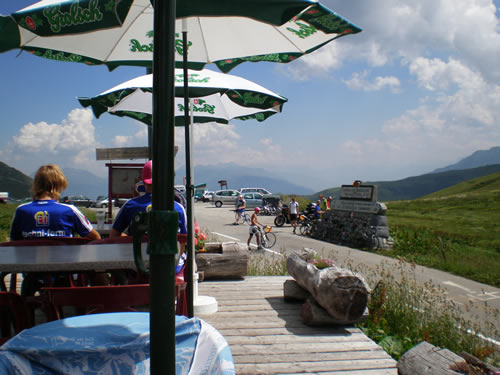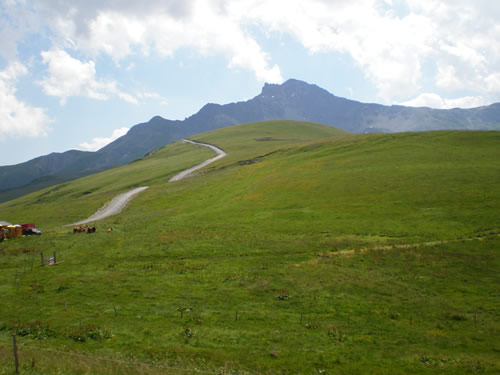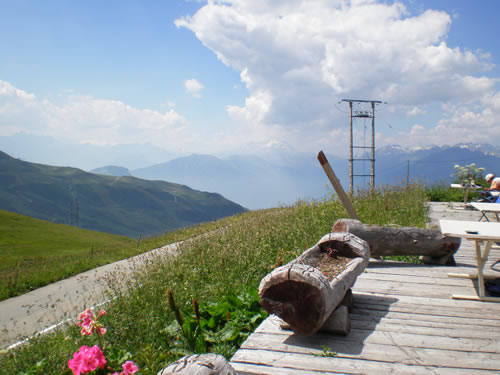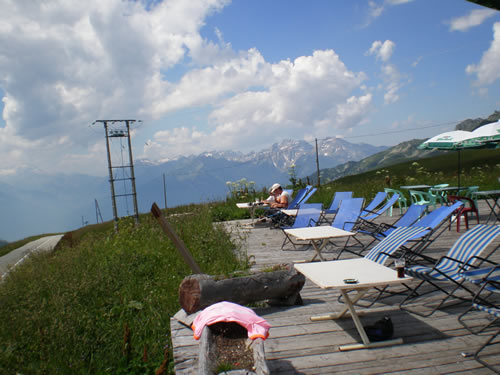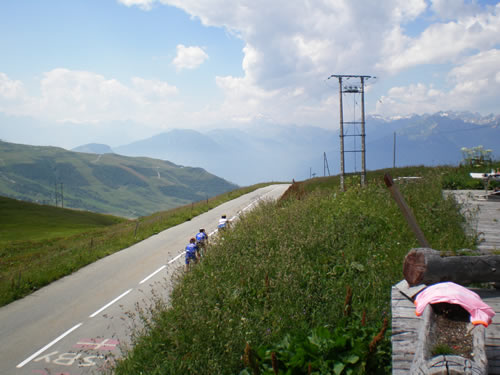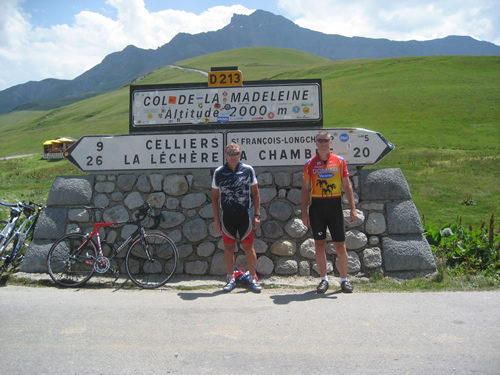 We waited for Tom for over an hour, wondering what had happened since he's always first to the top. Finally, we had a Dutchman take our picture in front of the sign on the Madeleine. We've noticed that it seems to be in vogue to put stickers all over these signs. That wasn't the case in the past.
Finally, Paul and I headed down the mountain without having see Tom. When we got to the ski village of Longchamp, we picked the Western side of the valley on D213 to descend. This road had been repaved and was obviously the main road up the Madeleine from the Mauriene valley. When we got back to the hotel we found him. It turns out that he had taken a wrong turn when he reached the fork in the road and took the higher sloped road. He followed that road until it turned to gravel. Oh well, it was still a great ride.
We may not have internet for the rest of the trip. We are changing hotels and moving to Briancon tomorrow. It we have internet, the posts will continue. But before we get there, we are once again climbing the famous 21 turns at Alpe D'Huez. Tom needs to beat his record time from last trip.
When we got back to town, we took wandered around and took some shots of St Jean de Maurienne.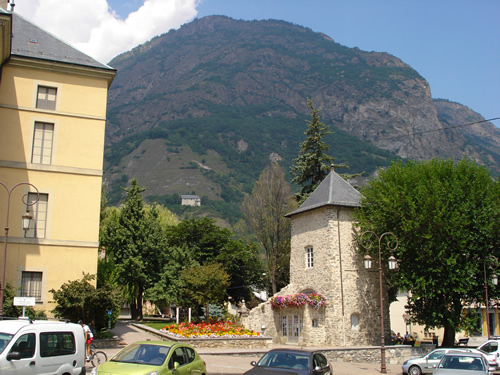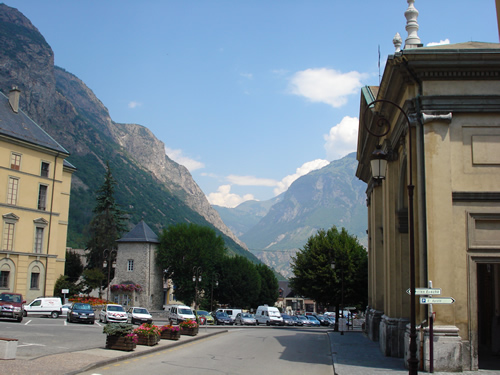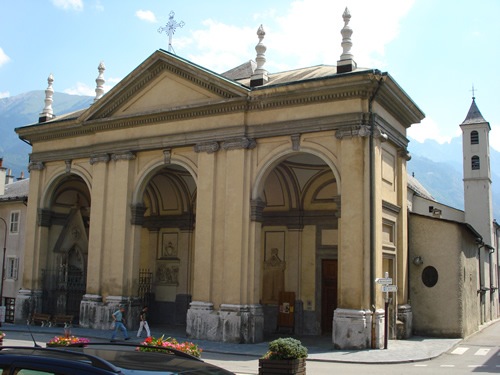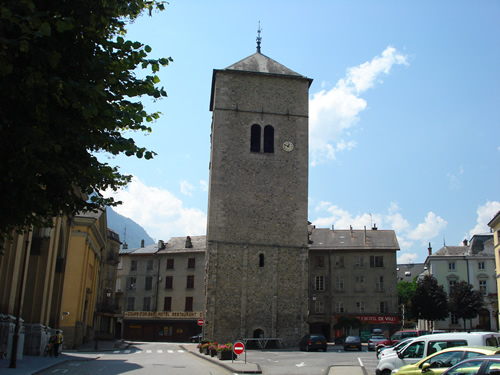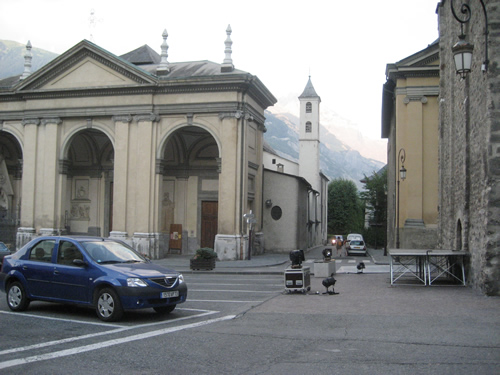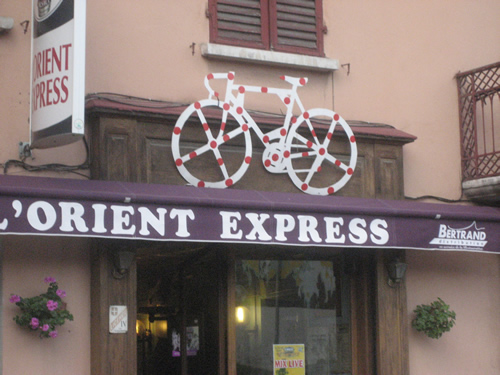 There was another town theater show in St Jean de Mauriene this evening. This time, Paul attempted to go with Tom, but he only lasted a few minutes. When all was said and done, the show turned out to be a series of comedic readings where the crowd went from spot to spot hearing different jokes. Of course, they were in French …. Tom quit when the 500 people following the show packed into a small church for one reading. Even he had enough at that point.
Before the show, we had our 4th and final dinner at Le San Mario restaurant. We had lots of good food and enjoyed lots of laughs even though they didn't speak English and we didn't speak French. Once again, Adge gave us free drinks .. that was 3 out of 4 nights with free drinks.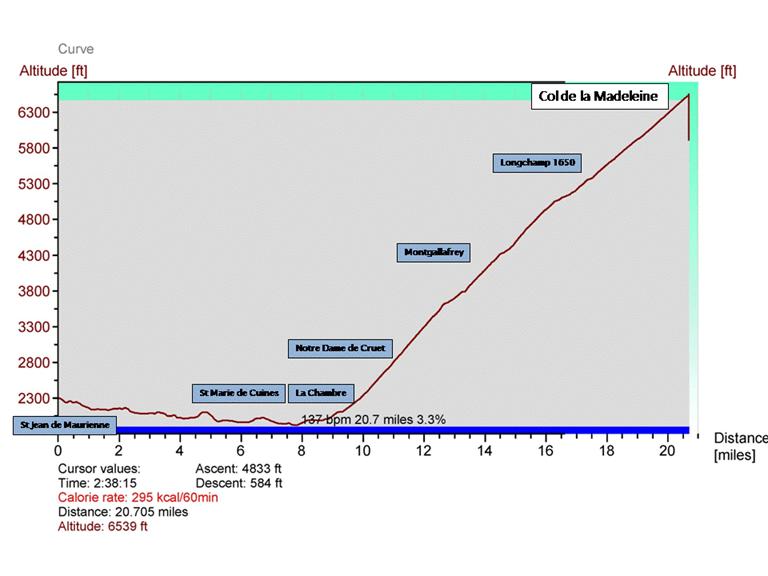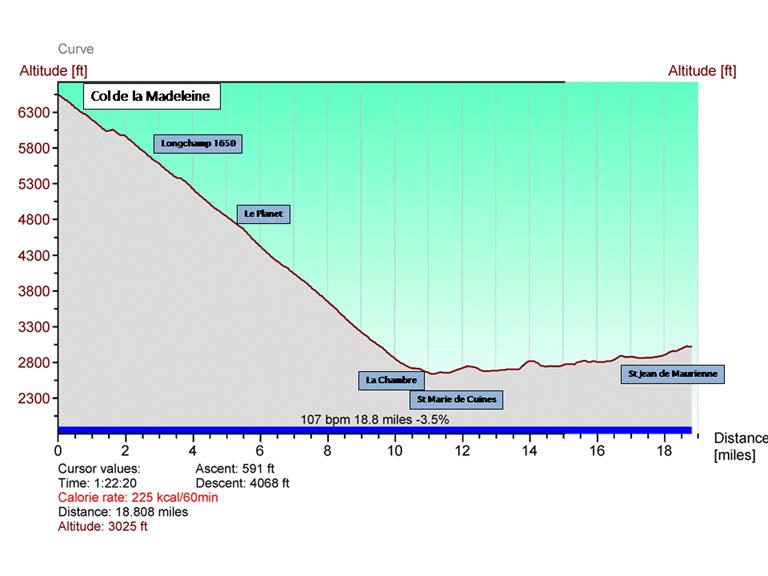 We stopped at the restaurant on top for a 4 Euro bottle of water and a coke.