We didn't need to get up too early today since we were riding from our hotel. The ride wasn't planned to be too hard, particularly since we decided to cut out the climb to La Toussuire since we rode there Monday afternoon.
We left the Hotel St Georges after a good breakfast and coffee. The ride over to the start of the climb was through a fairly industrial area. There is a lot of industry in this part of France.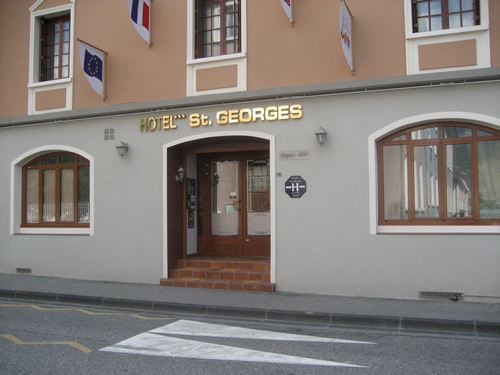 Our ride today was a recreation of part of the famous stage 16 from last years Tour de France where Floyd Landis bonked and lost his lead of the tour.
The climb up the Col du Glandon wasn't too difficult and we saw a lot of the same type of beautiful scenery that we've seen all along.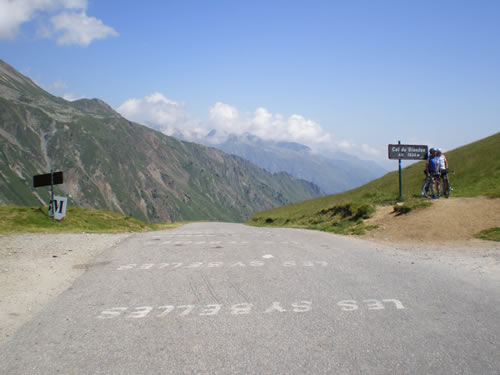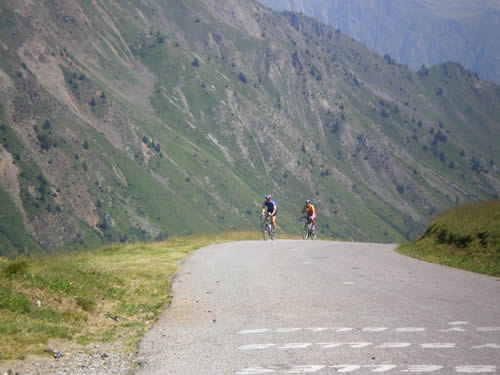 Here's an action shot of Paul cresting the summit.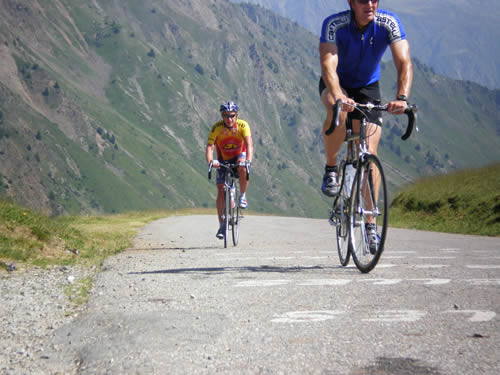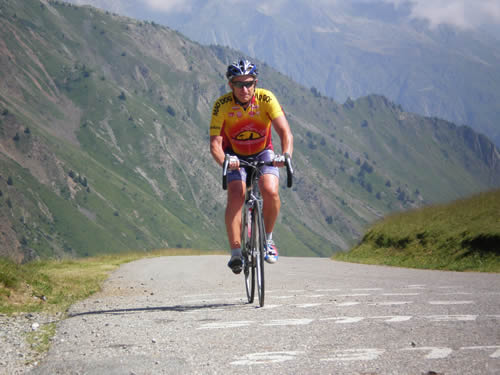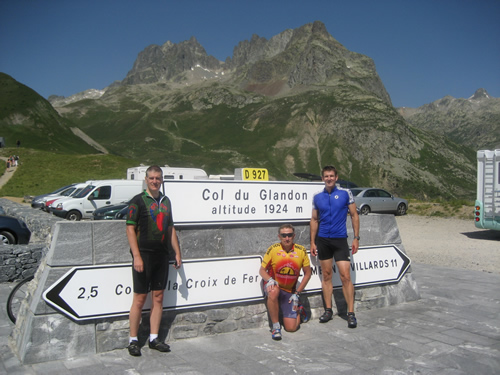 At the top, we took a group photo, infact we took may photos. I also included one with us goofing around a bit because it shows the scenery around the summit while we were taking pictures.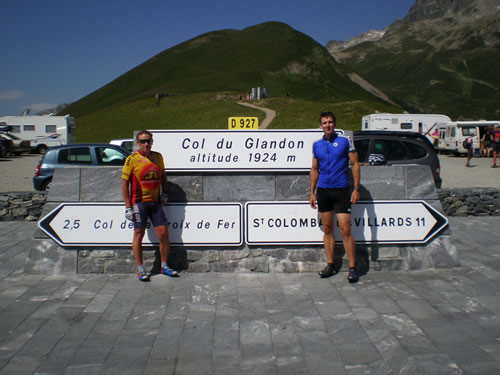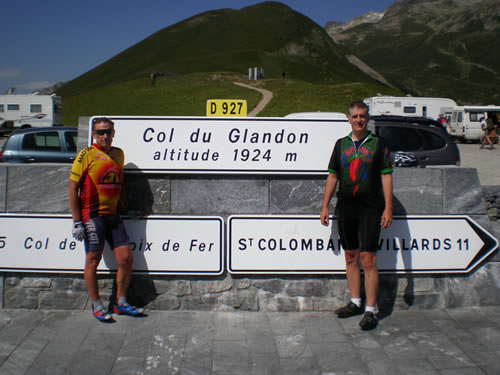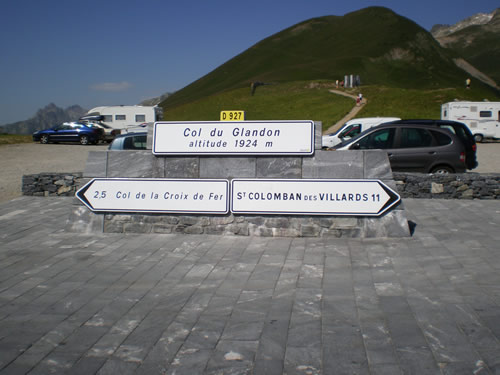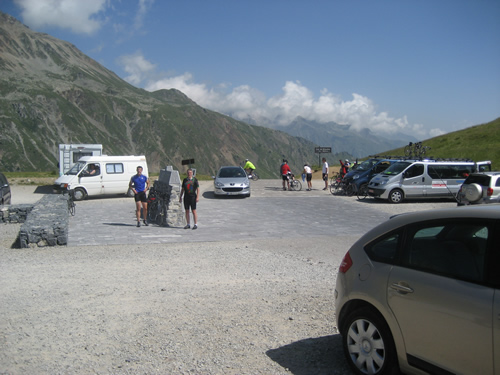 After taking some more pictures, we stopped at the bar just below the summit to reload on some water and have a Coke.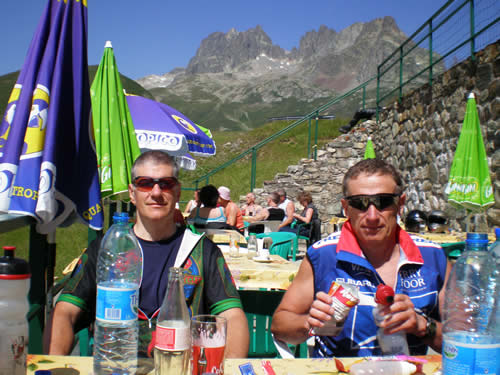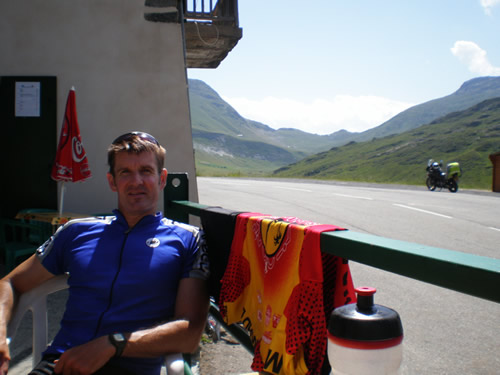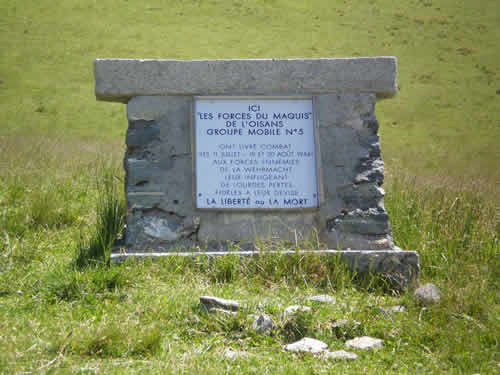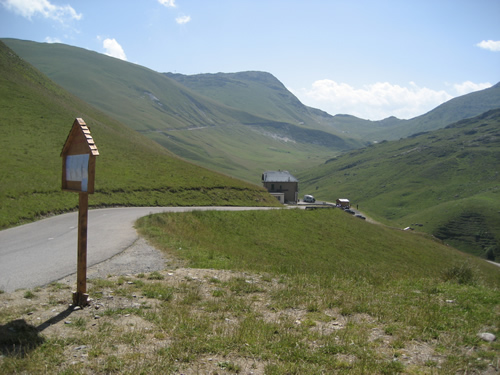 Next we made the short ascent to the summit of the Col de la Croix de Fer or the Col of the Iron Cross.
They have the best signs on top of these mountains in Europe. The US could lear a bit form their signage!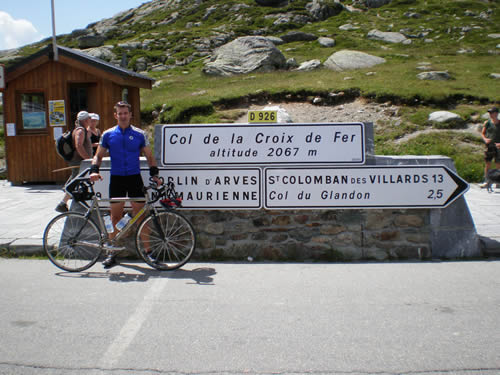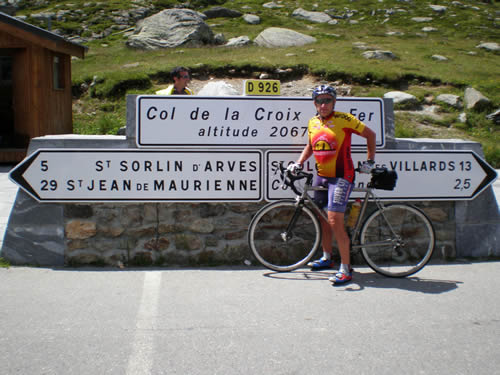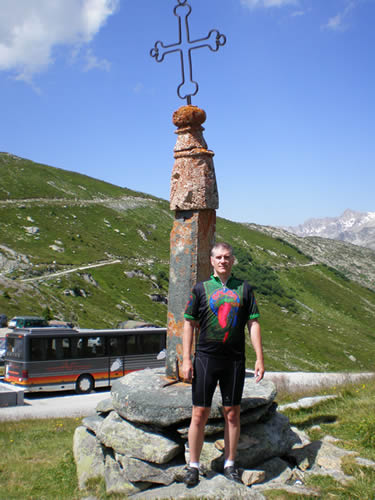 And here is the Iron Cross!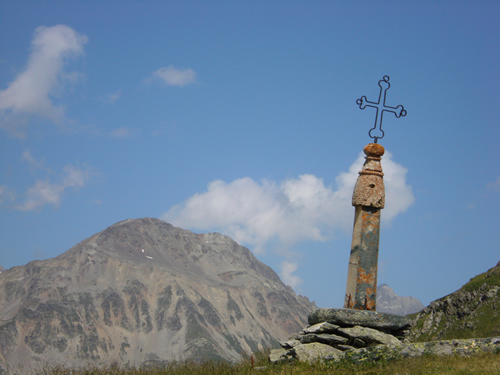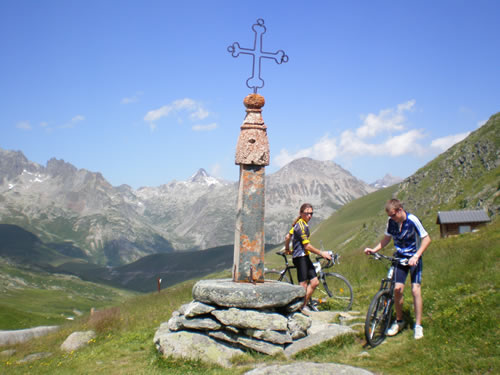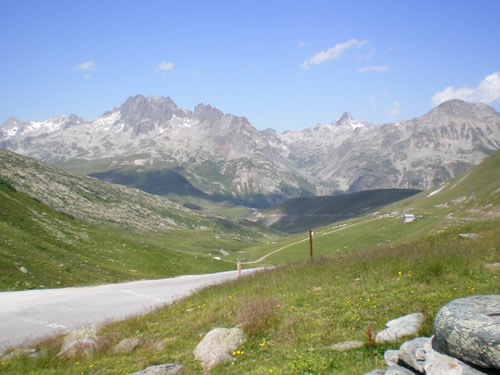 There were pretty dramatic views from the summit.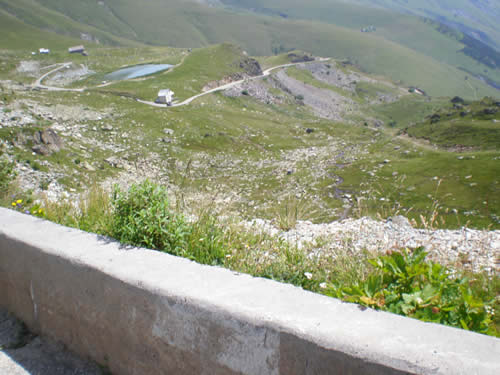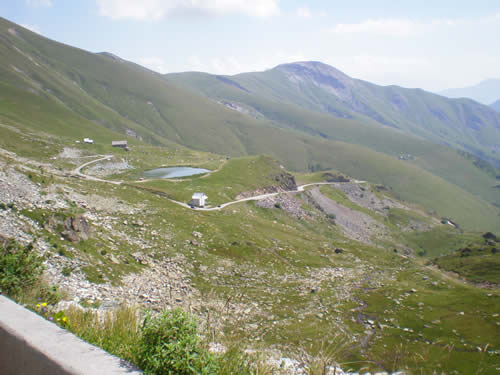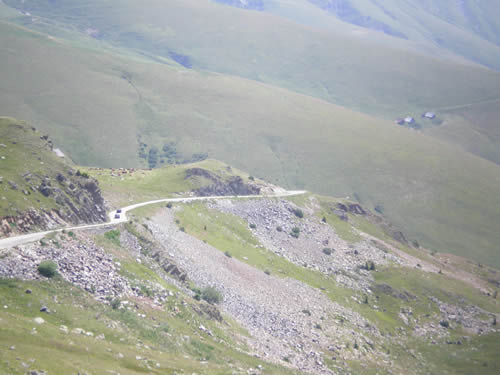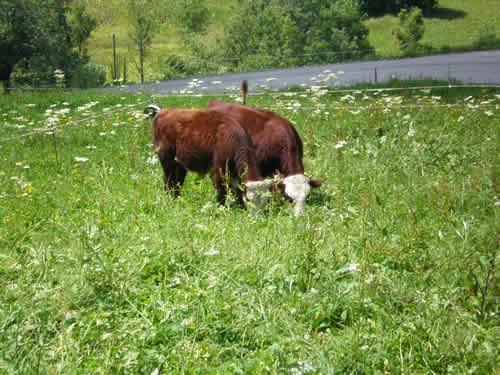 After taking all the scenery in, we descended for a very long way until we reached the Col du Mollard. This climb was short, and also not very difficult until the last 1 or 2K. Along the way, I stopped to take some pictures of the cows.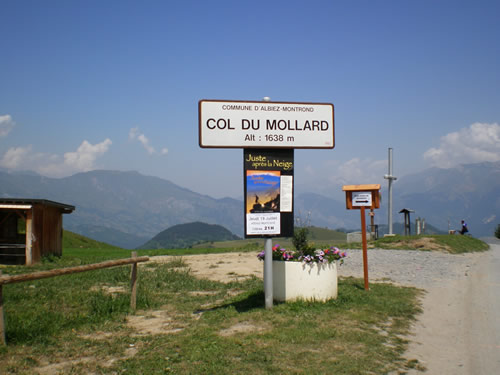 Finally we created the hill and found the summit. The descent has been described as treacherous and I agree whole heartedly. It was bad road surface and very twisty wit many tight switchbacks.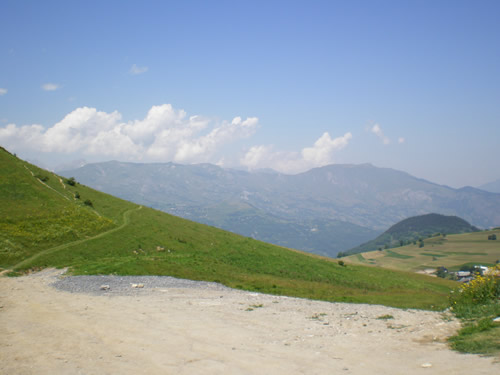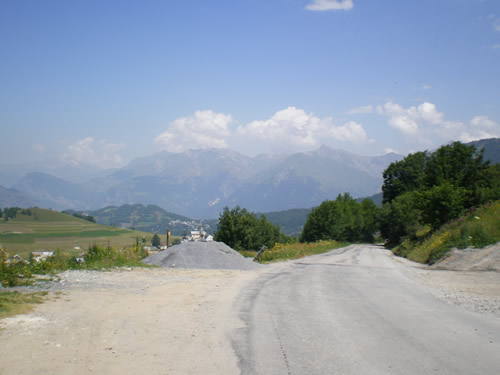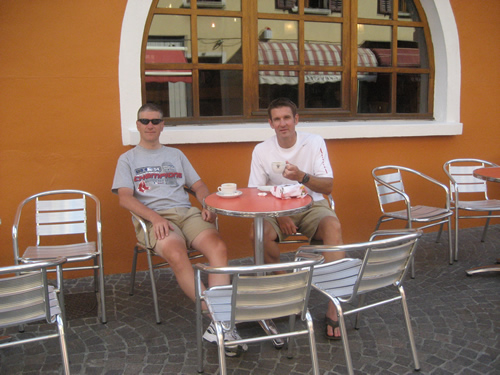 Afterwards, we got cleaned up and went out to have a cup of coffee and watch the world go by.
We at dinner again at the San Marino restaurant. We've reacquainted Paul with the owner Adge who he met on his trip here a few years ago with Vigo and Max. Adge has been great to us on this trip, giving us some free wine. Today is was free shots of something … we didn't know what and didn't ask, but it was good.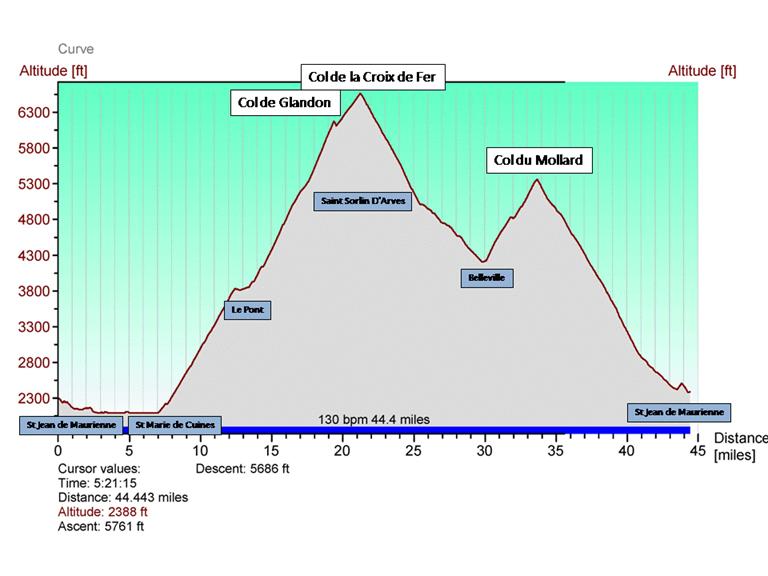 Tom just loves his pastry. Here he's eating a Blueberry Tart …. We have a similar picture from our last trip from Carcassonne where he is eating a piece of Blueberry Flan