Well the day to head off on the big trip has finally arrived. I finished watching the Prologue to the 2007 Tour de France and then got the house ready to head to the airport. Once again, Tom's father was our savior, driving us lunatics to Boston's Logan Airport. Since he and Tom's mother had plans for that night, we headed off a bit earlier than needed. That is never a bad thing in my book when going to the airport for an international trip. Never mind one where in addition to our clothes, we had bicycles and food jammed into our bike boxes weighing at least 70 pounds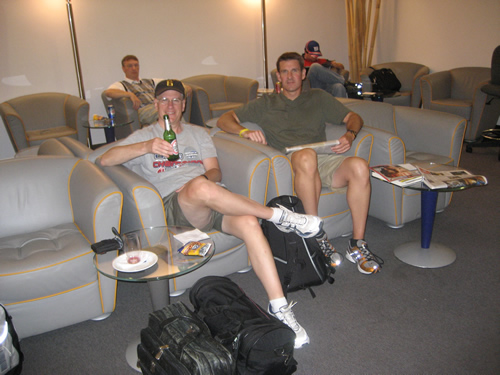 Luckily, we had no troubles and proceeded to the Business Class lounge at
Logan
where we ate and had a few drinks while we waited for our flight.
The flight to Italy was interesting ….. Business Class on Lufthansa was probably just as good as First Class. The flight was pretty short, only a little over 6 hours … barely enough time to eat, have a drink and get some sleep. Had Lobster for an appetizer, fish for dinner. Got some good sleep and we were over England before we knew it.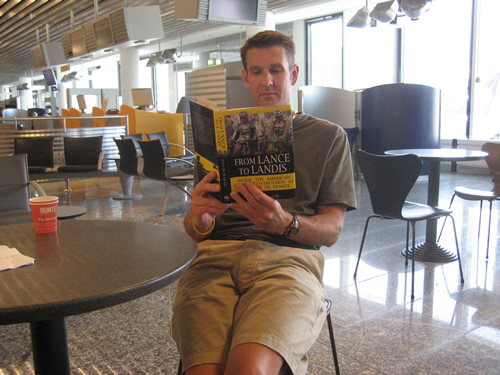 We finally left and arrived in Torino in no time. The country side looked great, although with the humidly, the haze really prevented us from really seeing the Alps in the distance.
Frankfurt
turned into a bit of a mess. The German timetable was all hosed …. Our flight ended up being delayed for over an hour. It was worse than back home information wise. They kept telling us that we were leaving in 15 minutes. Here Tom is doing some advanced research for the trip.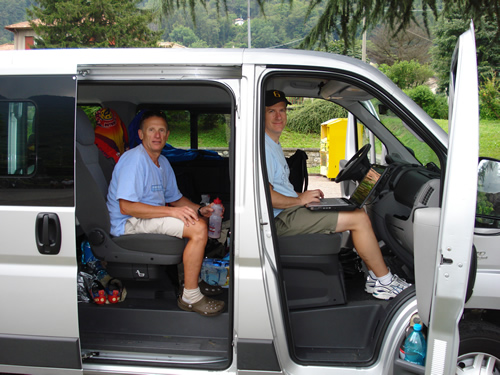 Our AVIS van is a monster …. It's a Fiat and looks like a big box, has a great ride, and lot's of room for storage, but god only knows where we'll park!
Here it is on the street in front of our hotel in Torino. Speaking of which, the hotel in Torino was a real piece of work! We stayed at the Hotel D'Azeglio. The rooms look great in the website, but compare our picture to the room on the web! But they did keep our bike boxes for us at the Hotel Giotto which seems to be affiliated with the D'Azeglio … the question was: Would they be there when we return. When we checking in, no one spoke English and none of us know much Italian. Luckily, the night manager spoke English.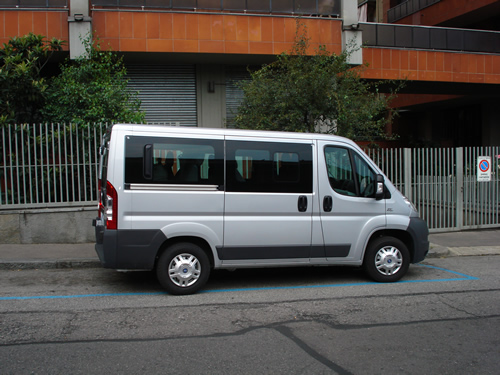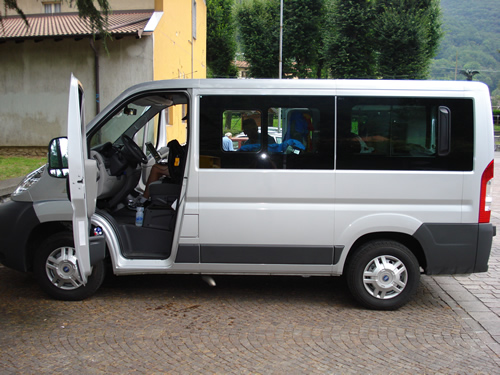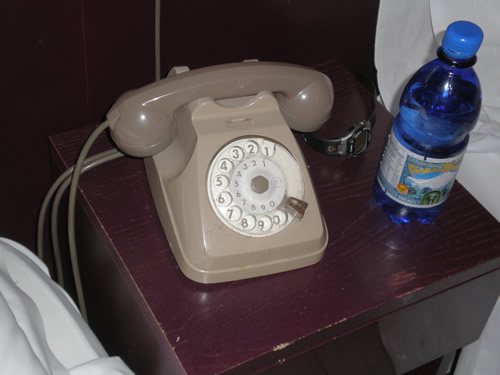 As I said, the hotel was a piece of work. In the end, we think it was probably a college dorm room that is rented when no students are around. The room was a small box, barely enough room for the three of us. The bathroom was so small you couldn't turn around without hitting the wall. The topper was that the phone was a rotary phone! When was the last time you saw one of those?
Here are a few pictures to show you the situation!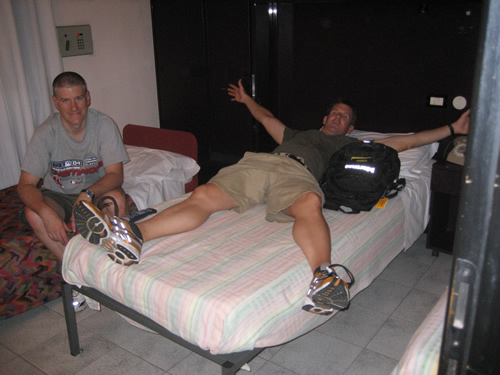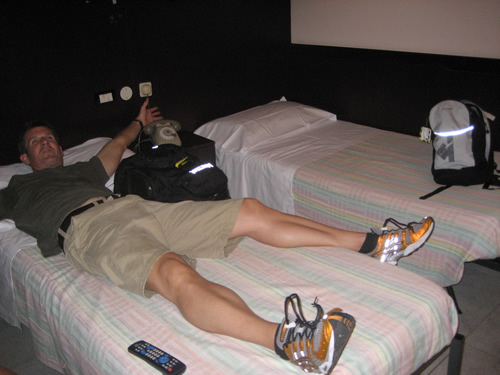 We put the bikes together on the street and found out that TSA has stolen Tom's energy bars and Electrolyte pills. That is unbelievable, but true. Also, Paul broke the bolt on the bracket that keeps his seat on, so we have to find a bike shop before we can ride in the AM.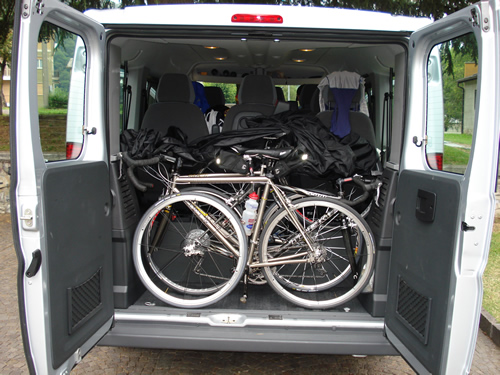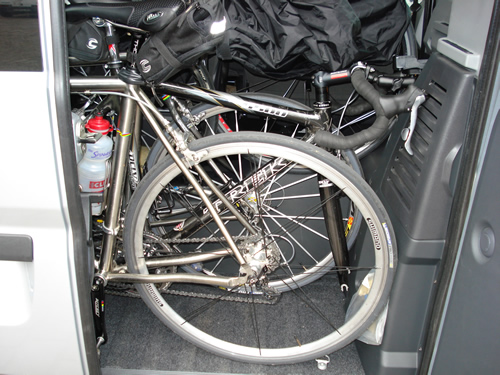 One lesson from this trip is not to travel to Europe on a Sunday. Everything is closed and frankly was quite dead. That made our short visit to Torino even more challenging. When I booked our flights to/from Torino, the thought was that this was an Olympic city, so it must be pretty nice. Well.. in short … NO IT ISN'T!!! In fact it was a pretty run down and dumpy city that made me think we had visited Eastern Europe. A tell tale sign of how bad it was is that even the Olympic store at the airport had no Olympic stuff. In fact, it was empty!
We ate dinner at a very good restaurant, La Flegrea where we had pizza and calzones. We walked around to find bank machines and Gelato. The bank machines wouldn't take Tom or my cards and through no fault of his own, Paul irritated the guy selling Gelato at the one store that was open. Tom and I didn't bother trying to order any. Finally we just crashed early since we were tired and there was nothing else to do anyway.