Well today was supposed to be a big ride from Sestriere around through Cesana over the Col della Finestre and back to Sestriere. We decided to cancel that itinerary for two reasons. First, I don't think any of us really relished the idea of climbing that dirt Col della Finesre with its steep slopes after two weeks of ambitious climbing. Second, the weather that had ripped though the area last night left it cool and very damp and foggy in the morning. Additionally, I think we were all anxious to get back to Torino to see if our bike boxes were still at the hotel or not! Considering all this, we decided to drive to Cesana and climb to Sestriere and then return to the van for the trip to Torino.
One good thing about the weather was that it kept the idiots from racing up and down the streets at night. This is the one issue I have with Briancon and it mainly is a result of the French not believing in air conditioning. Seems that Briancon is a young town which is a good thing. We got woke up each night by folks leaving the bars when the closed. Also, there seemed to be on idiot with a supped up car who liked to race up and down the main drag all night. Neither of these issues would have been a problem if the room wasn't 10,000 degrees requiring us to leave the windows open at night.
Since the weather was iffy, we decided to hang loose and eat breakfast and have coffee at the bar across the street from the hotel. As it turns out, it was Sunday morning which meant is was market day. As a result, we watch the vendors set up their stands while we ate our croissants and drank coffee. This bar was interesting as the décor was much like home. There were license plates from each of the 50 states hanging on the wall. I think that since Briancon is a popular ski area, there must be more Americans here in the winter than in the summer.
After breakfast, we packed up and drove over the Col de Montegenevere and through the pass towards Italy. This was a ride that I had considered as a candidate for us to ride on the bike, but it didn't work out. One of the neat facts is that it is widely believed that this is the pass the Hannibal came through with his band of elephants when he attacked the Romans in Northern Italy. Alas, we saw no elephants, but it would have been a good ride. As we crossed form France to Italy, we passed though a new tunnel that was obviously built for the 2006 Olympics. Many of the Alpine events were held in Sestriere and the Bobsled runs were in Cesana which was at the bottom of the pass at the end of this new tunnel. Once again there was no border control and soon we were in Cesana.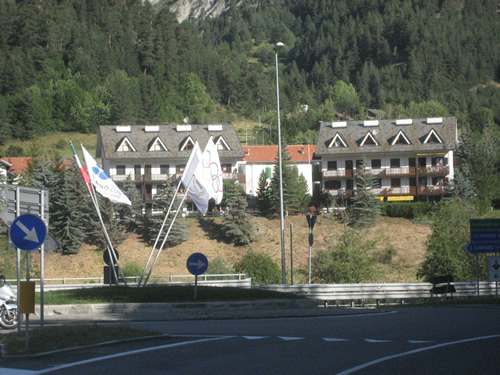 This is the traffic circle in Cesana. Sestriere is to the right and the Bobsled runs are basically straight ahead up the mountain.
Well, soon we learned that even the best laid plans can get messed up. The road to Sestriere was closed due to a car race that morning. Even the backup plan wasn't executable. Oh well, I guess one bad day out of 15 wasn't too bad. As a result, we decided to hurry back to Torino and see if we could have returned a day early. More later on that, but basically, we could have gone, but since we were flying Lufthansa and using USAirways miles, no one could help us. We couldn't even pay to make changes.
Anyway, we made it back to Torino fairly easily and after some commotion and confusion, we found our bike boxes right where we had put them two weeks earlier. Fortunately, the hotel owners were very nice and one of the two people who spoke English was there.
y this time, we knew that we couldn't change our tickets, but since we had planet of time, we decided to try and go to the airport and see if they would change for us. The one nice thing about Torino was the new and modern airport. It was empty for the most part, but it was nice. After several frustrating trips to the counter we gave up and headed back to the hotel to kill the afternoon. We tried to see some of the Olympic venues, but despite all the literature we found, there were no addresses or directions on where things were. When we had been there two weeks earlier, we noticed that there was a nice walk along the river. Tom had seem that this walk lead to a medieval town so since we had nothing else to do, we decided to check out the walk.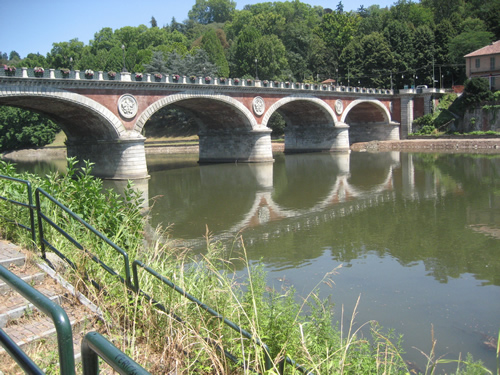 Now it was hotter than blazes here, but we soon found the best part of Torino but taking this walk. We found a neat park where we grabbed a sandwich for lunch since we hadn't eaten since breakfast. ( Remember, it's Sunday in Italy .. nothing is open until 7 PM. ) While we were eating, we watched some jackass in his skivvies trying to impress the ladies (we think??) by doing exercises in the park.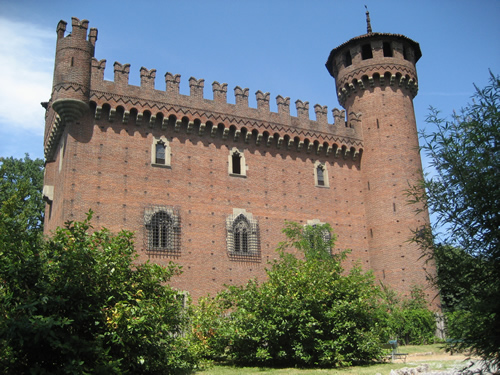 Soon we were on our way and it wasn't long until we found the medieval city.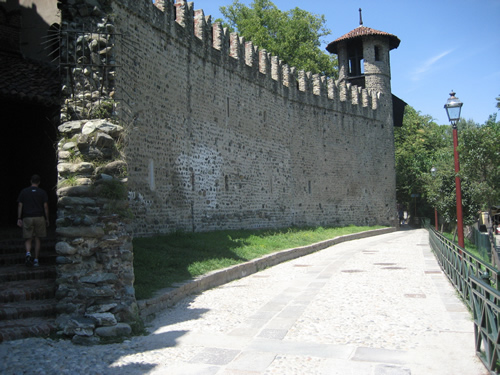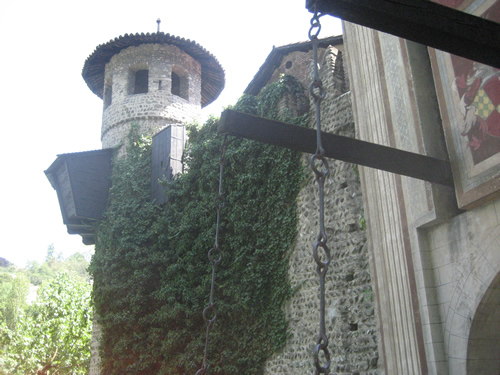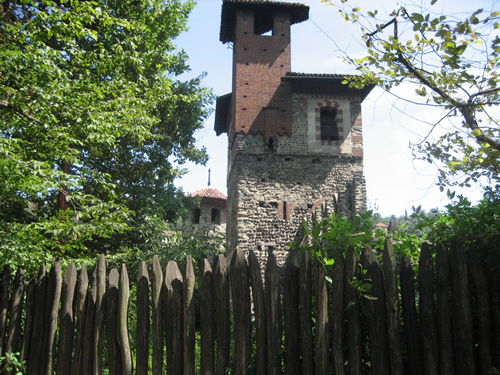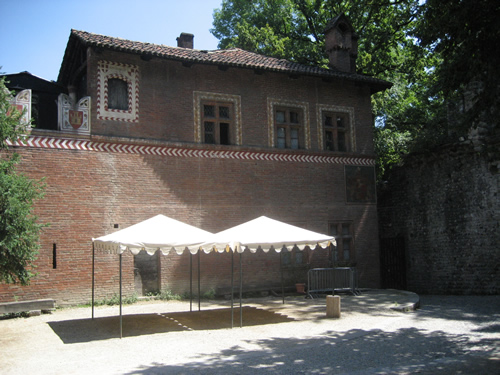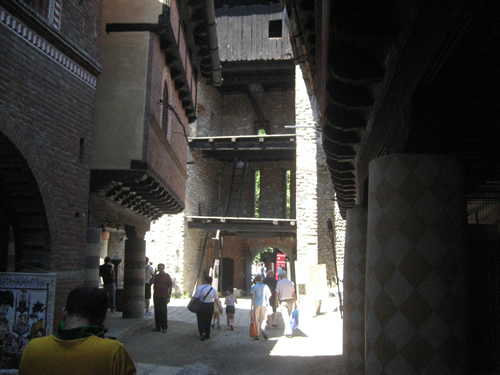 Turns out that this was a pretty popular tourist site and there were merchants and musicians entertaining as you walked though the main street.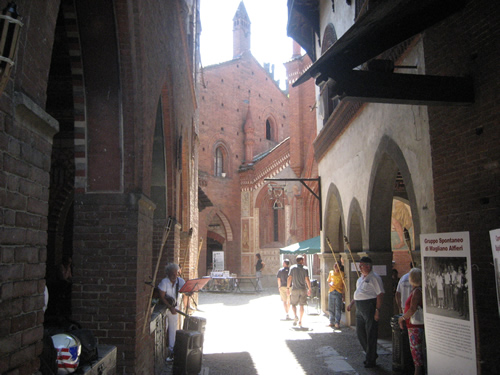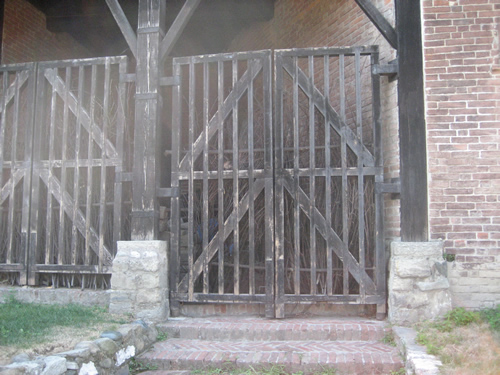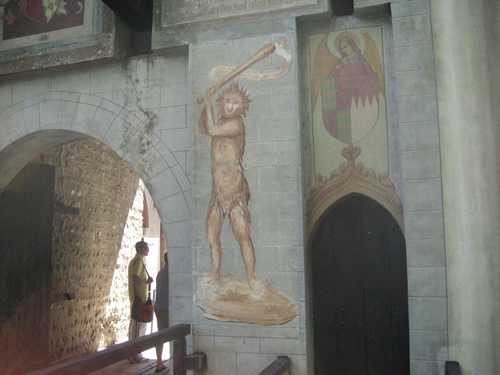 I forget exactly what this funky dude was symbolizing, but it was a pretty cool piece of art.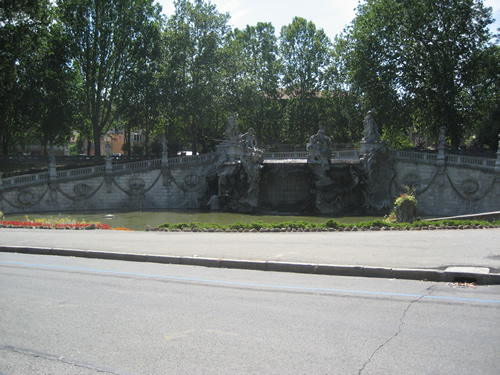 After finishing at the city we decided to start walking back since it was pretty warm. We passed this dirty, but neat fountain.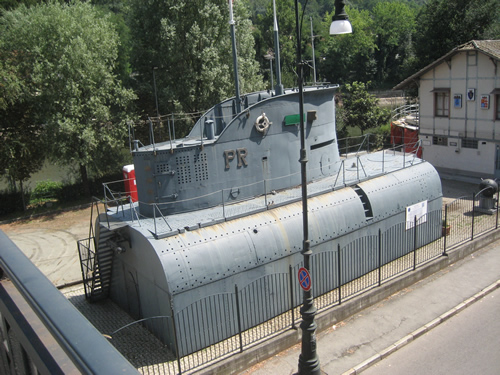 Then we wandered back towards the river walk where we figured out what the Italian Navy is the way it is. We found this piece of a submarine behind a bridge about 100 miles away from the ocean??? In all seriousness, there was a WWII stry behind this sub, but I can't remember what it was.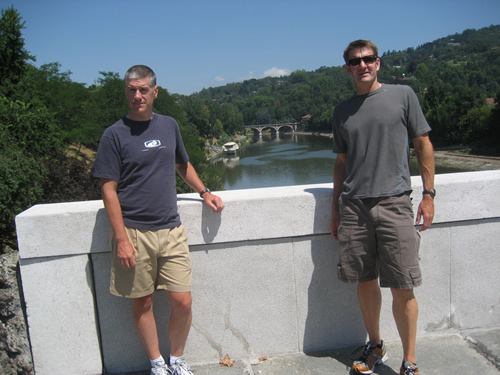 Here's a picture of Tom and I by one of the bridges over the River Po which cuts through the western edge of Torino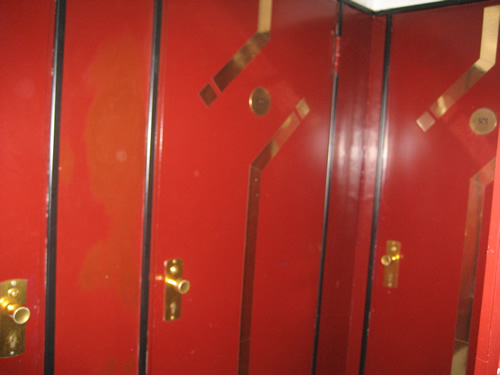 An just as a closing reminder of why we liked Torino so much, here is a shot of the beautiful area outside our hotel room door.