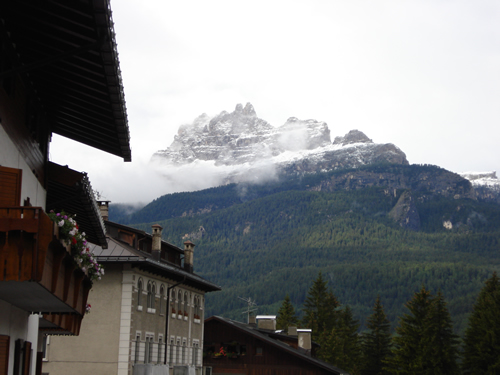 Today started very ominously as it was raining early and there was clearly fresh snowfall in the mountains. This was the backside of the snowstorm taht we drive through to get to the hotel last night.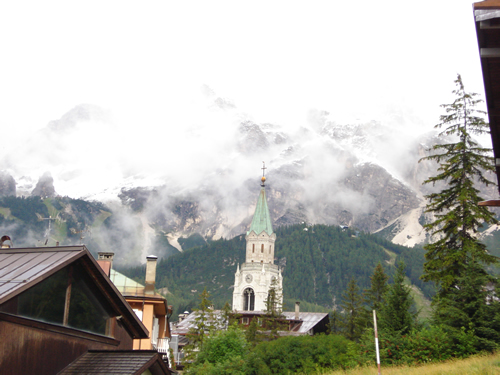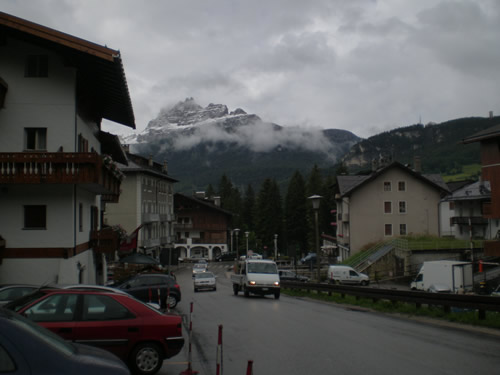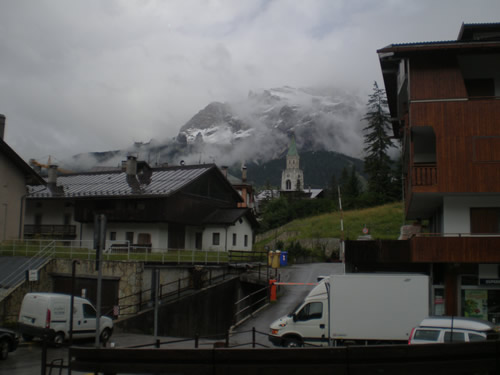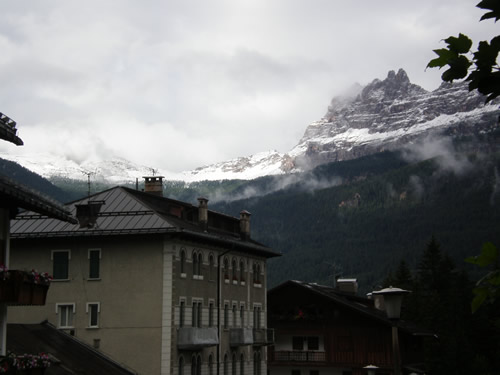 Our hotel the Hotel Meuble Villa Neve is a fantastic place to stay and they have been extremely friendly and helpful with things. Emilio from the hotel has been fantastic, particularly in helping with phone cards for Tom and Paul and Internet Access for me.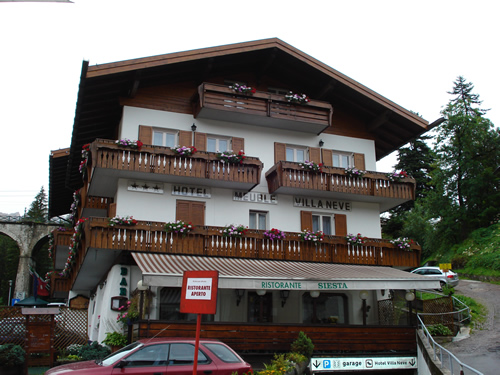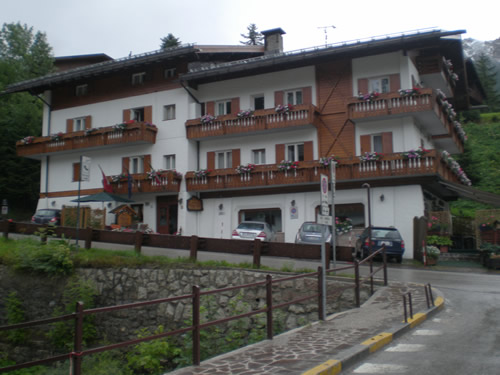 Cortina D'Ampezzo is clearly a very nice place and is perfect to be used as a home base for a trip like ours. Unlike Torino, it fit the bill exactly for what I pictured an Olympic Village in the Alps to be like. In many ways it was similar to Albertville in France, except the Austrian influences here were dramatic.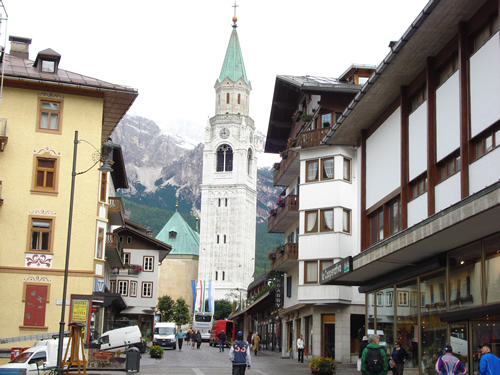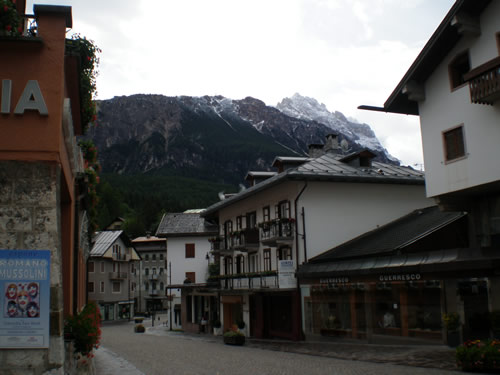 After breakfast, we walked around town and noticed that the weather was breaking. As a result, we decided to head out and do the climb up the Tre Cime di Lavaredo.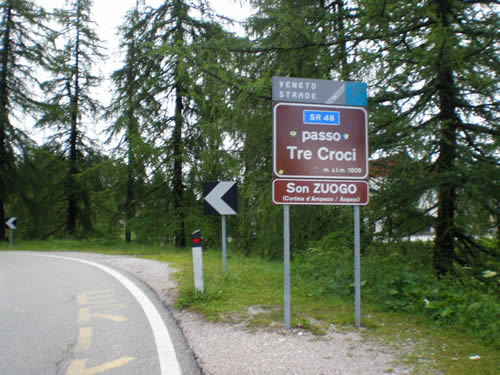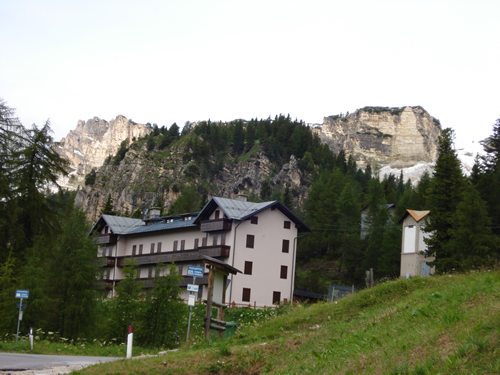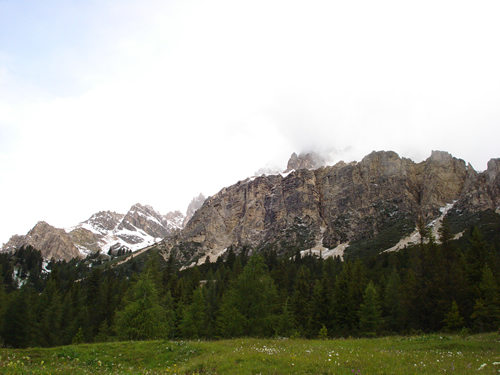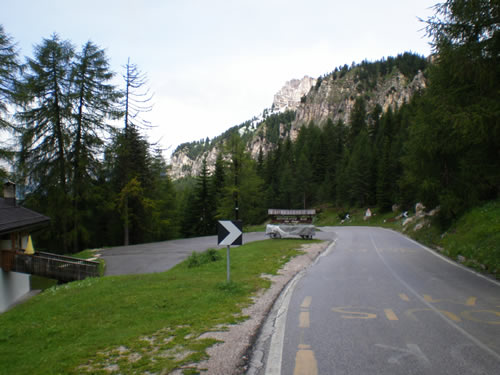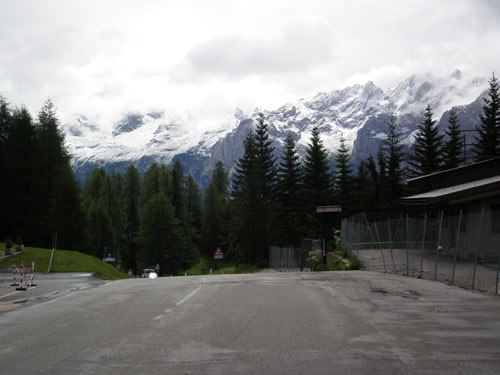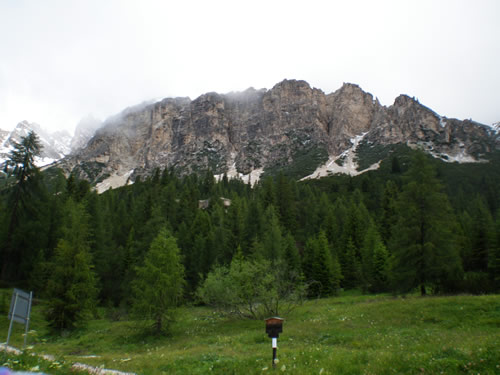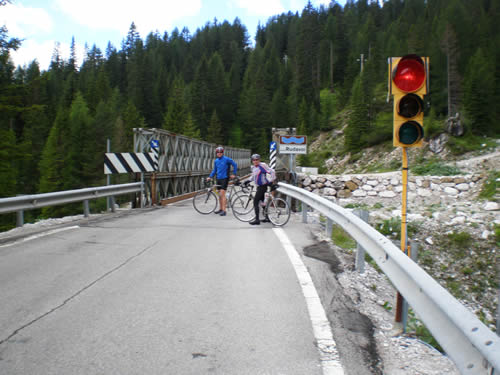 There was a cool wooden bridge we had to cross on the descent. I actually took this picture on the return trip. I have no idea how the peloton can race across this tine bridge.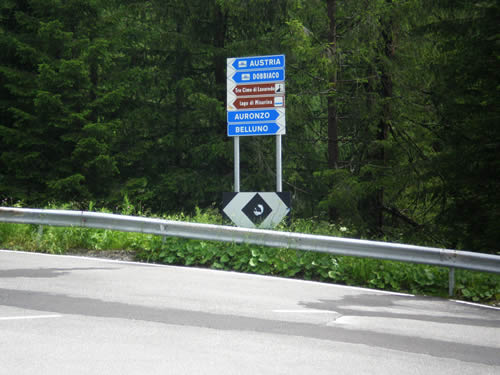 The views from Misurina were spectacular. There was a near lake with a small resort town lining one edge. It was pretty crowed, particularly considering the weather, but not so much that you felt cramped. And soon we were off to climb the Tre Cime di Lavaredo which started just outside the town. The Tre Cimi played a role in World War I just as many of the mountains in the Dolomites did. To learn more, check out this article about Tre Cime being an Italian outpost in the war.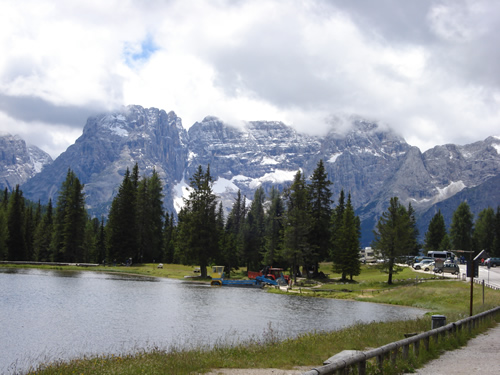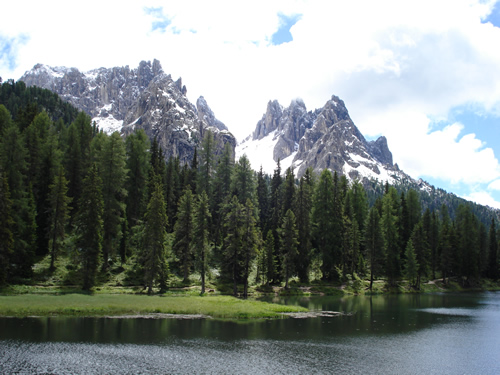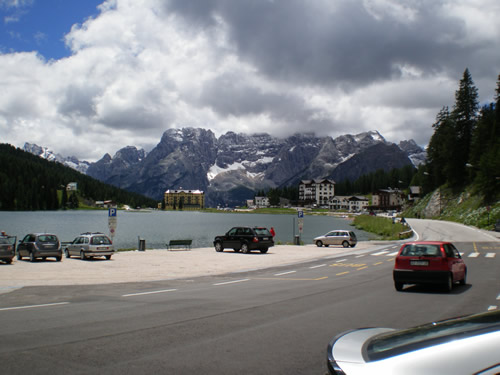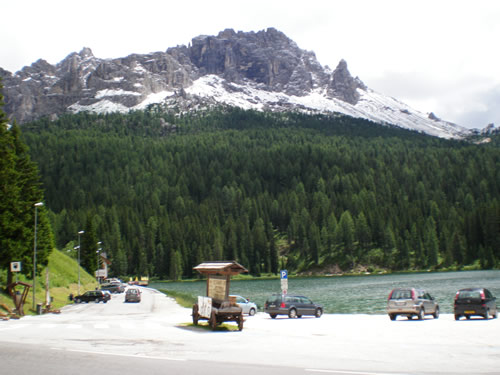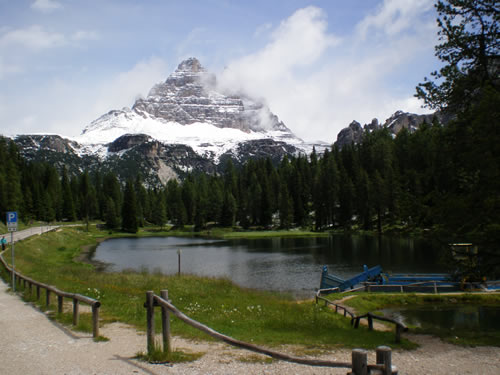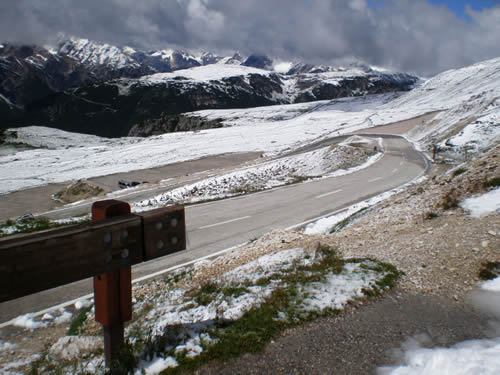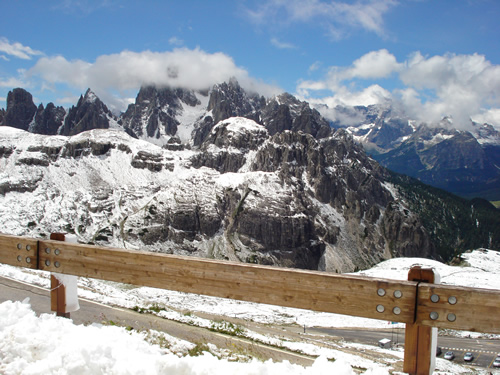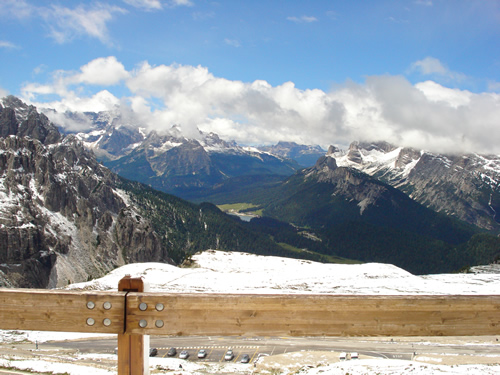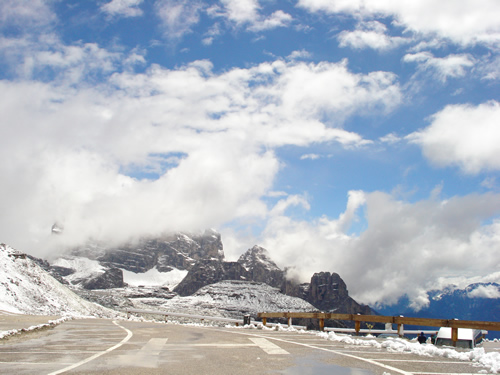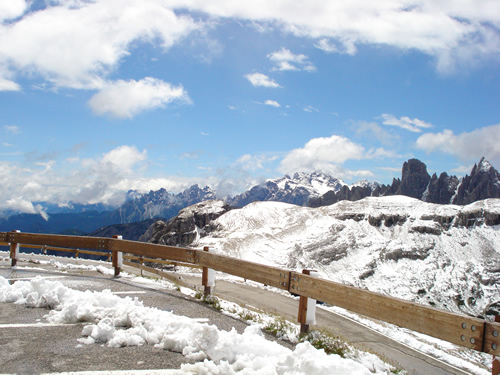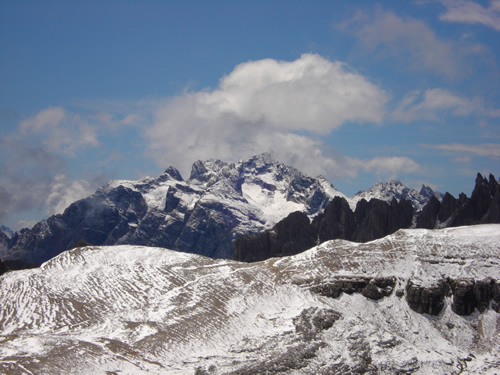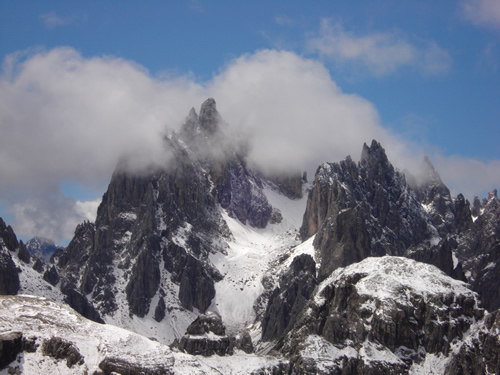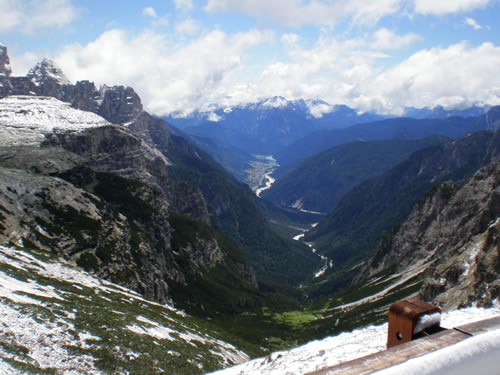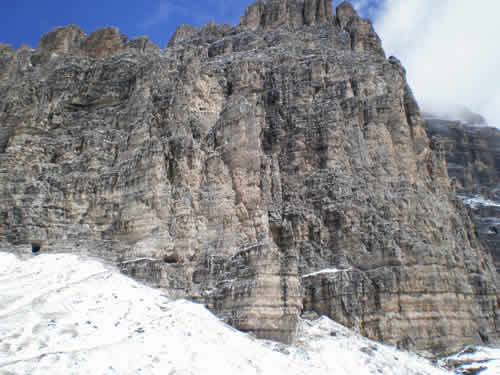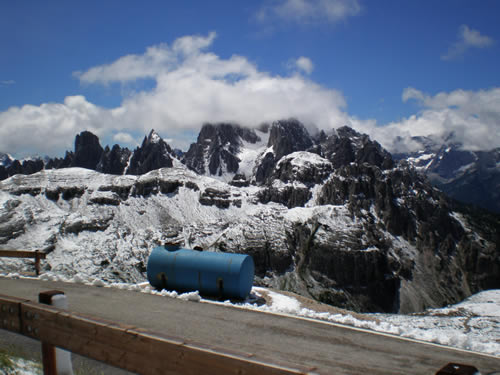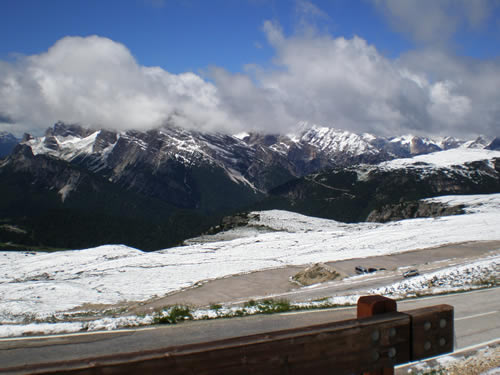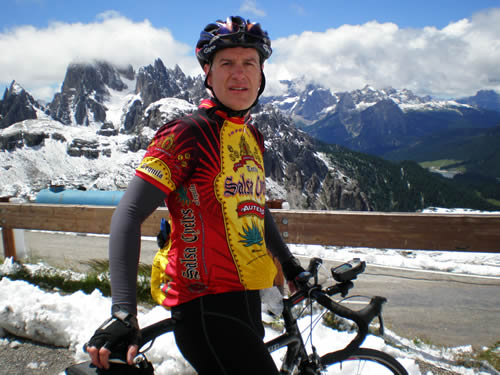 We did all reach the top which was snow covered and freezing!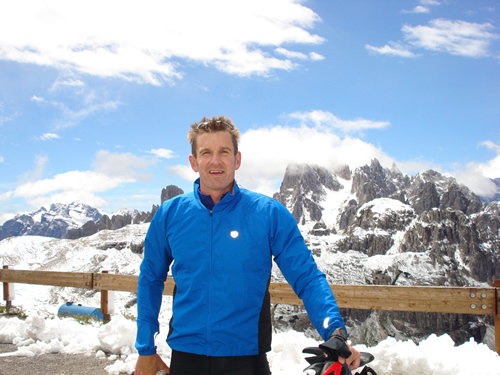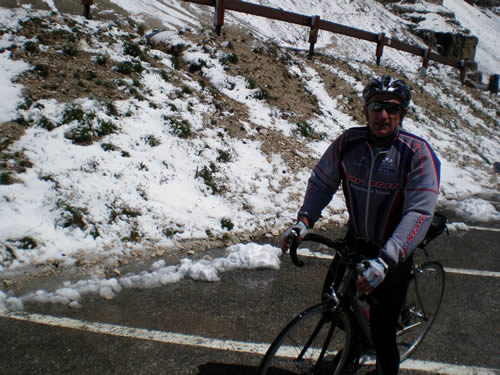 We quickly descended, stopping for some pictures which actually was a fatal mistake as you'll soon learn below.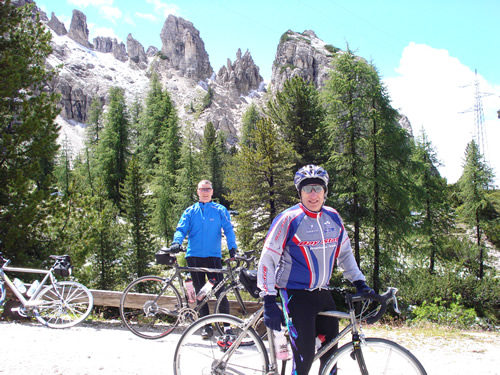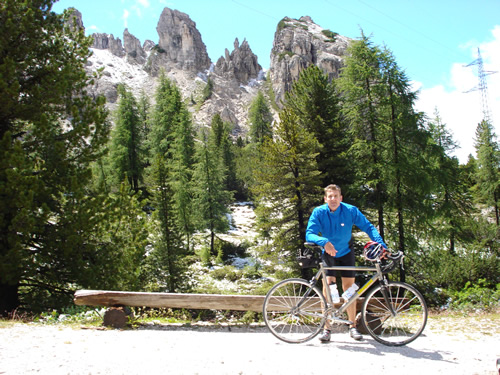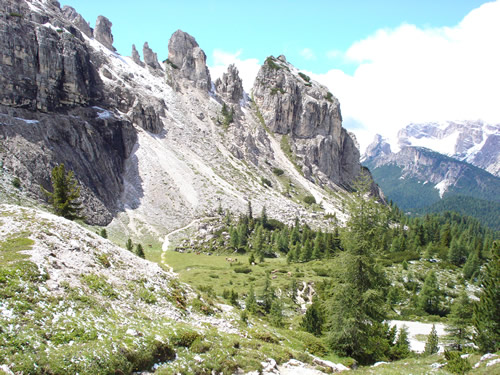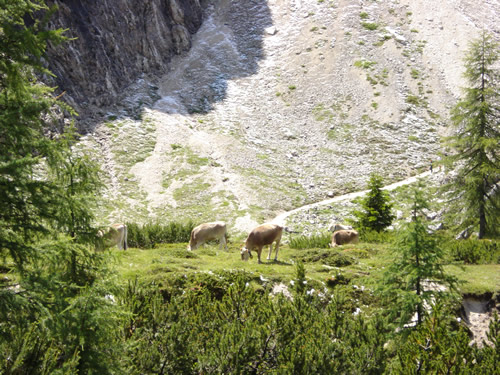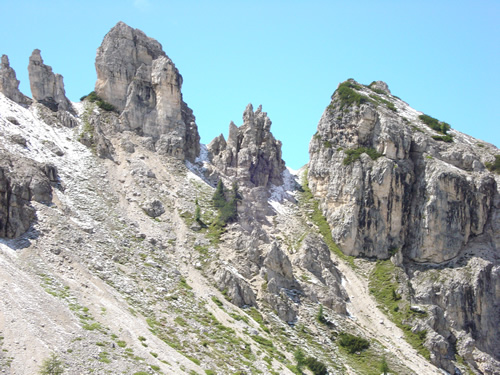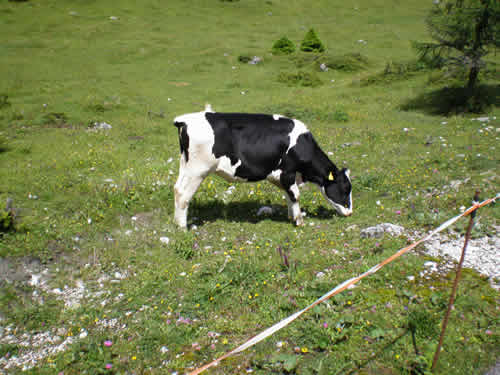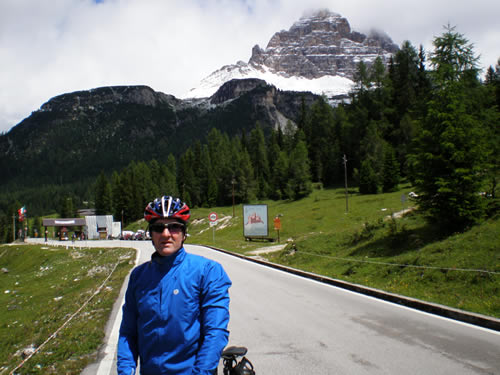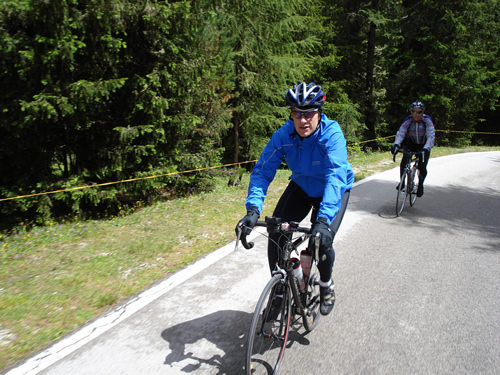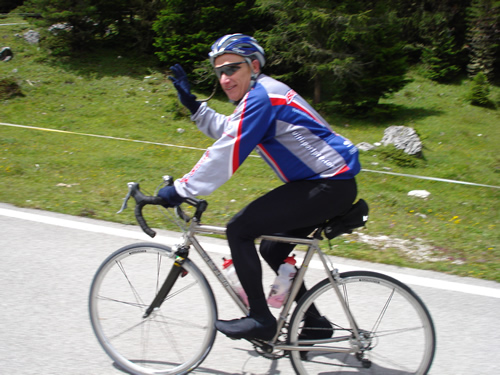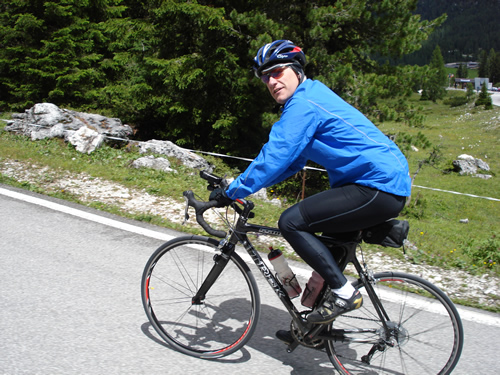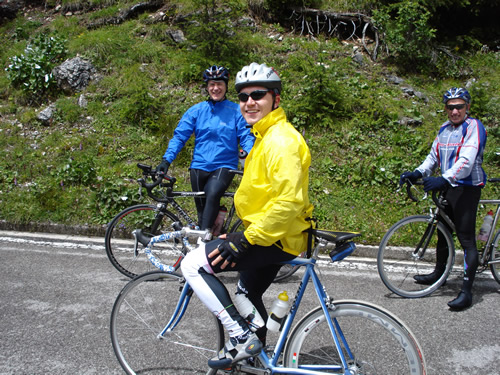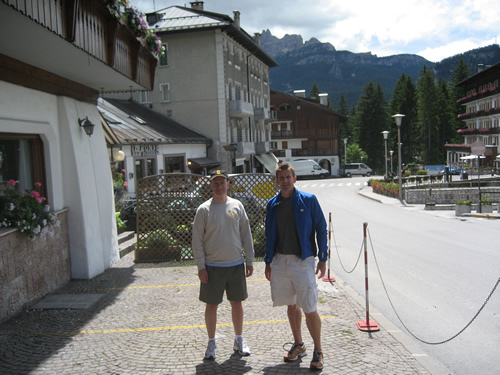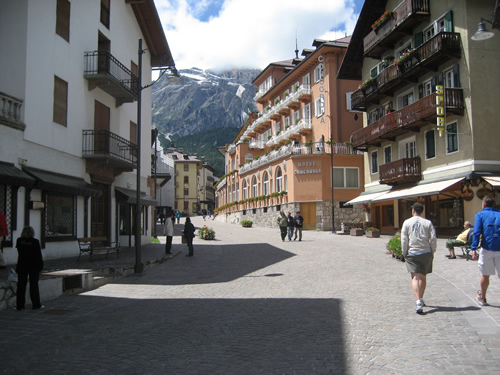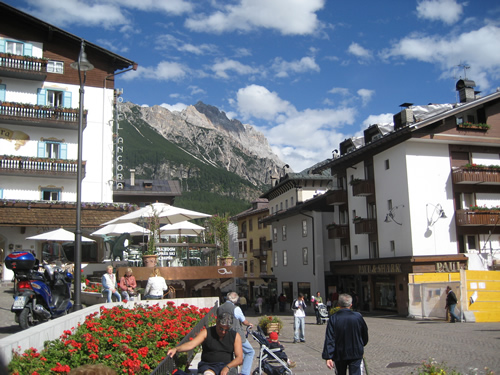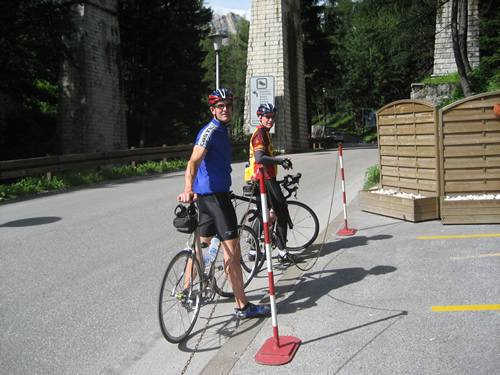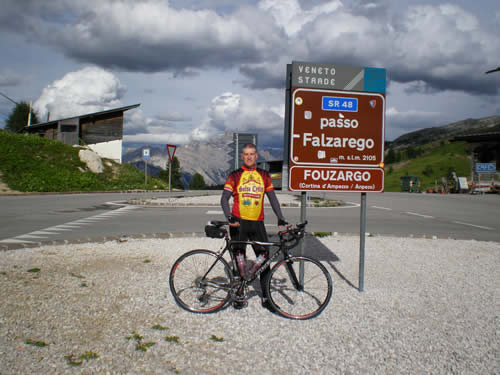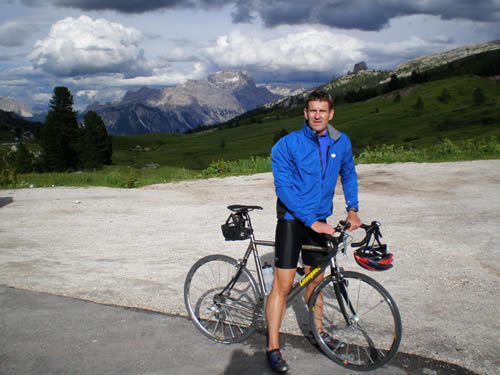 As it turns out, the Passo Falzarego was really was a nice climb and we beat any weather issues. I'm glad we decided to do this. We were also supposed to climb the Passo Giau today, but the weather problems this AM caused our schedule to slip. We thought we'd pick up the Passo Giau later in the trip, but we never did.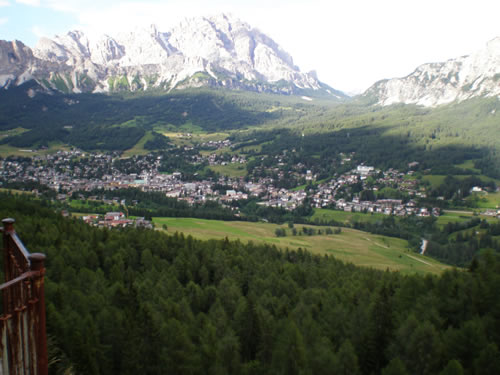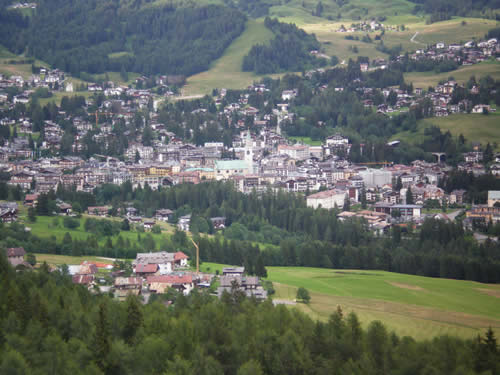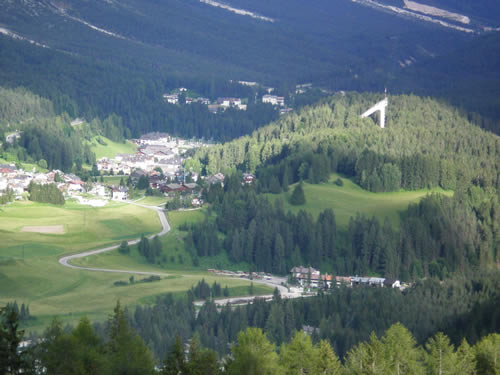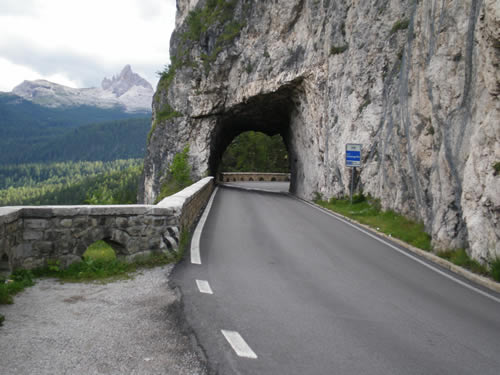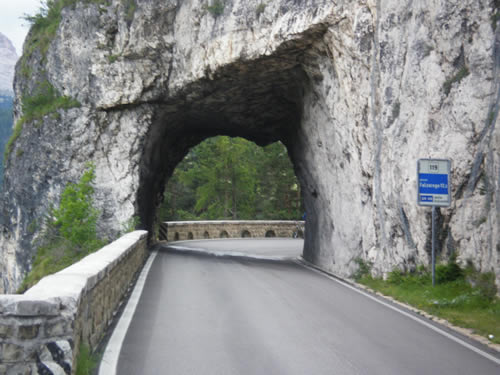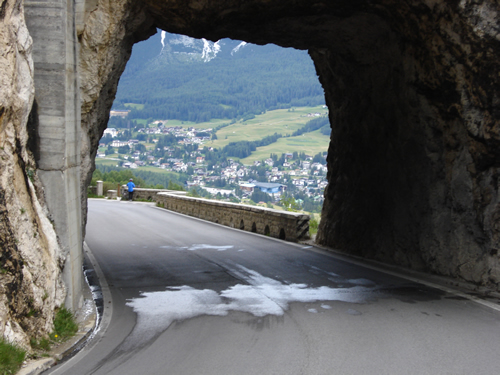 All in all a great day and we sure slept well!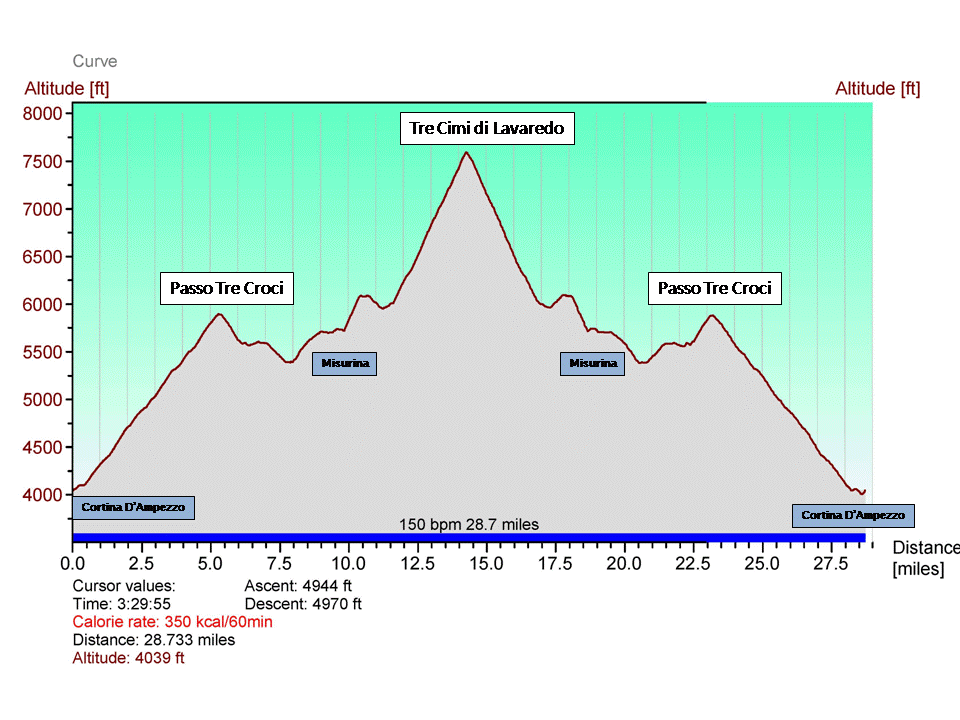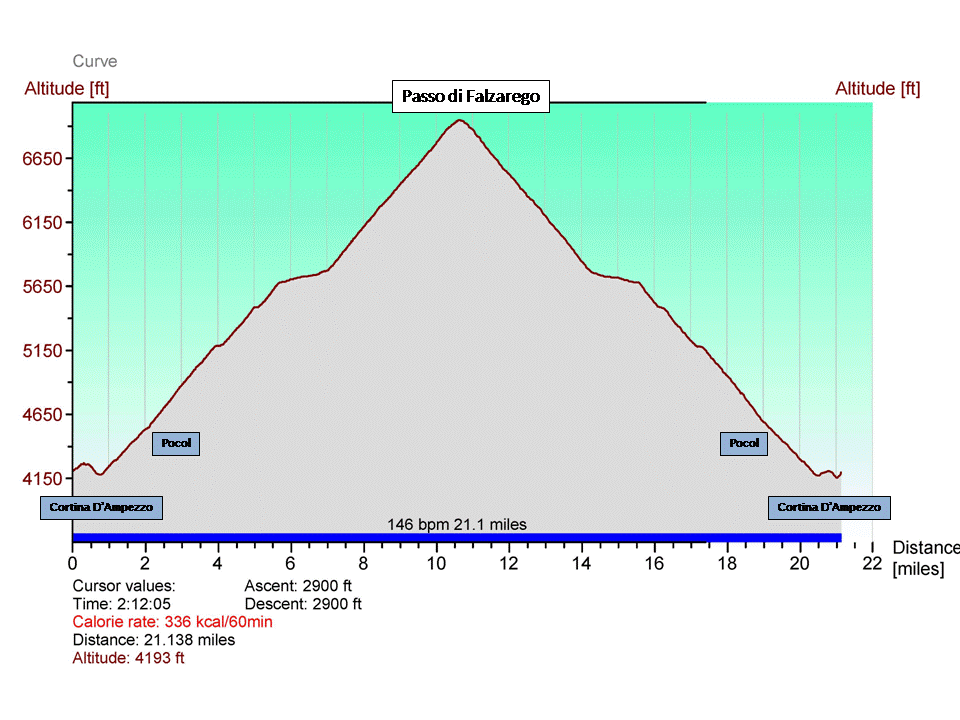 There was also a neat tunnel on the climb that Tom used to take some artistic pictures of Cortina.
On the descent, we had some real nice views of Cortina D'Ampezzo.
We descended back into Cortina. When we got back to the hotel, it had warmed up significantly. We decided to go back for more pizza for Lunch.
Turns out that Tom had a Vigo moment … loosing the rental car keys on the climb when we stopped to take pictures. Luckily, we had been crossing paths with another Italian cyclist all day who found the keys and amazingly caught up to us to give them back.
Tom took some action shots as we were descending one of the less steep sections.
The climb because increasingly difficult due to the winds, cold temperatures and ridiculous slopes on this climb. They were constantly about 14% sometimes reaching as high as 21 %. It is insane to get to a section of 10% grade and to be thankful for a rest! Oh, and there was SNOW!
The early slopes were steep (14%) and we were cheered on by a group of school kids who were out on a hike. After a few kilometers, the climb leveled off and Paul and I stopped at a small lake to take nutrition and enjoy the view. This is the Tre Cime … our destination. Just an aside, Tre Cime means three chimneys in Italian. This ridge has three of these vertical peaks all lined up which gives it the name. We were never ina good position to get a good view of all three. It's a popular hiking destination in this area and the ride took us into an Italian National Park.