Since the climbs have been taking us longer than planned, we decided to shorten today's ride to only the Passo Fedaia and get an early start for Bormio. I hate to admit it, but perhaps Mr. Vigorito was correct in telling us that our agenda was a bit ambitious …particularly at these altitudes. Unfortunately, we didn't arrive in Bormio until very late for reasons I'll clue you in on in a minute.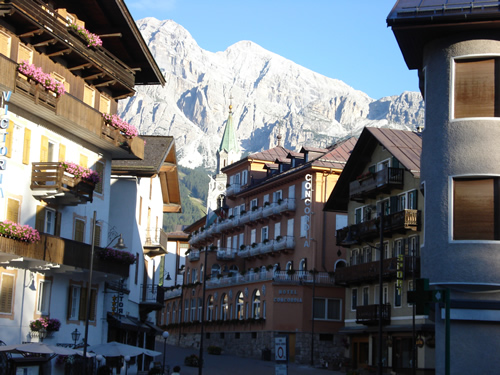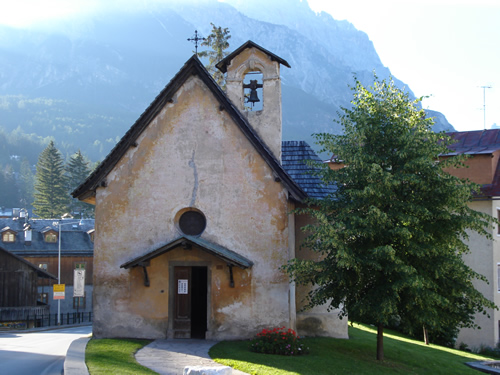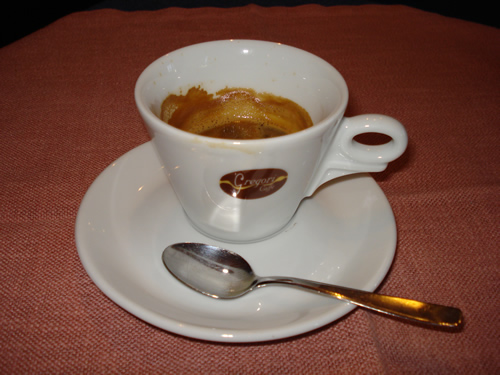 We started our driver off with a few double espresso's at breakfast. By the end of the day, Tom ended with a total of 9 double espresso's.
We checked out of our hotel in Cortina, and drove over the Passo Giau and into Caprise where we parked and suited up. We were supposed to ride this climb the opposite direction we drove on the first day here. I'm sorry we didn't get to do it, although it would have been difficult as the climb was pretty steep in places.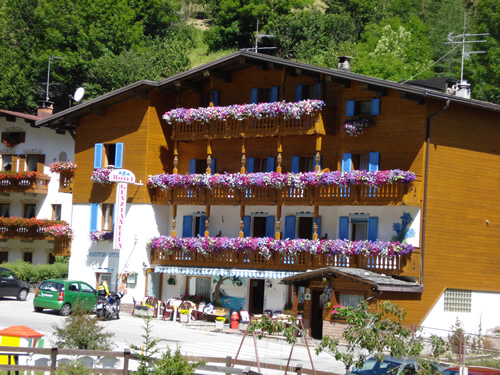 After winding down some very steep and narrow switchbacks, we ended up in the town of Caprille where we found a parking lot and changed to begin our ride. The area continued to look a lot like Switzerland as is shown by the ornate flower boxes and architecture.
The climb up the Fedaia really wasn't pleasant for me, as there were long straight stretches that were pretty steep. Temperature wise it was pretty nice and there were a few tunnels we had to navigate. The scenery was also pretty special. In the years since we took this trip I've read several accounts by Pro riders who also have said how hard this climb is because of the very steep, long straight stretches. There is also a neat section through a gourge that I didn't know about when we took this trip. If I ever get back, that is soemhting I want to ride.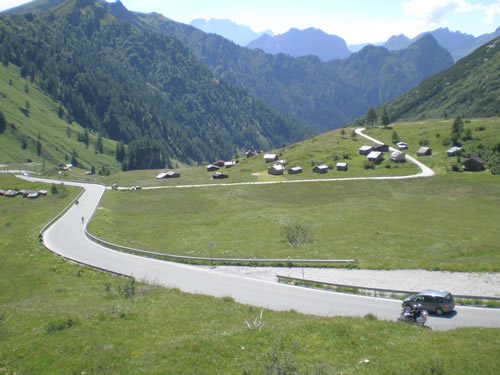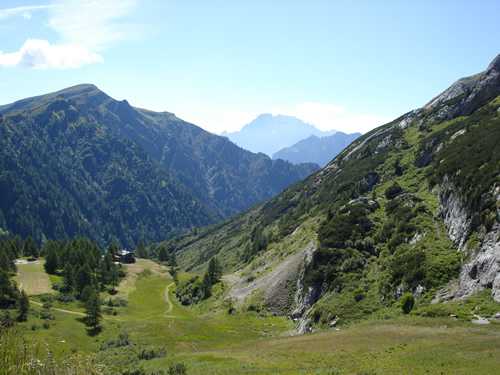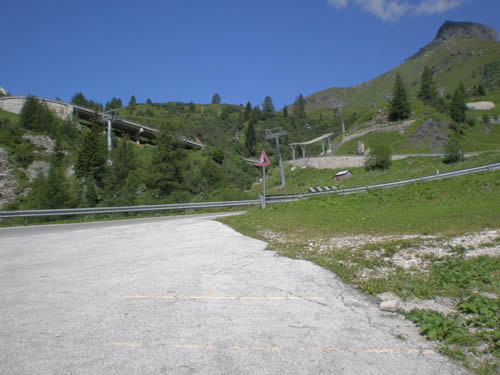 Paul and I almost stopped when we saw this bridge which looked to be about 30%. In reality, it was about 11-12%.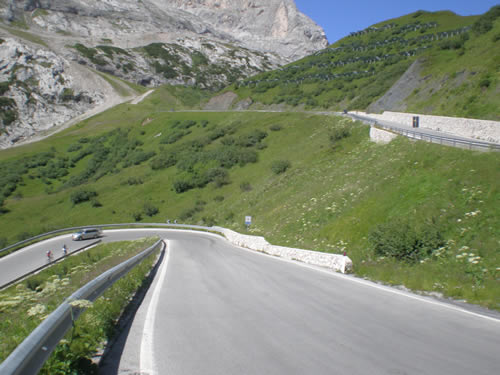 The final switchbacks were really tough.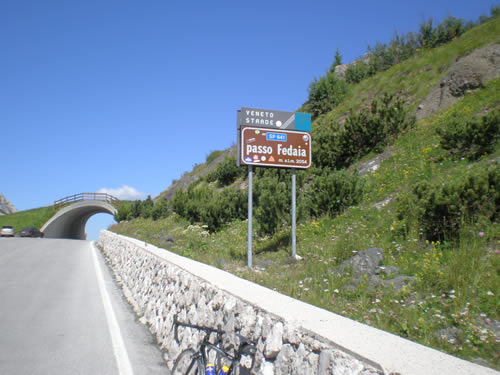 But ultimately, we all made it to the top without too much difficulty. After climbing for4 days in the Dolomites, I have to say that these mountains are much more challenging that the French Alps. All the climbs are shorter, but they are all pretty steep.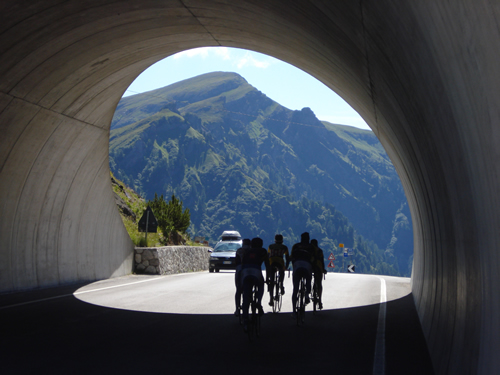 While Tom was up top, he saw this group of cyclists riding through the tunnel in formation.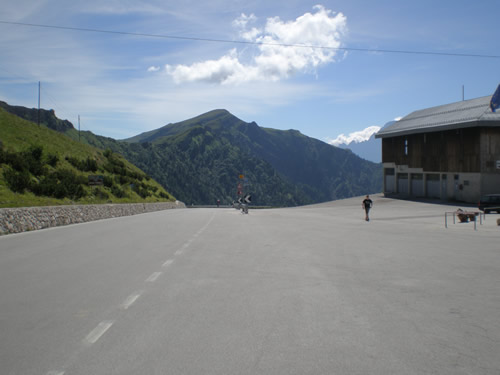 The top was pretty desolate when Paul and I made it to the top.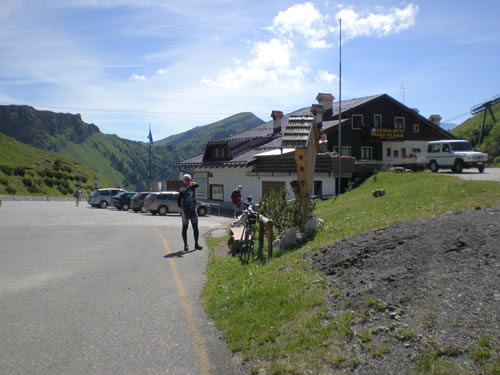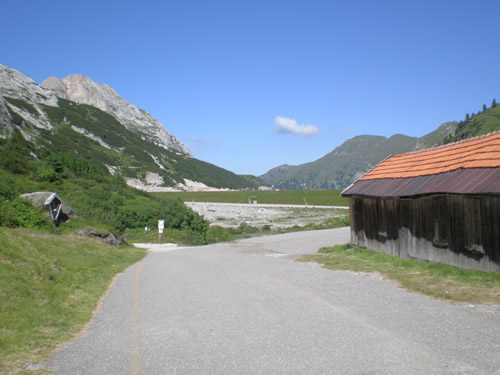 After getting back to the van, we all had a good laugh about how Paul had exploded with his stuff all over the back of the van!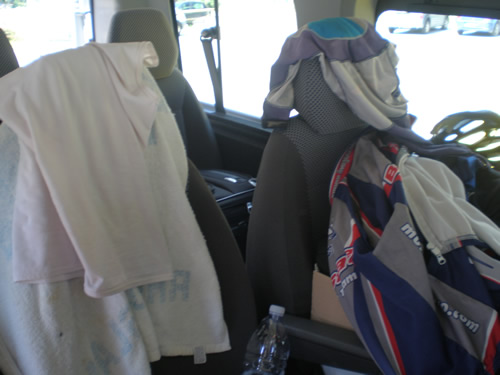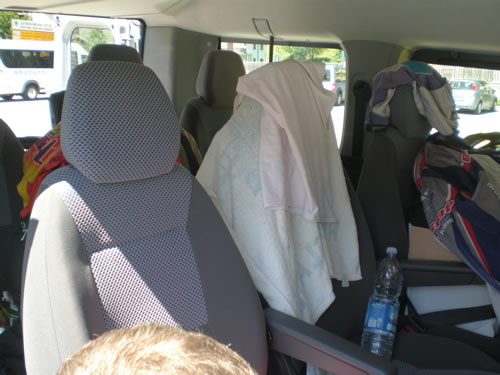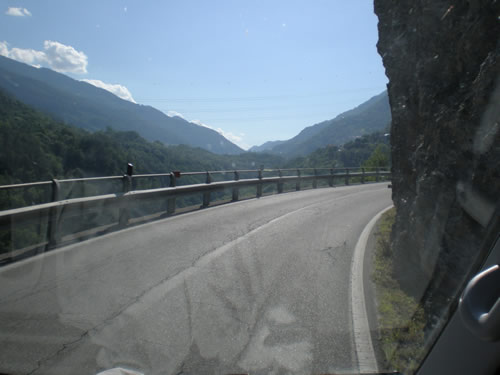 Next we started our trip to Bormio, which isn't far as the crow flies, but there are absolutely no roads that go there. Our short drive turned into a seven hour marathon that included a long stint over "The Death Road".
For those of you who may not have seen it, the "Death Road" is a road in South America where the road is so narrow that two cars can not pass. Well we spent about 5 hours on roads like this to get to Bormio. In Italy, the roads seem to be about 1.8 cars wide. Here are several examples of what we saw.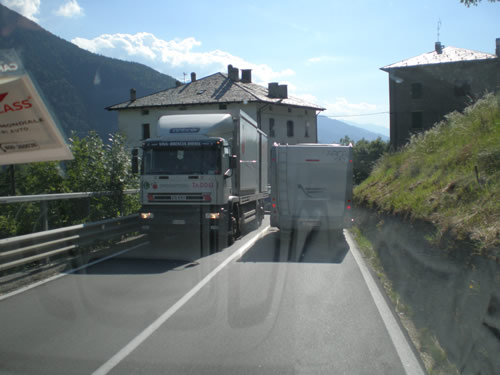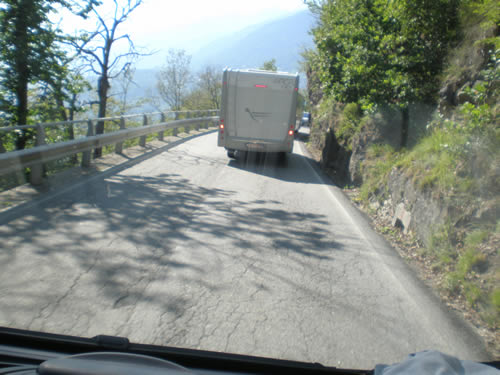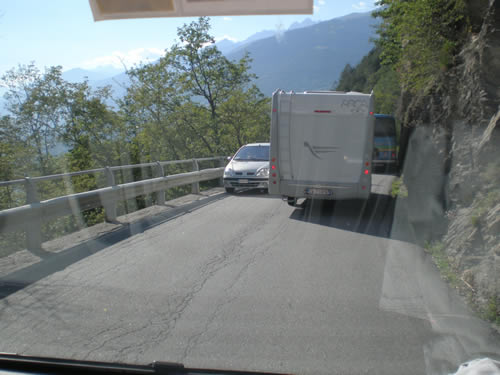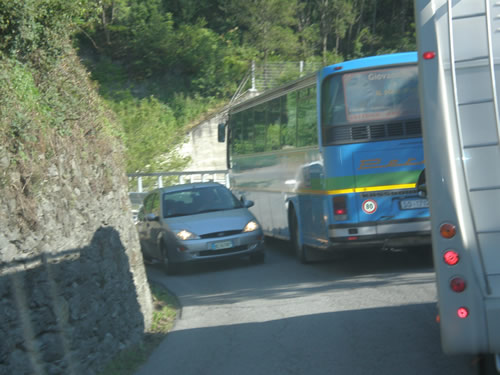 This was interesting as it was a bus on bus conflict. Usually the conflicts were decided by vehicle size, but this one was interesting.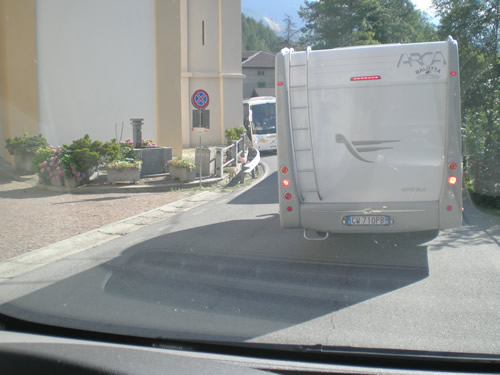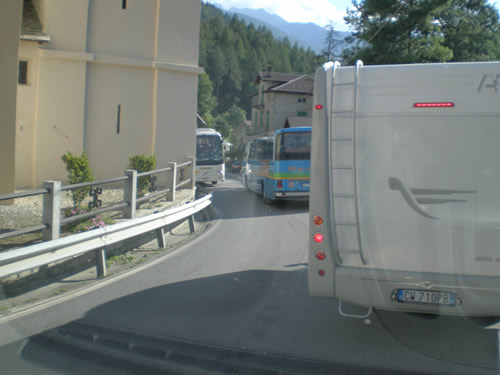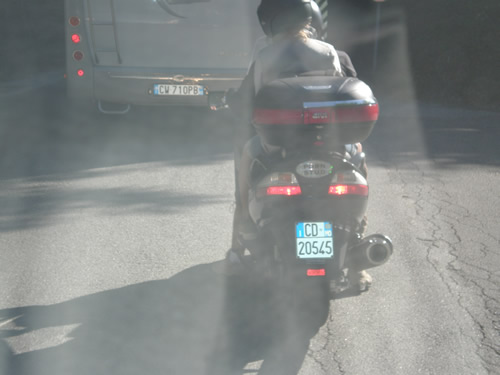 This guy is classic Italian. He's riding a motorscooter and has a sticker on it that says "PornStud"
Finally we reached Bormio! So much for Friday the 13th! The one good part about the end of this day was that our hotel was really nice and hada great view of the valley. We ended up eating in the hotel restaurant as there really were not many local options and frankly we were pretty tired from a long day of riding and driving. In hindsight, it is a very good thing we didn't ride the ride we had planned or it would have been quite late when we got to the hotel.