July 13, 2005 - Drive to Bourg D'Oisains
Ride the legendary Alpe D'Huez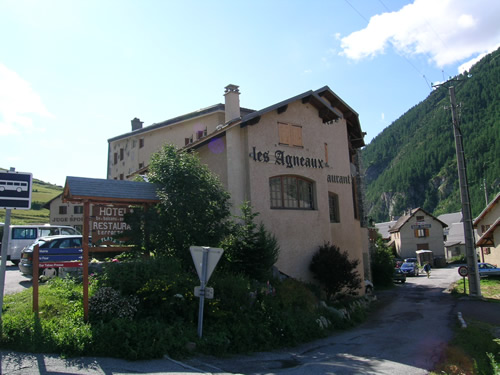 Well, I woke up this morning a little sore from my crash on Courchevel yesterday. All in all, it wasn't that bad with the exception it was difficult to eat enough with my lip cut. We had decided to not get up early this morning since we were all beat from the long day yesterday. We got up and ate breakfast in the hotel, which was very good. The
Hotel Les Agneaux
is very nice compared to where we had stayed in Aigueblanche. It was a family run hotel run by the owner, his wife and their two children. The hotel was recently renovated and our room was redone all in natural wood. The work done by the owner during the slow seasons and it was very comfortable. When we went to breakfast, the son and daughter were our servers. They were very friendly and it was enjoyable to talk with them when we had a chance.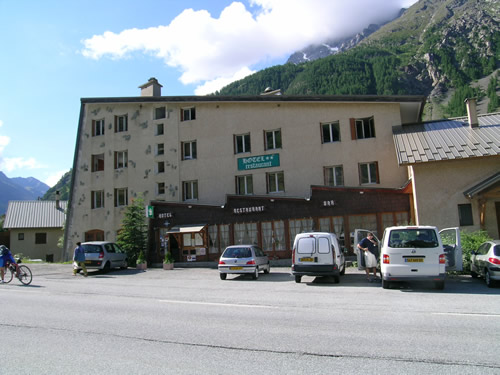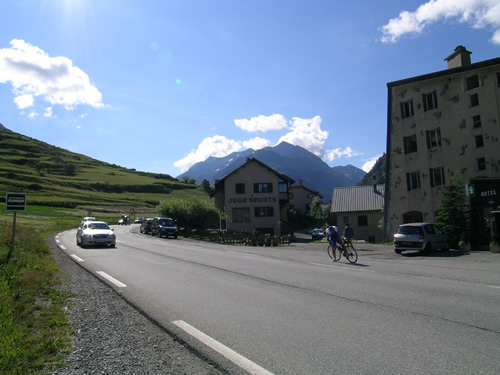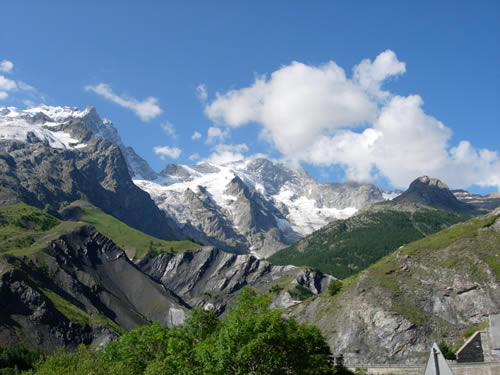 As we drove to Bourg D'Oisains from the hotel, the views of the glaciers were spectacular.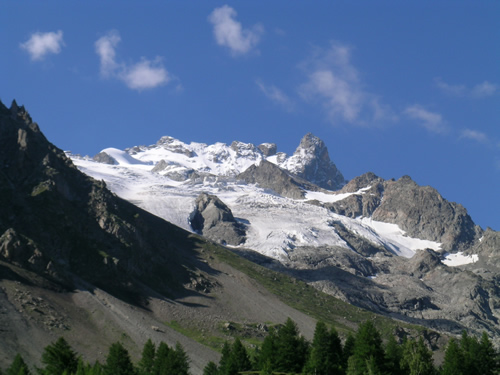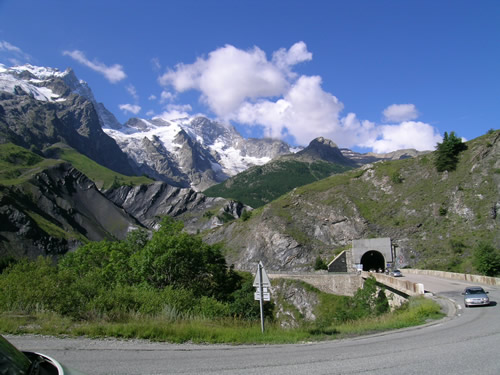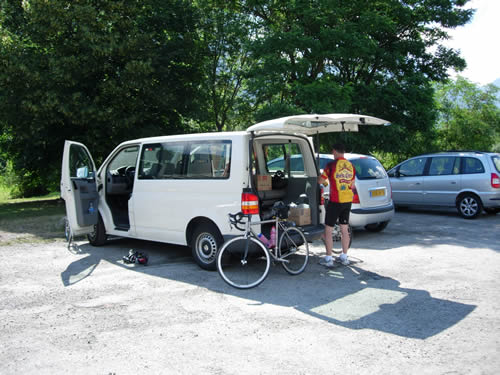 We parked in a parking lot right near the climb with several other cyclists and got ready for our "Time Trial". This little parking lot would be paved and improved when we returned in 2007!
We were very interested in the geologic formations in the valley across from the start of the climb.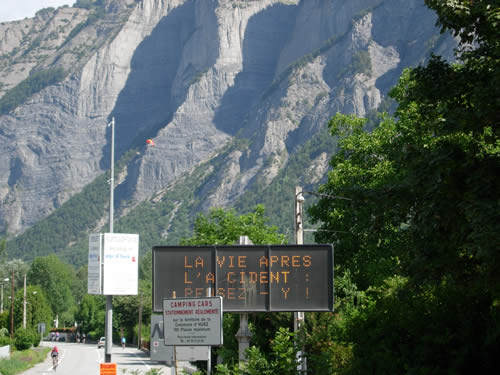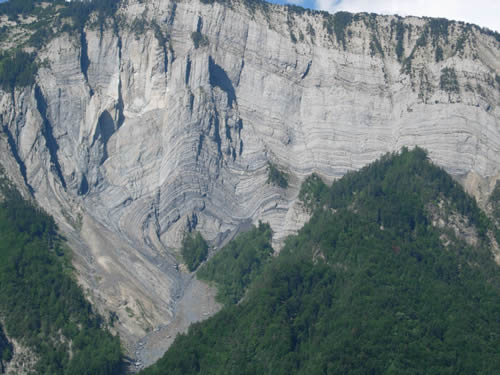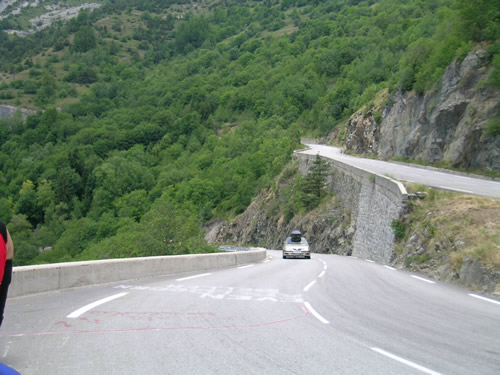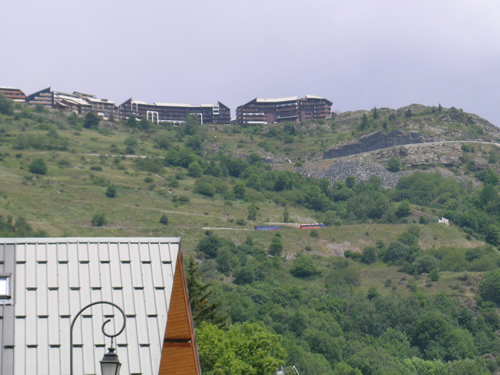 As we climbed higher and higher, the climb definitely gradually continued to get easier. We climbed through a few small towns, including Huez where you could look upwards and see the ultimate goal. Here there was a photographer taking pictures that you could buy on the Internet. I ended up buying one when I got home, despite the ugly cuts on my face and my missing tooth.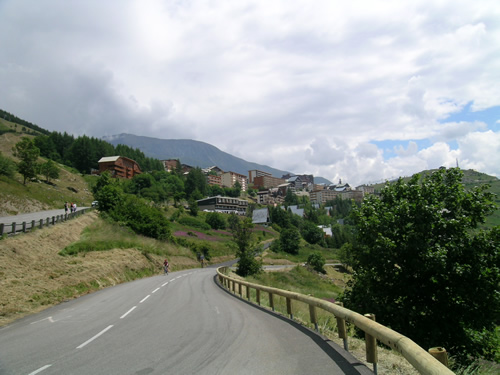 Now I don't know if it was just lack of oxygen or my injuries and lack of energy, but I got very confused on the last portion of the climb. I was within sight of town heading up the last few
switchbacks, when I suddenly felt I was heading in the wrong direction so I turned around and took essentially the truck route into Alpe D'Huez. Not one of my smarter moments. I guarantee you that if I ever get back to the mountain, I will not make that mistake again! This picture is where I should have been.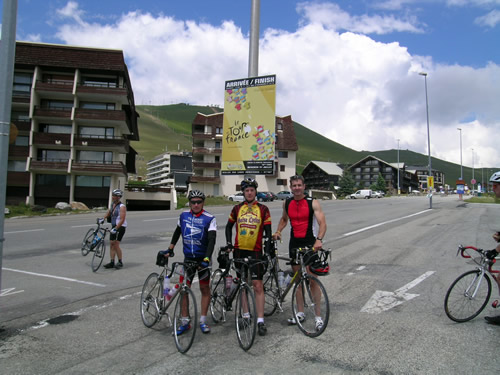 Well, after plodding around the town a bit, I finally caught up with Tom and Paul at the finish line. Turns out that due to activities in Ale D'Huez, they also had trouble following the correct TT route. They were much more accurate than I was. Here we are, standing at the legendary finish line.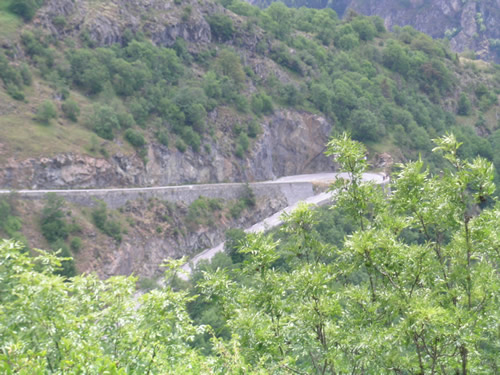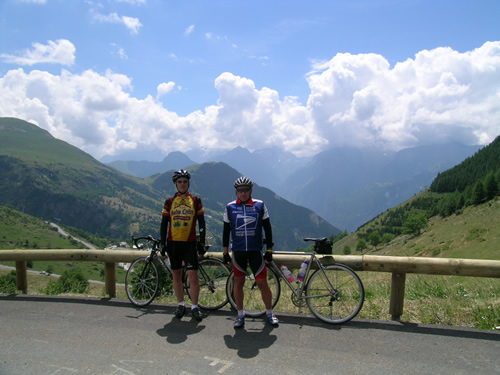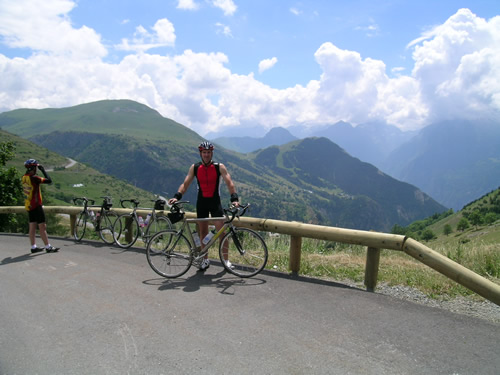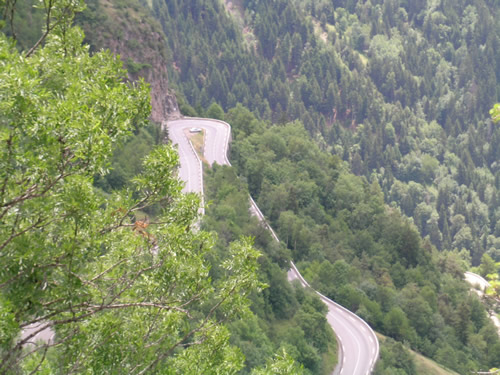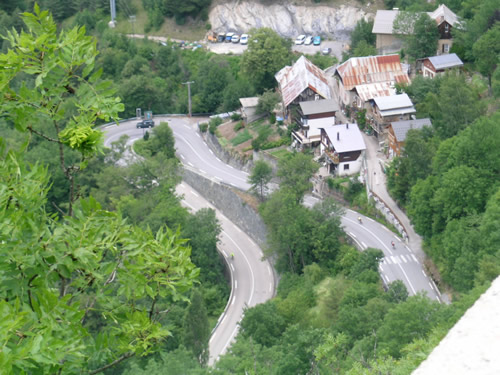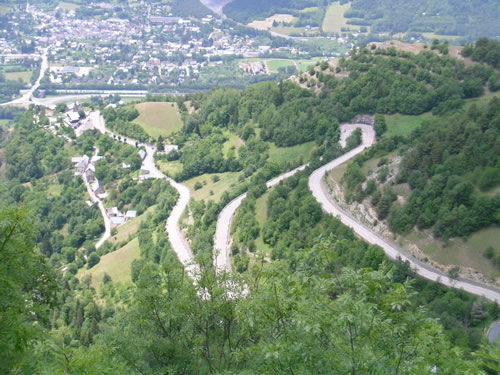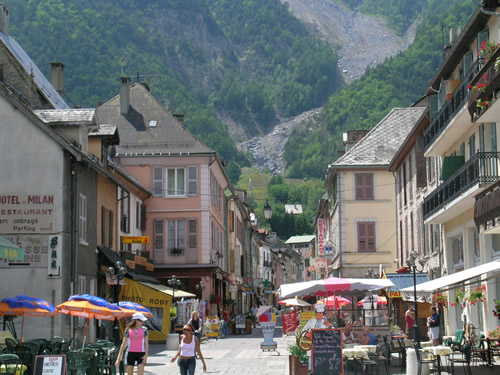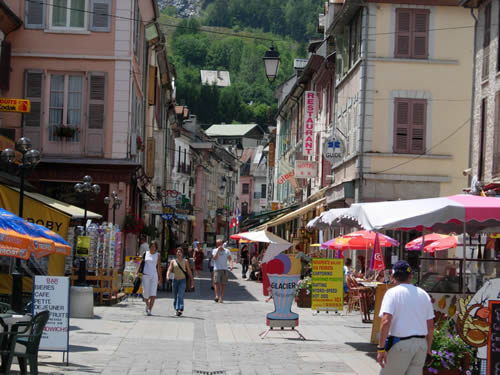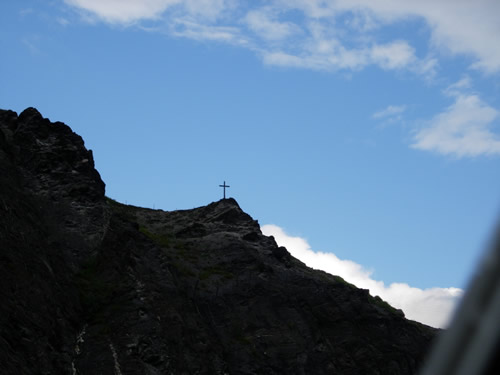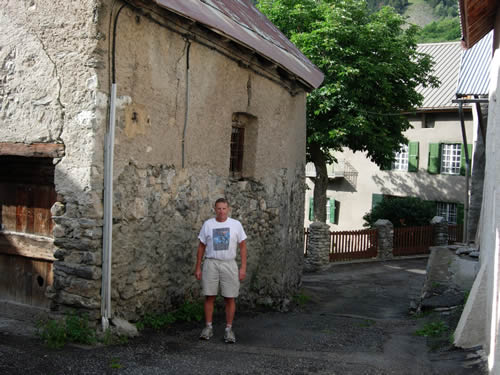 We drove back to the hotel afterwards and Paul and Tom took a walk down the hill to check out the town of Villar D'Arene. I passed since I was pretty tired and still not feeling great from my accident. They were getting ready for a Bastille Day ceremony in town that night and there was a neat church being refurbished. In hindsight, I should have gone with them, but at the time, it seemed right to get some rest.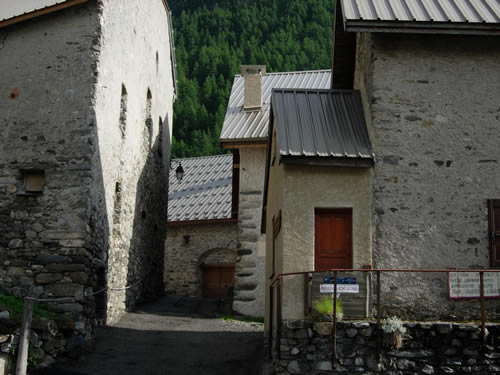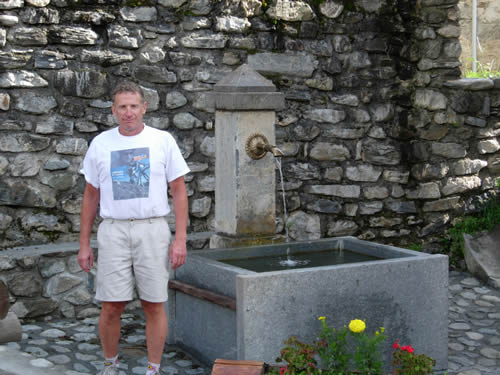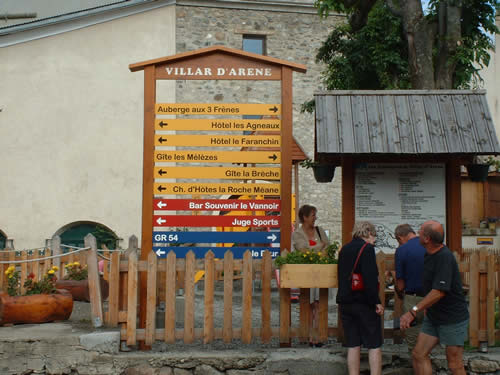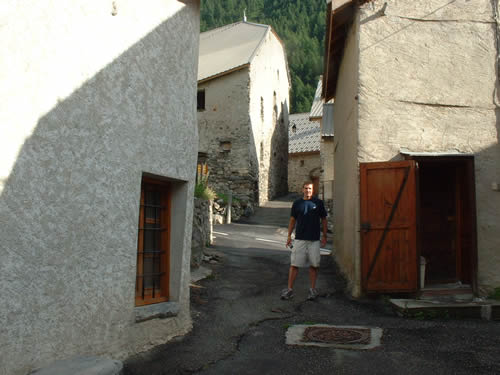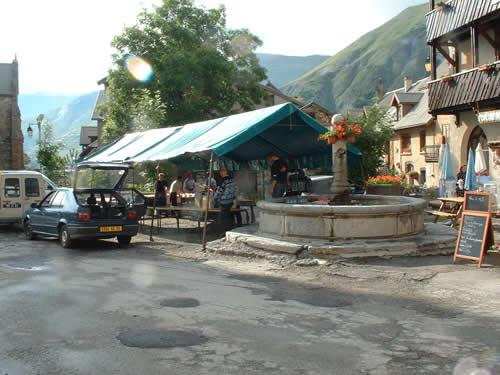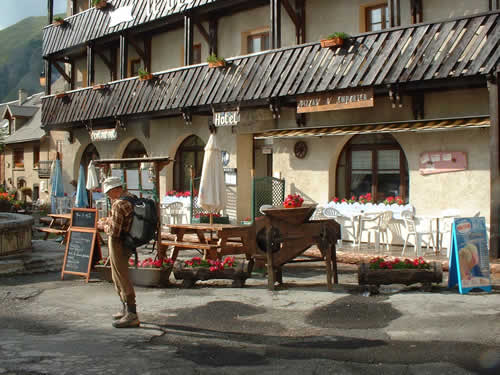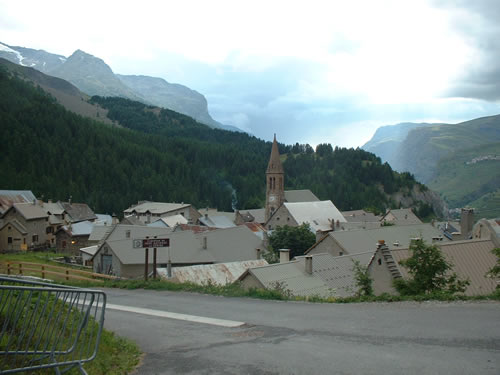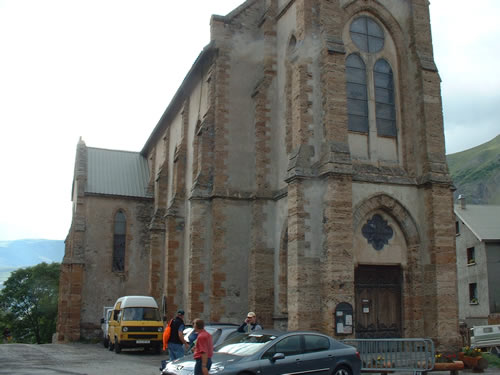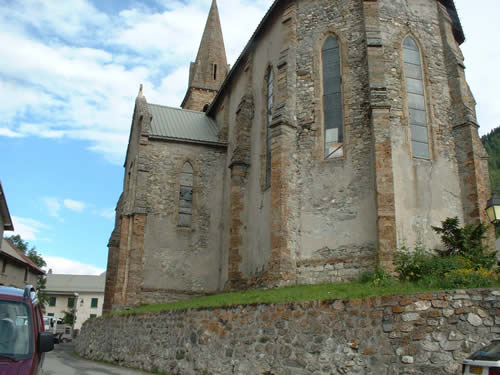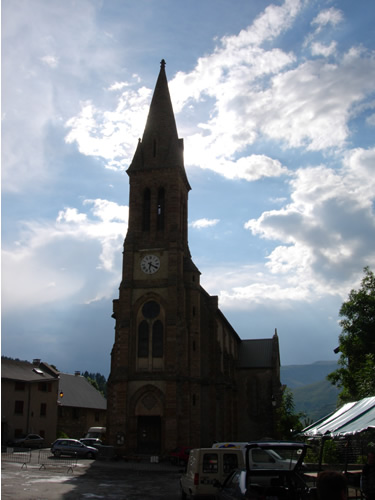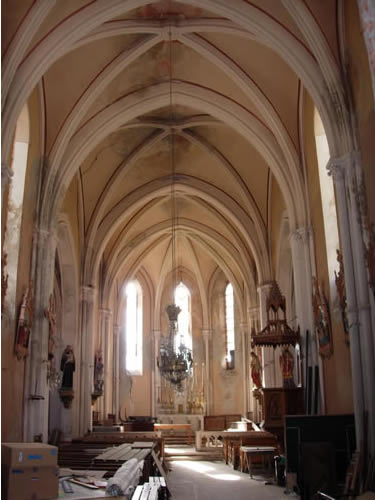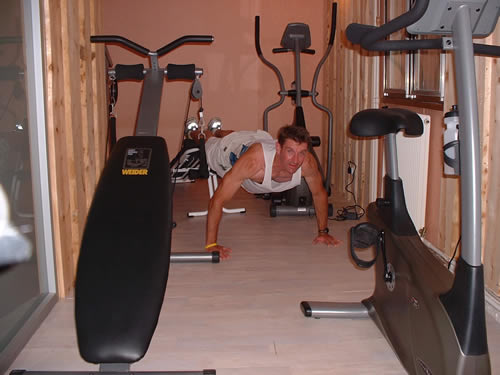 Total Ascent Distance: 14.8 km (8.9 miles)
Distance Climbed: 3304 ft
Time: 1 Hours 16 Minutes (Ascent)
When Tom and Paul got back to the room, Tom decided that he hadn't had a tough enough work out on Alpe D'Huez, so he went into the gym and worked out some more!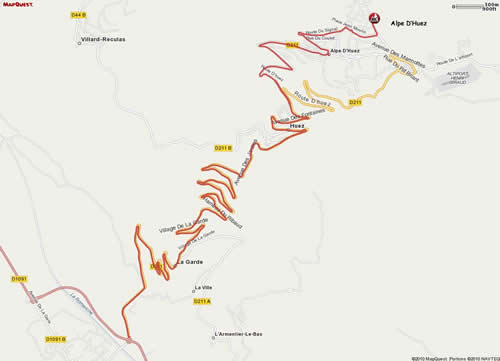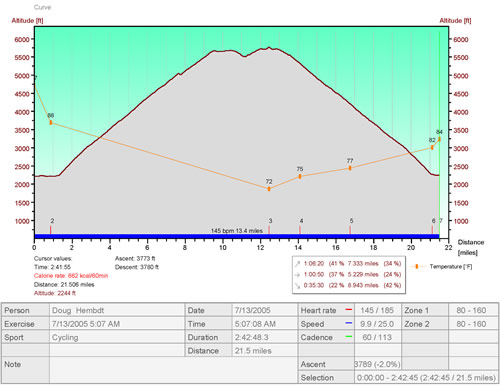 After changing back at the van, we headed to the town of Bourg D'Oisans to get some lunch and visit
Cycles et Sports
cycle shop to buy some jerseys and souvenirs. We ended up eating pizza and watching the Tour stage on TV.
After a short stay at the top, we decided to head back down the mountain. We stopped to take a few pictures along the way.
We started out on the climb. Tom and Paul running hard on the flat heading to the climb and me just trying to get my bearings, still not sure how I was feeling with my cuts and scrapes. Upon taking the left hand turn and heading up the climb, it was clear that that lower 11+ % sections of this climb would be challenging, but I kept telling myself it'd get easier as we climbed. As with the other climbs we would do, I seemed to pass more people than passed me. After getting though the first few switchbacks, the climb did get easier.